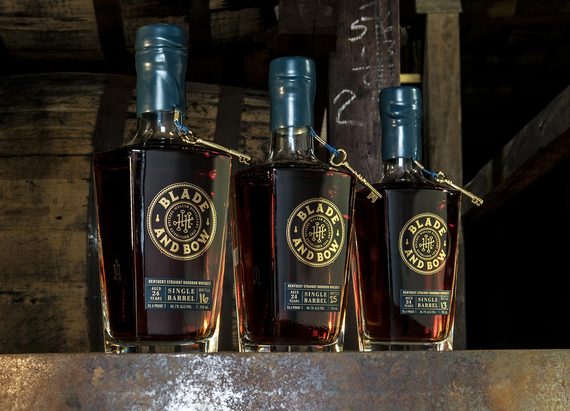 Blade and Bow's 24 Year Old Bourbon
Blade and Bow is a recent addition to Diageo's bourbon portfolio. Launched in 2015, the brand is unusual in that its two primary expressions, a no-age statement (NAS) offering and a 22-year-old bourbon, are both produced by methods that are rare in the bourbon industry. Both bourbons consist of a blend of whiskeys that were produced at different distilleries. The 22 YO consists of a blend from three different distilleries: the legendary Stitzel-Weller, a distillery identified by Diageo as "the distillery located at 17th and Breckinridge in Louisville, Kentucky" (Bernheim) and "the distillery located at 1001 Wilkerson Boulevard in Frankfort Kentucky" (George T. Stagg/Buffalo Trace).
The NAS expression is produced via a solera. This blend is a little harder to pin down as Diageo has been rather vague about the origin of its components. It's possible that it includes whiskey originally distilled at Stitzel-Weller -- if so, probably a relatively small part of the blend. It's likely it includes whiskeys that were originally distilled at Bernheim and Stagg, the same whiskeys that go into the 22 YO blend, but it's also possible that it may include other whiskeys as well. Using a solera method is a good way of achieving a consistent taste profile from what might be a disparate set of whiskey stocks. In this case, it also allows the brand to maintain a link to Stitzel-Weller, even though the amount of Stitzel-Weller stock in the blend is likely to be very small.
The NAS bourbon employs a five-tier solera. Half the contents of the final fifth tier of barrels are removed at each bottling cycle and the barrels refilled from stock in the fourth tier. Each tier, in turn, draws stock from the previous tier. The first or top tier is replenished from new stocks. The final blend consists of stock that made its way through all five tiers. Multi-tier, fractional blending methods are widely employed in the production of sherry and nonvintage port. They are relatively rare in the production of spirits, however, apart from Central American and South American rums. Glenfiddich bottles a 15 YO Scotch whisky that is produced via a fractional blending system. Hillrock Estate Distillery in Ancram, New York, produces bourbon that they describe as "solera aged." Steward's, a Colorado craft distillery, blends eight different bourbons from four states, which it then ages in a solera system to produce its Steward's Solera Bourbon.
Blending whiskeys from different distilleries is unusual in bourbon country, although not unheard of. Typically, distilleries create varied whiskey expressions by using different mash bills and by varying distilling and aging regimes rather than by blending whiskeys produced at different facilities. The choice of whiskeys from these three distilleries is not surprising, as all three facilities were either owned by Diageo's predecessor companies (Stitzel-Weller, Bernheim) or produced whiskey for them on a contract basis (George T. Stagg). I explored the history of these three distilleries and their association with Diageo is an earlier feature on the Orphan Barrel Whiskey Company.
While Diageo has been reticent about fully disclosing the actual whiskeys, their proportions in the Blade and Bow blends, or when these whiskeys were blended, it has not been shy, however, of playing up the Stitzel-Weller connection for marketing purposes. The name Blade and Bow is a not so subtle association with the symbol of five keys that was the motto of the Stitzel-Weller distillery. The five keys represented the five steps in the production of bourbon (grains, yeast, fermentation, distillation and aging). The terms blade and bow refer to the shaft of a key (the blade), which slides into the keyway of a lock, and the portion of the key that sticks out of the lock (the bow), which is used to turn the key. The 22 YO expression comes complete with one of five different keys. If you collect all five keys you can get a free, probably VIP, tour of the Stitzel-Weller distillery.
It's likely that all three whiskeys in the 22 YO blend were matured at Stitzel-Weller for all or a significant portion of their aging, as all the stocks produced at Bernheim and Stagg that were retained by Diageo after Bernheim was sold ended up there. It's unlikely the actual blending occurred when the whiskeys were first produced and that the maturing whiskey was then ignored for the next two decades. What would seem more plausible is that Diageo ended up with a hodgepodge of different whiskeys with varying maturities aging at the Stitzel-Weller warehouse, as is widely known, and that at some point a master blender (Doug Kragel perhaps, the Master of Whiskey for Blade and Bow) fashioned a saleable blend from these disparate stocks. The bourbon has been well received, garnering numerous awards, including a gold medal and recognition as "Best Straight Bourbon" at the 2015 San Francisco Spirits Competition.
Diageo is not doing itself or its customers any favors, however, by its lack of transparency. The language used to describe the components of the blend and their origins seems deliberately vague; the syntax tortured; as if it was the product of an ongoing compromise between a marketing department obsessed with playing up the Stitzel-Weller connection and a legal department determined to keep them out of trouble. It's unfortunate really, since the lack of transparency detracts from what are otherwise pretty good whiskeys, even if consumers are asked to pay a premium for the exalted pedigrees. Besides, in the age of the Internet there are no secrets. The whole story will come out eventually, so why not disclose it at the outset?
Blade and Bow's newest offering is an ultra-rare 24 YO expression that was produced exclusively from Stitzel-Weller stock. Per Diageo's press release, the stock was drawn from one of the last barrels of whiskey distilled at Stitzel-Weller before it was shut down. I assume that this is part of the same whiskey, although possibly slighter older, that goes into the 22 YO Blade and Bow blend. Presumably this is a wheated whiskey, although Diageo has not disclosed the mash bill. Only one barrel of the 24 YO was available and only 38 bottles were produced. Two bottles were used at a dinner hosted by Blade and Bow to celebrate the brand's first anniversary on the Friday before the 2016 Kentucky Derby. Two more bottles were divided up for tasting samples.
To its credit, Diageo has donated the entire remaining bottling to the Robin Hood Foundation, New York City's largest poverty-fighting organization. All 34 bottles will be auctioned off in a single lot by Christie's Auction House, 20 Rockefeller Plaza, New York, NY, in a live auction of Finest and Rarest Wines and Spirits (Auction 12270) on December 9, 2016. The lot number is 219. Christie's has an estimate of between $24,000 and $35,000 for the lot, roughly $700 to $1,000 per bottle. To bid on the lot you will need to go to Christies and open an account. You can see the catalog for this auction here. Bids can be placed in person, online, by telephone or by absentee ballot.
The tasting notes below are from a sample generously provided by Diageo. In case you are wondering; no they didn't send a whole bottle, just a generous sample. I am nonetheless grateful for their hospitality.
Blade and Bow, 24 YO Single Barrel, Kentucky Straight Bourbon Whiskey, 46.7% ABV, 750 ml, barreling date November 22, 1991, bottled April 2016
The bourbon has a deep, dark amber color. On the nose, there is a distinct caramel sweetness with aromas of maple syrup, nougat and vanilla. There is a hint of some dried fruit notes, like old raisins, and a bit of new saddle leather. There is a bit of a spirit note in the background, like faded furniture wax.
On the palate, it is initially dry, with a little sweetness emerging mid-palate. There are notes of vanilla, pepper, old, seasoned cedar wood and hints of spice. The wood is distinct but nicely integrated, and much less assertive than you would expect from a 24 YO bourbon kept in an unheated warehouse. Toward the end, there are some very slight burnt sugar and cotton candy notes.
The bourbon is smooth, subtle, well integrated but, as is typical of ultra-aged bourbons, lacks the intensity of flavor one finds in younger whiskeys. The finish is about medium length. It is not particularly complex or nuanced, featuring pronounced pepper notes that rapidly give way to some indistinct dried fruit notes. This is a whiskey to drink straight up, to savor unadorned by ice or mixers.
There are whiskeys that are meant for drinking and whiskeys that are meant for talking. Blade and Bow's 24 YO expression falls into the latter category. It's an excellent whiskey. At its likely price, however, there are better value bourbons out there. As a piece of bourbon history, however, to borrow a line from the MasterCard commercial -- it's priceless. The fact that the proceeds go to a good cause doesn't hurt either.
Appearance 10/10, Nose 28/30, Palate 27/30, Finish 25/30 Final Score: 90/100
Related