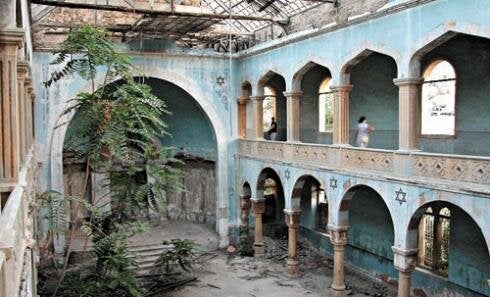 BEIRUT: The last Jews of Beirut will have to wait longer for their only place of worship to be restored from ruin as the project runs out of support.
It has not been long since it was announced that the Lebanese capital's remaining synagogue was set to be repaired after 30 years of disuse, promising to give the Lebanese Jewish community a new lease of life.
However, the Lebanese Jewish Community Council, the non-profit organization in charge of the renovation effort, has announced they have run out of funds.
As dozens of new hotels spring up in the downtown area, work to the crumbling Maghen Abraham synagogue has been forced to stop, threatening the small Jewish community's existence in Lebanon.
Money promised to them from major construction firm Solidere, owned by the Sunni Prime Minister Saad Hariri, has not materialized and the organization has been forced to appeal to the international community to help carry on the work.
"The limited 'phase 1' funding of this historic renovation was made possible by the Lebanese Jewish Council and businessmen abroad," the group's spokesman Aaron-Michel Beydoun said. "These funds merely cover the cost of vital infrastructure repair."
"The money we have is from our own modest resources and I can't imagine the first phase taking too long before [more] funding will be needed to continue," he added.
Beydoun stressed that support for the synagogue would not merely be a financial gesture, "but rather a reaffirmation of your belief in Lebanon's rich tradition of cultural pluralism and religious diversity."
The group says $1 million is needed for the work, which was expected to take a year.
Maghen Abraham, situated in the former Jewish quarter, is one of the last remaining symbols of Lebanon's vanishing Jewish community, which is now estimated to have just 100-150 members, down from the thousands-strong numbers it saw in the first half of the 20th century.
Despite this, Judaism remains one of the country's 18 officially recognized religions.
But the Jews of Lebanon have been without a place of worship since Israeli shelling destroyed their synagogue in 1982, and plans to renovate it had to be postponed several times due to the 2006 war with Israel and the global financial crisis.
The last rabbi fled the capital in the late 1990s and many remaining Jews hide their identity to avoid persecution.
Some have already lost faith that the Jewish community in the Arab country will ever see life again.
Liza Srour is the last remaining Jew living in the old Jewish quarter of Wadi Abu Jamil in a run-down building set to be demolished. Most of the houses around her that were once owned by members of the community have either been torn down or sold to Soldiere.
Liza now lives with only her cats for company and says she speaks little to old friends in the area. She does not visit the synagogue as she finds it too difficult to look at the ruins.
"[It is] impossible, for me, a Jew, to really feel part of this country," she said. "Don't get me wrong, I am Lebanese, 100 percent Lebanese. But I am rejected, because people think I am Israeli, or a Zionist or a Mossad agent.
"A lot of people know I'm Jewish and that's dangerous for me. You never know who will want to hurt me because of my religion."
Srour was offered Israeli citizenship by former Prime Minister Ariel Sharon in 1982, but she refused, saying she was not and never would be Israeli.
However, the Lebanese government still refers to Lebanese Jews as Israelis in official documents despite having no connection to the Jewish State, and with their religion marked on their ID cards it can be hard for them to live a normal life.
Many called the planned restoration a symbol of hope that the race would live on; hailing it as the triumph of pluralism in a country deeply divided along sectarian lines, but the 18 sects Lebanon boasts could still slip down to 17 if the synagogue is left to rot.
Popular in the Community