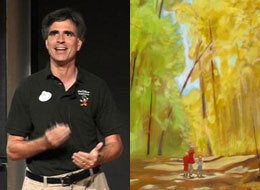 Much has been made recently of Randy Pausch's "The Last Lecture". He is a Professor at Carnegie Mellon and six months ago he was diagnosed with pancreatic cancer and given "weeks or months" to live. His moving lecture was video taped as an afterthought and posted on YouTube for the people who couldn't attend. Ten million views, Oprah and Diane Sawyer later, the world now grieves with him.
My family had a similar experience. Last spring, a family member who I am very close to was given "months, not years" to live. During this time, three generations galvanized and committed to take time off and spend time together. Because of this person's compromised immune system air travel wasn't possible so all the trips were by car in California where we live. Our whole family -- grandparents, children and grandchildren, cousins -- took four vacations in three months to Yosemite, Laguna, Malibu and Ojai. We slowed way down. We had a lot tearful moments. We discussed how this person wanted to be remembered, where this person wanted to be buried, all while young grandchildren crawled and ran around us oblivious to what was going on. We all dealt with the prospect of losing someone too soon differently. For me, I felt extreme baritone pain for three weeks. I cried especially when I drove.
Outwardly this person appeared in good health so it all seemed surreal. Then we entered a phase of disbelief and suspended animation. We took long walks. We stopped and smelled all the roses. We did everything as if it were the last time we would do it.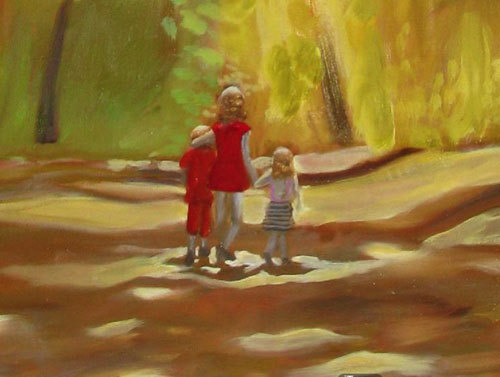 Kimberly Brooks. "Yosemite Walk, I" Detail 24 x 30" Oil on Linen
During this time I was preparing for my next show and this family member started a new treatment which, amazingly, keeps the illness at bay. As fall neared it was as if the summer was all a dream. We still knock on wood. The show I was planning gave way to capturing the essence of the summer. It was the summer that we lived life in high definition, in technicolor. All the colors were so much brighter. It made me want to live every day like last summer.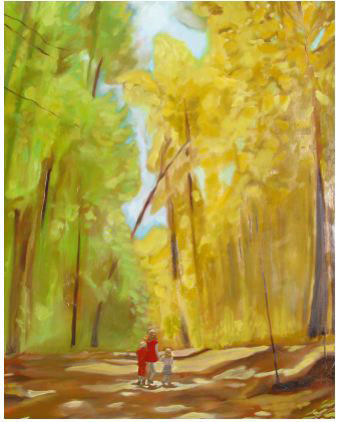 Kimberly Brooks. "Yosemite Walk, I" 24" x 30" Oil on Linen
First Person Artist is a weekly column by artist Kimberly Brooks in which she provides commentary on the creative process and showcases artists' work from around the world. Her Solo Show "Technicolor Summer" runs May 10 - June 14 at Taylor De Cordoba, Los Angeles.
REAL LIFE. REAL NEWS. REAL VOICES.
Help us tell more of the stories that matter from voices that too often remain unheard.