Every now and then our team at the Upitch App receives an email from a journalist who, frustrated with their overflowing inbox, tells us they don't want to download Upitch because the last thing in this world they want or need is - you guessed it - more pitches! Point taken. But here's the rub (in our humble opinion)...
Journalists receiving mountains of unsolicited PR pitches on a daily basis makes them frustrated, frazzled, and, a bit salty to be honest. Some journalists label themselves as "PR friendly," some go out of their way to let you know they are not PR friendly, and most are neutral but just wish they only got relevant pitches in their inbox so they didn't have to hit delete and unsubscribe a bazillion times a day. We feel their pain. So, why wouldn't every journalist embrace an app that aims to empty their overflowing email inboxes and move the pitching process onto a third party mobile platform?
We even allow journalists to filter the pitches they see so they will never come across an irrelevant pitch ever ever again. Ever, ever?? Ever, ever! And if that wasn't enough, we have pared pitches down from their typical 400-700 word format to something that resembles an extended tweet, or the Cliff's Notes version of a story pitch, if you will. After all, do journalists really need to see more than a headline, summary, 400 characters of spiel, images, and url links to know if they want to learn more?? Not really.
The Upitch app pre-qualifies both parties in the pitching dynamic. When a journalist swipes right to show initial interest, a PR pro or business owner can then reach out with more confidence, knowing that journalist is at least somewhat warm to their idea. Journalists can keep pitches out of their inboxes, filter for only pitches that are in line with what they cover, browse and swipe through pitches in mere seconds (we cut to the chase).
Then if, and only if, they swipe right are they accessible to the person who has written said pitch. Should there be some synergy, the journalist can always then invite the pitcher to send additional information to their email. Plus, journalists only have to see pitches if they take the active step to open Upitch on their phone. But if not, their inbox would be reserved for sources, leads and those PR people they are actively communicating with.
So, Joe and Josephine Journalist, let's take a big picture approach on this and it's a win/win for everyone.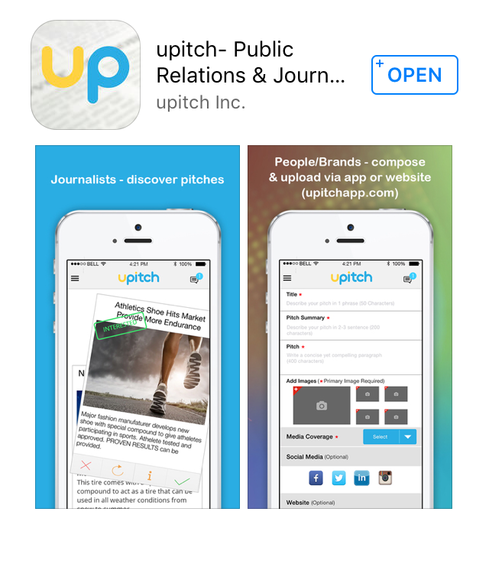 Calling all HuffPost superfans!
Sign up for membership to become a founding member and help shape HuffPost's next chapter