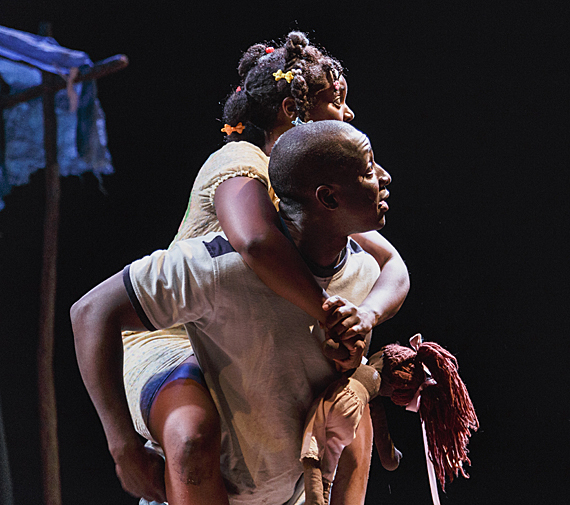 Brittany Bellizeare is Rose and Andy Lucien is Max in Last Tiger
Historians traditionally approach Haiti with a wide-angle lens, recounting centuries of slavery, revolution, tyranny, corruption and endemic poverty; contemporary news reports typically bring a narrower perspective to the troubled land, but still concentrate on events that affect millions, such as hurricanes, floods, earthquakes and epidemics. But the plight of individual Haitians rarely draws more attention than a video camera can capture in a few pathetic seconds.
Jeff Augustin, a young playwright whose family emigrated from Haiti to Miami before his birth, is doing his best to change that, to the extent that any one artist can. With The Last Tiger in Haiti, which is receiving an engrossing world premiere at Berkeley Rep, he puts a spotlight on a horrifying condition that is apparently common in his ancestral land: the virtual slavery of young people.
Given up by parents who are too poor to raise them, the youngsters -- called restaveks -- are forced to toil as domestic servants until they turn 18, when they are set free to enter a harsh world with little or no education and many memories of cruelty, hunger and abuse. That they survive is a testament to the resiliency of youth.
In Last Tiger, their survival is also a testament to the power of tradition and story-telling: the preservation and repetition of folk tales from generation to generation, creating bonds and insights.
Augustin's narrative focuses on five restaveks: three boys and two girls, ages 11 through almost-18 in the first act, then 15 years older in the second. Act one takes place in a rickety shack; act two moves to an opulent Miami high rise. The first is by far the more powerful but also the more difficult to follow; the second is is much clearer but dramatically problematic.
The difficulty, for me and for many others overheard during intermission, lay in the Creole accents that raise the play's level of authenticity. In this case, I think director Joshua Kahan Brody's decision to opt for authenticity over communication was a mistake.
Each of the youngsters has a story to relate, and each of the actors tells or sings that story in compelling fashion, within a hierarchy that finds some tellers more skillful than others. Their tone varies widely, from wistful to ferocious.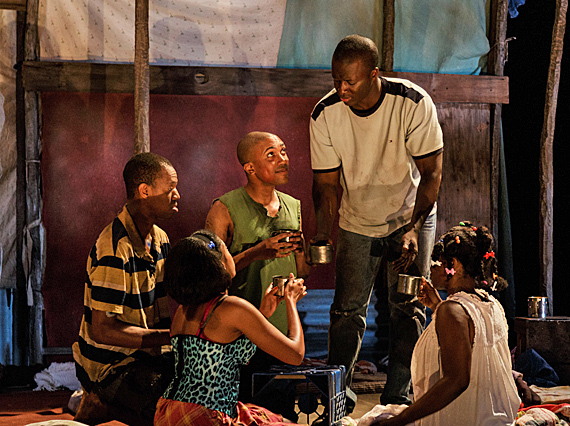 From left, Reggie D. White, Jasmine St. Clair, Clinton Roane, Andy Lucien and Brittany Bellizeare
The cast includes Brittany Bellizeare as the youngest, Rose; Andy Lucien as the oldest, Max; and Clinton Roane, Jasmine St. Clair and Reggie D. White as the others. All carry essentially equal weight in act one; in the second, Bellizeare and Lucien dominate, with the others surfacing only when the play takes a surreal turn.
The passing period has seen Rose, who was rescued and brought to Miami after the earthquake, not only make up for lost years of education but go on to become a respected author. Her books focus on Haitian folklore.
Max has made his way to Miami too, through prostitution. He has also become sufficiently literate to have read Rose's books, and to resent how she has manipulated the stories. That conflict turns into a debate about cultural appropriation, which I find hard to buy in the context of Max's background. (It also makes me wonder whether Augustin's unstated target was such writers as Diane Wolkstein, a New Yorker whose The Magic Orange Tree and Other Haitian Folktales has become something of a classic in the genre.)
Regardless, Last Tiger shines its tightly focused light in a direction that theater has rarely done, and deserves admiration for both its own accomplishments and for Berkeley Rep's new play program that supported its development.

The Last Tiger in Haiti runs through Nov. 27 in Berkeley Repertory Theatre's Peet's Theatre, 2025 Addison St., Berkeley. Tickets are $29-$97, from 510-647-2949 or berkeleyrep.org
REAL LIFE. REAL NEWS. REAL VOICES.
Help us tell more of the stories that matter from voices that too often remain unheard.