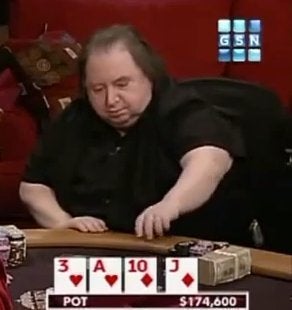 When music mogul and high-stakes poker player Alan Meltzer passed away this October, he left a hefty $1 million to his chauffeur, and another $500,000 to the doorman of his building.
"He was always joking. He never looked down on anybody," the chauffeur, Jean Laborde, a 54-year-old father of five from Irvington, NJ, told The New York Post. "He was such a nice guy. He left me money, but it's not a good deal for me because it means he's no longer here."
And the doorman, Chamil Demiraj, had more kind words. "I appreciate it," he told The Post. "He was a generous guy. He was a really good friend of mine, and I was a good friend of his. It's a surprise. Peace and rest to him. That's all I can say."
Laborde and Demiraj reportedly acted as crying shoulders for Meltzer when he and his wife, Diana, divorced after a 13-year marriage.
Had they not divorced, Diana would've received a third Meltzer's estate. Diana, however, doesn't seem to be too upset about the money, and gave The Post a quote for the ages to prove it:
"He can leave it to whoever he wants to," Diana, a former model, told The Post of her lost inheritance. "I'm doing fine. I could care less. If he wants to give it to the bums, he can give it to the bums. He could f--k a nun. I couldn't give a s--t. He can give his money to whoever he wants. We're divorced. The man is dead."
Before earning his fortune as the founder and CEO Of Wind-Up Records, and before he was a well-known face on High Stakes Poker, he was a pretzel vendor on the streets of Brooklyn.
REAL LIFE. REAL NEWS. REAL VOICES.
Help us tell more of the stories that matter from voices that too often remain unheard.