Much is at stake with the selection of Pope Benedict XVI's successor, including a lot of money. Paddy Power, Europe's largest bookmaker, has already taken more than £100,000 in bets, and expects to see multi-million-pound action closer to next month's conclave at the Sistine Chapel.
While Las Vegas casinos refuse to accept such bets for reasons of "taste," Paddy Power is one of several major international bookmakers currently offering papal markets, not only on who will be the next pope, but what papal name he'll choose, his country of origin, and the length of the papal conclave, among others.
Such markets are nothing new. In 1549, Roman banks accepted bets on cardinals likely to be elected, with the very same cardinals getting in on the action. Pope Gregory XIX's 1591 papal bull, making wagers on papal elections punishable by excommunication, failed to deter the practice. At the 1878 papal conclave, The New York Times reported a brisk market and characterized Italian gamblers as "in a state of excitement that is indescribable." In 1903, according to the Times, an Italian government-run lottery effectively offered odds on when Pope Leo XIII would die. Despite probitions by Pope John Paul I and Pope John Paul II, betting continued throughout the 20th century, and, with the advent of the Internet, surged in the 21st. Paddy Power saw wagers of £200,000 on 2005's papal election, in which Pope Benedict XVI--then Cardinal John Ratzinger--opened as the consensus runner-up 12-1 and soared to a 3-1 favorite by the eve of the conclave.
For the second consecutive papal election, Paddy Power has agents in Vatican City gathering intelligence and advertising the firm's services. Here are the current "Next Pope" favorites along with commentary by a Paddy Power odds compiler:
Canadian Cardinal Marc Ouellet, age 68: 7-2: "[This is] in no small part because of his closeness to the current Pope and his serious political acumen," says the odds compiler. "He is very well backed by the punters already." Cardinal Archbishop of Milan Angelo Scola, 71: 4-1 "[Scola] is appealing to punters who think an Italian candidate will be resident in the Vatican next. It is well known that there is a solid Italian voting block in the College of Cardinals, and Scola is currently top of the pile." Bettors also expressed like Scola's countrymen, Cardinal Tarcisio Bertone, 78, and Cardinal Angelo Bagnasco, 70, at 6-1 and 14-1 respectively.
Not surprisingly, Italy is also the 6-5 favorite as the next pope's country of origin. Ghanian Cardinal Peter Turkson, 64: 4-1: "He's commanded almost a quarter of the bets so far! Some are pointing to the political pressure for a non-Westerner to be appointed, and Catholicism is certainly growing in Africa. The question remains whether or not the European Cardinals will connect with him enough to give the necessary ballots to become the first black pope." Brazilian Cardinal Odilo Scherer, 63: 20-1: "Could quietly emerge as a serious contender." The two United States candidates with the highest profiles so far are Cardinals Raymond Burke, 64--paying 40-1--and William Levada, 76--100-1. "They are considered outsiders at present, although that is not say that they will remain outsiders...this is a marathon, not a sprint!"
In the category of Next Papal Name, Peter has taken a commanding lead, paying even money, with Pius at 4-1, and John and Benedict each at 12-1. A long shot, at 100-1, is Damian.
Click here for a complete and up-to-the-minute listing of Paddy Power's Next Pope Betting.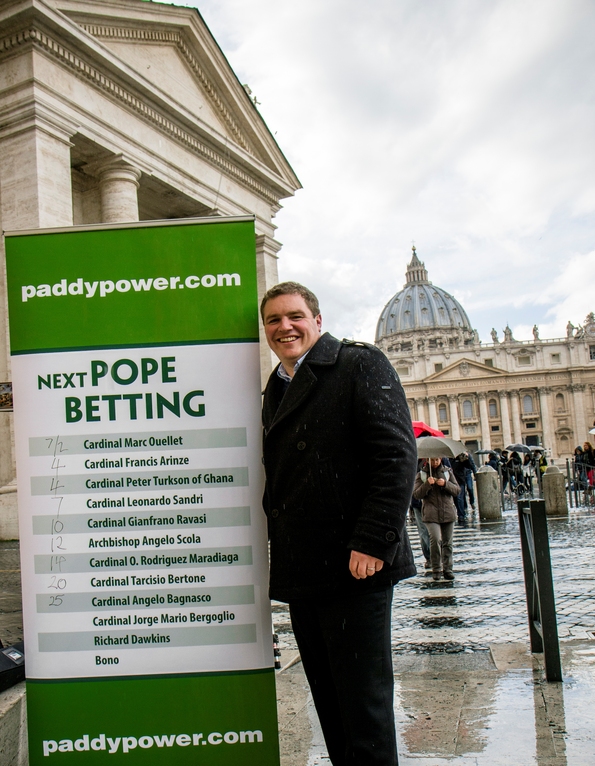 A Paddy Power rep--whose name happens to be Paddy Power (he's the son of firn founder David Power) in Saint Peter's Square (photo courtesy of Paddy Power)
Calling all HuffPost superfans!
Sign up for membership to become a founding member and help shape HuffPost's next chapter