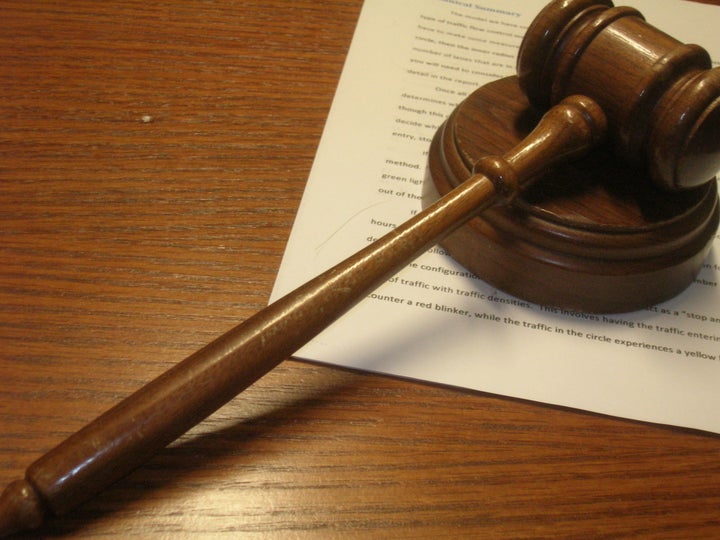 One of the many objections to President Trump's nomination of Neil Gorsuch to the Supreme Court was Gorsuch's troubling record in the Bush Justice Department of advocating and defending broad assertions of presidential power that were ultimately rejected by the Supreme Court. His short service on the Court so far has clearly vindicated this concern, as he has already deferred to Trump's far-reaching claims of power on immigration. At a time when the Trump administration is pushing the limits of executive power, we need independent-minded judges who will not simply rubber-stamp Trump's agenda.
Unfortunately, Gorsuch is far from the only Trump judicial nominee whose record raises these serious concerns.
Trump has also nominated Gregory Katsas, another former Bush Department of Justice (DOJ) official, to a seat on the D.C. Circuit Court of Appeals, which is widely regarded as the second most important court in the U.S. As former head of DOJ's civil division and as acting associate attorney general, Katsas has an even more extensive record than Gorsuch in advocating troubling assertions of executive power by President Bush. And in five cases in which Katsas was personally involved, he pushed for positions that were rejected by the Supreme Court or by the D.C. Circuit itself as abuses of authority.
The first case was early in Katsas' tenure as a DOJ attorney, when he signed briefs in both the D.C. Circuit and the Supreme Court strongly defending the view that the president could unilaterally decide to detain people suspected of involvement in terrorism at Guantanamo Bay for as long as he wanted, with no legal process at all and no review by any court. The Supreme Court rejected that claim in 2004 in Rasul v. Bush, with Justice Kennedy's concurring opinion emphasizing that detainees were being held "indefinitely" and "without benefit of any legal proceeding."
Katsas and the Bush administration then tried to claim that such detention was allowed as long as the president set up military commissions to try Guantanamo detainees, even though the process used omitted key human rights and other protections in the Geneva Conventions and the Uniform Code of Military Justice. Again Katsas co-wrote the briefs in the D.C. Circuit and the Supreme Court. In what former Solicitor General Walter Dellinger has called "the most important decision on presidential power and the rule of law ever," the Supreme Court rejected that plan in Hamdan v Rumsfeld. As a concurring opinion by four justices in Hamdan explained, our Constitution "places its faith" in "democratic means" to deal with such important issues, and the Court's decision, unlike the arguments supported by Katsas, "simply does the same."
As efforts under President Bush to assert presidential power and keep detainees' cases out of court continued, Katsas became even more involved. Based in part on work by Neil Gorsuch at DOJ, the administration cooperated with a compliant Congress to pass legislation after Hamdan that continued to deprive detainees of the ability to challenge their detentions in federal court through habeas corpus proceedings. Katsas stated on his Senate Judiciary Committee questionnaire that he was "actively involved" in the resulting litigation and twice "argued the government's position" orally in the D.C. Circuit. But the Supreme Court also rejected this plan as unconstitutional in a key opinion in Boumediene v. Bush. As Justice Kennedy explained in his opinion for the Court, to "hold that the political branches may switch the Constitution on or off at will would lead to a regime in which they, not this Court, say what the law is." Katsas clearly and personally argued to the contrary.
The D.C. Circuit also rejected two attempts by Katsas to defend abuses of executive power in the conduct of the military tribunal proceedings themselves. In Parhat v, Gates, Katsas personally argued to the D.C. Circuit that a tribunal could brand a detainee who was not a member of a terrorist group as an "enemy combatant" based on unreliable hearsay evidence, including claims from the Chinese government. And in Bismullah v. Gates, Katsas and others argued in briefs that the government should not even have to disclose to detainees all the evidence against them, including evidence that suggested they were not in fact enemy combatants. In both of these cases, judges appointed by Republicans as well as Democrats unanimously rejected Katsas' claims.
Katsas did more than just defend these troubling policies in court. While at DOJ, Katsas testified at several Congressional hearings in support of the positions he was advocating that were rejected by the Supreme Court. Both at DOJ and after he left, according to his Senate Judiciary Committee questionnaire, he spoke at events sponsored by the Federalist Society and others in support of these positions. He strongly argued that habeas corpus for what he called "aliens abroad"—referring to people detained at Guantanamo—was "unnecessary and unwise." [See House Armed Services Comm. Hearing on Upholding the Principle of Habeas Corpus for Detainees (July 26, 2007) at p.69.] He rejected a suggestion by Senator Edward Kennedy that decisions like Rasul and Hamdan were "rebukes" by the Supreme Court that indicated that the administration's legal approach was "fundamentally flawed," and claimed instead that the positions he advocated actually "have fared generally well in the courts." [See Senate Judiciary Committee Confirmation Hearings on Federal Appointments (Jan. 22, 2008) at p. 152.] And in a speech before the Federalist Society, he strongly argued for "deference" to "the Executive Branch" on immigration and other issues. [See Federalist Society Immigration Law Panel (Nov. 14, 2003)].
Currently, Katsas is deputy counsel to President Trump in the Office of the White House Counsel where, according to his Senate Judiciary Committee questionnaire, he deals with "virtually any legal issue of interest." Until senators ask him at his nomination hearing, we won't know precisely what role he has played in Trump's own attempts at abuse of power.
Katsas and Gorsuch are not the only Trump judicial picks with dangerous views on presidential power and authority. The Republican-controlled Senate Judiciary Committee recently recommended approval of the nomination of another former Bush DOJ official to an important appellate court by voting, on a party line vote, to approve Judge Joan Larsen for the Sixth Circuit. This was despite her co-authorship of a still-secret DOJ memo on the habeas corpus rights of detainees and her public claims that presidents can use signing statements—written comments from a president when he or she signs a bill—to effectively disregard the law in some cases.
The abuses of executive power that we have already seen from President Trump make it crucial for all Americans that our courts, especially the Supreme Court and our federal courts of appeals, truly serve as independent checks on Donald Trump and future presidents. But the record under Trump so far is very troubling. For the sake of our democracy, Republicans should join Democrats in vigorously questioning Katsas at his confirmation hearing and, unless his views on executive power have changed, rejecting his nomination to the powerful D.C. Circuit.
Elliot Mincberg is a senior fellow at People For the American Way.
Support HuffPost
The Stakes Have Never Been Higher
Related
Popular in the Community