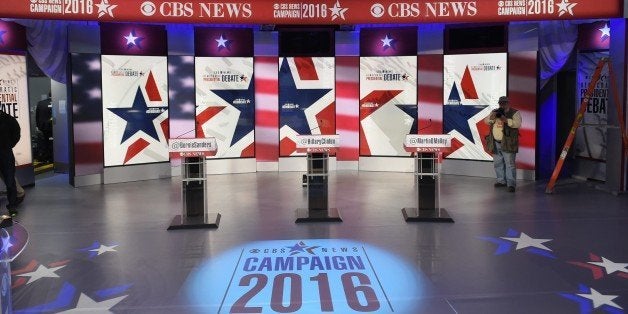 Former Secretary of State Hillary Clinton did fine. It wasn't her best night, but she's a good debater who knows the issues. She had a couple of awkward moments, although we're not talking about anything too damaging.
Vermont Sen. Bernie Sanders behaved like Bernie Sanders. He's a truly authentic candidate and has been a nice addition to the Democratic race. It's still really hard to imagine him ever winning the nomination. Besides, recent developments in Paris have likely reminded voters that foreign policy experience matters.
Former Maryland Gov. Martin O'Malley actually had some decent answers during the debate. However, there's something about O'Malley's delivery or demeanor that comes across as excessively contrived, almost as if he's just a very good memorizer of talking points though not someone who fully understands what he's saying, especially on foreign policy. O'Malley did a fair amount of talking on stage Saturday night, but he still reminded me of a mannequin.
Moderator John Dickerson did a good job throughout the debate. He consistently came across as calm and well-prepared. A POLITICO journalist went as far as to say that Dickerson had won the debate and she definitely wasn't the only one making that assertion.
Barring some unforeseen catastrophe, Clinton is going to be the nominee for the Democratic Party.
On the Republican side, the circus continues. Donald Trump and Ben Carson remain the frontrunners. After some very solid debate performances, Florida Sen. Marco Rubio has strengthened his position. Jeb Bush looks more soporific than ever. Disturbingly, a thoughtful piece has reiterated that Texas Sen. Ted Cruz has a real shot at the nomination.
There's still time for sanity to prevail, though it's sad that candidates like Trump and Carson are still getting so much support. If the GOP finally comes to its senses, Rubio appears to be the most viable candidate. He's young, but he's also really smart and talented. Additionally, his personal story is compelling and he truly cares about foreign affairs. The Democratic Party in general, and Clinton in particular, has to be hoping that Rubio doesn't win the nomination.
REAL LIFE. REAL NEWS. REAL VOICES.
Help us tell more of the stories that matter from voices that too often remain unheard.