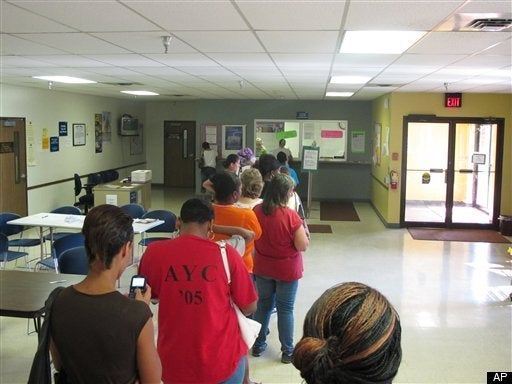 Unemployment remains elevated at 9.6%, yet that's the good news number on the latest of unemployment and jobs reports. The "real" unemployment rate is 17% when discouraged workers and the underemployed are considered. According to the more conservative BLS estimates, there are currently 14.8 million unemployed and another 9.15 million underemployed who want full-time work or nearly 24 million unemployed/underemployed. What do those 24 million have in common? They all want full-time jobs.
One barometer of American job creation is the Bureau of Labor Statistics' JOLTS report. The JOLTS report, according to the BLS:
The program involves the monthly collection, processing, and dissemination of job openings and labor turnover data. The data, collected from sampled establishments on a voluntary basis, include employment, job openings, hires, quits, layoffs and discharges, and other separations.
The latest JOLTS showed a deteriorating job openings picture:
Job Openings in U.S. Decreased 163,000 in September
From Bloomberg: Openings decreased by 163,000 to 2.93 million, the Labor Department said today in Washington. The number of people hired rose from the prior month and separations declined.

"Labor demand is simply not strong enough to support a complete job recovery," Henry Mo, an economist at Credit Suisse in New York, said in an e-mail to clients. There is "intense competition among job seekers."

Openings fell 5.3 percent in September from a revised 3.09 million in the prior month that was smaller than previously estimated.

Compared with the 14.8 million Americans who were unemployed in September, today's figures indicate there are 5 people vying for every opening, up from about 1.8 when the recession began in December 2007.
The "5 people vying for every opening" conclusion is distorted when you consider the "real" jobs picture. There are 24 million unemployed/underemployed and 2.93 million online job listings. The 9.15 million underemployed are working part-time, but want full-time work. When considering the underemployed in the JOLTS equation, the unemployed/underemployed to job opening ratio spikes to 8.
An important weakness with the JOLTS report is that it doesn't differentiate between full-time, part-time, seasonal, contract and temporary positions. Other online jobs listings trackers, including Indeed.com and The Conference Board Help Wanted OnLine™ report state they also don't differentiate between full-time and part-time job openings. That's an important distinction in today's economy where employers may be adding lower paid, benefit-lacking part-time workers instead of higher paid, more benefit centered full-time workers. The part-timers are likely to spend less than the full-timers and that leads to businesses hiring fewer workers, especially full-timers.
The job openings picture is of particular interest to the near record 6.2 million long-term unemployed (unemployed for 27 weeks or more). And the estimated 2.5 - 5 million 99ers -- unemployment benefit exhaustees -- who are looking for work. The longer a person is laid off, the more difficult it is to secure a job, since many companies state both loudly and quietly that they do not want to hire the long-term unemployed.
The persons not in the labor force is now at the highest ever, at 84,626K, an increase of 462K from September. This odd change conveniently allowed the unemployment rate to stay low. And more importantly, the number of people who want a job now per Table A-1 is now the highest in 2010, and the second highest in history: 6,255K, an increase of 53K from the month prior.
As the latest BLS statistics show, there are more people wanting jobs, fewer people are in the workforce because they gave up looking for work, and there are fewer job openings. That data are not a recipe for a quick economic recovery. Job creation needs to occur much more rapidly to put a dent in the "real" unemployment/underemployment rate.
The JOLTS report should also be a wakeup call to Congress. Until jobs are more abundant there needs to be an extension of unemployment benefits, including extended unemployment benefits for 99ers -- unemployment benefit exhaustees. Without consumer spending, including spending by the unemployed, businesses will not hire in the numbers needed to improve the unemployment rate.
The JOLTS report is another unfortunate jolt to the millions of unemployed who are looking desperately for work and not finding it.
REAL LIFE. REAL NEWS. REAL VOICES.
Help us tell more of the stories that matter from voices that too often remain unheard.