As we've mentioned before, federal Recovery Act assistance to states will largely run out this year, which could cost hundreds of thousands of jobs and worsen cuts to state public services. The loss of education jobs alone stands at 105,000 and is expected to keep rising.
K-12 education: At least 30 states and the District of Columbia are cutting aid to K-12 schools and various education programs. California, Michigan, and Mississippi have made significant cuts to school aid. Hawaii cut 17 days from the current school year, furloughing teachers. A cut in funding means that as many as 10,000 children in Illinois may lose eligibility for early childhood education, and Massachusetts is reducing funding for a number of early care programs. Current and additional education cuts undermine reform initiatives that many states are undertaking with the federal government's encouragement, such as supporting professional development to improve teacher quality, improving interventions for young children to heighten school readiness, and turning around the lowest-achieving schools, to name just a few. Read more.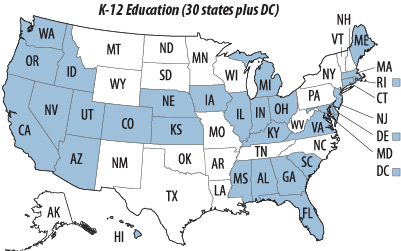 Higher education: At least 41 states have cut assistance to public colleges and universities, resulting in reductions in faculty and staff in addition to tuition increases. The University of California is increasing tuition by 32 percent. Tuition at all 11 public universities in Florida increased by 15 percent for the 2009-2010 school year. Students in Washington and other states face significant tuition increases as well, costing families hundreds of dollars per year. Michigan and New Mexico have made deep cuts to need-based financial aid programs. Read more.
Public health programs: At least 30 states have implemented cuts that will restrict low-income children's or families' eligibility for health insurance or reduce their access to health care services. For example, Rhode Island eliminated health coverage for 1,000 low-income parents; Tennessee has frozen enrollment in its state children's health insurance program (CHIP); and California is increasing the costs borne by families of nearly 1 million children that participate in its CHIP program. Washington is increasing premiums by an average of 70 percent for a health plan serving low-income residents. Read more.
Programs for the elderly and disabled: At least 25 states plus the District of Columbia are cutting medical, rehabilitative, home care, or other services needed by low-income people who are elderly or have disabilities, or are significantly increasing the cost of these services. For example, Ohio made deep cuts to community mental health services and Arizona eliminated temporary health insurance for people with serious medical problems. Read more.
State workforces: In total, state and local governments have eliminated a total of 212,000 jobs since August 2008, according to the U.S. Bureau of Labor Statistics--teachers, health care workers, and so on. Additional workers have lost pay and benefits. The impact of these cuts ripples through the economy by forcing the affected workers to cut back on their spending, thereby weakening the recovery. Read more.