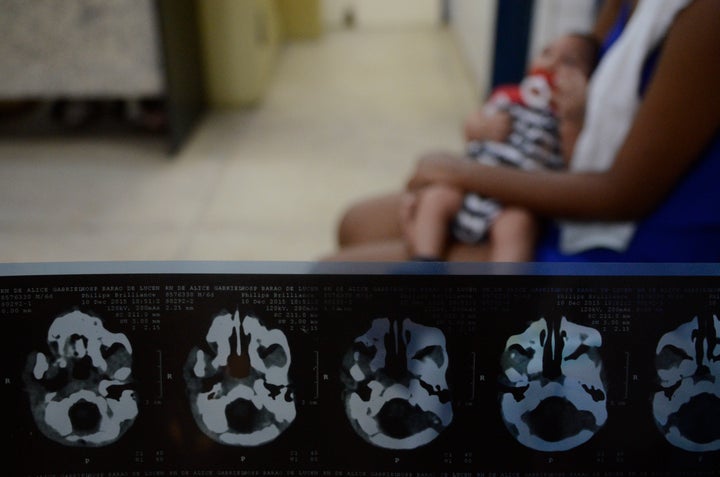 The Zika virus, which is spread by the Aedes aegypti mosquito, is strongly suspected to be linked to a new wave of microcephaly cases in Brazil. Babies born with this birth defect have smaller heads and sometimes brains that aren't fully developed, which can result in life-long developmental problems.
Zika is currently spreading through Central and South America and the Caribbean, and with the high volume of news about the virus, it's tough to stay up-to-date. Check out our full coverage, or read our daily recaps.
Here are four updates, opinions and developments to know about now:
1. Colombia reports a "probable" case of microcephaly in an aborted fetus
Over 6,000 pregnant women in Colombia have Zika virus, and now the country is reporting its first "probable" microcephaly case, reports Reuters. Health officials said that the virus was present in the amniotic fluid of an aborted fetus, and the fetus, at 28 weeks, was severely deformed. Unfortunately, the fetal remains were improperly discarded, which means the country's health officials cannot confirm the condition or that the fetus was infected with Zika virus.
The country has established new protocol for tracking pregnant women who test positive for Zika virus, reports NPR. It includes monthly ultrasounds and the careful collection of data about the point of time in their pregnancy the women got Zika virus. Scientists around the world are watching Colombia as more of the women with Zika virus continue to progress in their pregnancies and give birth. The results could help to confirm whether or not Zika virus is responsible for causing severe birth defects in babies.
2. WHO says Zika virus outbreak may get worse before it gets better
Director-General Margaret Chan of the World Health Organization warned that the Zika virus outbreak might gets worse before it gets better, and that means Brazil may continue to see more babies born with microcephaly, reports Reuters. So far, Brazil has confirmed 583 cases of microcephaly, and officials are still investigating more than 4,000 other cases.
The WHO also put forth recommendations on breastfeeding after Zika virus. Because there's no evidence babies can get the disease via their mother's breast milk, women who have tested positive for the disease in the past should continue breastfeeding their infants, reports AP. The guidelines, released Thursday, align with the U.S. Centers for Disease Control and Prevention's recommendations released last week. Both agencies said that the benefits of breastfeeding outweigh any potential risk of Zika virus transmission. The primary mode of Zika virus transmission is via mosquito bites, but sexual transmission of the disease is also possible.
3. Czech Republic and Japan report their first Zika virus cases
Two travelers who visited the Caribbean returned to the Czech Republic with the disease, while one teen who visited Brazil was diagnosed with Zika virus in Japan. While this is Japan's first Zika virus case linked to the current outbreak, the country has seen three other cases in previous years, all in travelers returning from French Polynesia and Thailand, reports Reuters.
4. What the American public knows (and doesn't know) about the Zika virus outbreak
A couple of interesting new polls gauge Americans' awareness of the international outbreak. The Kaiser Health Tracking poll, released Thursday, finds that about six in 10 Americans are closely following news about the outbreak, and that the same ratio of Americans has also read or heard at least something about the disease. Three-fourths say that they know it is passed via mosquito bite, more than half know it can also be sexually transmitted, and seven in ten know it can't be spread just by shaking someone's hands. Six in 10 also know that there are cases of Zika virus in the U.S., and that the disease may be linked to birth defects. Finally, 43 percent of respondents said they were "very" or "somewhat" worried that the U.S. will have a large number of Zika virus cases in the next year.
Meanwhile, an Annenberg Science Knowledge poll on Zika virus found that more than one-third of Americans said they believed the untrue conspiracy theory that genetically modified mosquitoes caused the spread of Zika virus. About four in ten of the respondents also incorrectly believed that someone who gets Zika virus has a high risk of dying. In fact, the disease is very mild and rarely requires hospitalization.