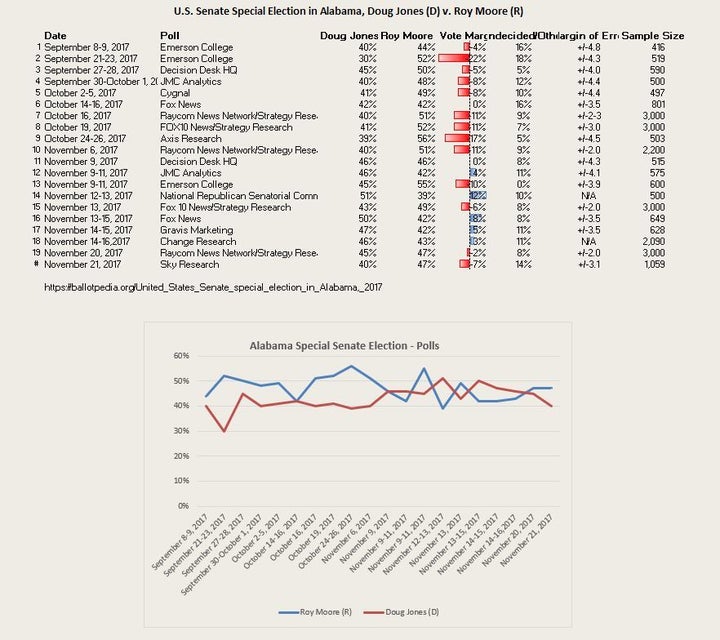 Two new polls show Roy Moore reestablishing a lead over Doug Jones in the Alabama special Senate race. A not surprising reversion toward the Republican mean in Alabama politics, but well worth parsing for insights into the election dynamics in the state going forward. Here are some details about the polls.
A Raycom News Network/Strategy Research poll conducted on November 20 shows Roy Moore with a 47% to 45% lead over Doug Jones. In a separate Sky Research Poll conducted on November 21, likely voters favored Moore over Jones by a margin of 47% to 40%.
These numbers represent a pretty stark departure from polls the previous week that showed Doug Jones claiming an advantage over Moore in the wake of recent sexual predator allegations against the Republican judge. However, two previous Raycom News/Strategy Research polls, conducted in late October and early November showed Moore with an identical 51%-40% lead over Jones, so the 9-point shift toward Jones in the most recent poll is notable, especially as all 3 polls have large sample sets with re.latively small margins of error.
The Sky News poll seems like more of an outlier and so worth considering whether it has unearthed some more sustainable recoverty trenedline for Moore. The red-meat conservative media platforms (Breitbart News, Washington Examiner, American Thinker, Alabama Today) have jumped on these numbers as evidence the allegations against Moore may not stick (the accusers discredited!) or prove fatal for Moore (Alabama voters not taking the bait!).
Many reasons exist to distrust the Sky News poll. It includes a 14% undecided cohort and a partisan breakdown among those polled skews heavily Republican – 63% Republican against 37% Democrat. While the state is obviously very Republican, other recent polls indicate a bias closer to 60% Republican and 40% Democrat. Sky Research itself has not previously published a poll for this Senate race and has no online presence. The only organization named "Sky Research" that emerges from a Google Search are "an unexploded ordnance detection company" that pled guilty in 2016 to federal conspiracy charges for efforts to bribe federal employees in the effort to win government contracts.
Probably also bears repeating that the simultaneous and exclusive reports of this poll from a slew of right-wing media platforms raises at least one eyebrow. We'll just have to continue to plot these polls in relation to each (and in relation to their past iterations). The results of almost no poll should be assigned much importance on their own terms.
Related
Popular in the Community