The mass media entertainment business is located mainly in Los Angeles, a city that comprises over 48 percent Latinos. Furthermore, 17 percent of the United States' population, or 53 million people, are Latino. However, mainstream media, including movie and television programming, fails to reflect such national diversity.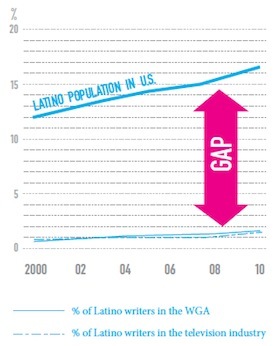 The result, according to filmmaker/scholar Frances Negrón-Muntaner, is a "growing and profound disconnect between the characters you see on screens and TV, and who is sitting next to you on the bus, teaching your children how to read or coming to your rescue in case of a fire."
This exact divergence is what led Negrón-Muntaner to embark upon a five-year study to discover the accurate current status of Latino representation in mainstream media. There had been scholarship prior to the study that suggested that there was a decline in Latino representation in mass media, but no actual data had been gathered to support the assertion. "What does the mainstream English-language media landscape look like for Latinos today? How does it compare with earlier periods?" Such were two of the main questions posed by Negrón-Muntaner and her team during their extensive research for a collaborative study titled "The Latino Media Gap: A Report on the State of Latinos in U.S. Media," released in mid-June of this year and executed in partnership with by The Center for the Study of Ethnicity and Race at Columbia University (CSER), the National Association of Latino Independent Producers (NALIP) and The National Hispanic Foundation for the Arts (NHFA).
The "Latino Media Gap" report is a 44-page document that is divided into seven sections that explore a series of interrelated topics as they pertain to mainstream media, including the (1) overall limited inclusion of the Latino racial/ethnic group in film and television; (2) stereotyping of Latino characters; (3) Latino leadership (or lack thereof) in mainstream media; (4) benefits of diversity and an increase in Latinos' employment; (5) current problems with diversity initiatives; (6) Latino consumer power; and (7) representation of Latinos in the online and new technologies sector.
Based upon both qualitative and quantitive data, and utilizing a range of resources from the U.S. Census to interviews with top industry executives, the key findings of the "Latino Media Gap" report include:
#1: Today, Latino talent in top movie and television programming is extremely limited (less than two percent) and not increasing at a rate near the rise of the U.S. Latino population.
#2: Latino men have disappeared as leading actors, though the percentage of Latinas and Afro-Latino actors is rising.
#3: There is a major lack of Latinos in key creative and leadership positions in mainstream media.


#4: Latino stereotypes are prevalent in mainstream media and they restrict opportunities for Latino talent, as well as the public perception of this racial/ethnic group.
#5: Latino representation is at its worst in the news media environment.
#6: Latino content and audiences actually expand viewership, and so these types of programs should be sought after and developed.
#7: Latinos can bring about change in media programming by using social media and the Internet.
#8: Latinos are key leaders and innovators in new media production.
While the data of the report exposes a clear present-day lack of Latinos in mainstream media, the study connects the dots, illustrating that a major cause is the nearly non-existent Latino-themed storylines. The report makes apparent that the consequences of the lack of Latino representation extend beyond the obvious; it's not just the serious issue of Latinos not having a "place at the table" in front of or behind the camera in film and television, but there are the dangers of inflicting long-term damage on American Latinos as members of the U.S. society at large.
Latinos in the United States remain somewhat fractured by nationality in ways that blacks have long moved past. That's because Latinos don't have nearly as many cultural rallying points: success stories at the highest level of media. We become disaffected when we see ourselves in servile, cliched or cartoonish roles. It undercuts our sense of personal efficacy.
As Negrón-Muntaner extrapolates:
[P]eople largely imagine themselves and their relationship to others according to the stories circulating in the public sphere; they also act according to the information provided through news outlets. So, if Latinos are not part of the story and the information available is limited and biased, this has at least two major consequences. One, many Latinos will internalize that they are not valuable human beings, leading to diminished aspirations and wasted potential. Two, many non-Latinos will also incorporate these ideas and feel that they have a license to marginalize and even physically harm Latinos. Either way, we all lose.
The study delves deeper, examining the internal trends of Latino representation in mass media, including gender and national origin. Negrón-Muntaner observes that "...[i]n some media sectors, including the film industry, there is a preference for behind-the-scene Latin American talent and on screen Spanish talent." Negrón-Muntaner urges that Latin American and Spanish talent should obviously have opportunities to work in Hollywood, but what question the data raises is why their participation has not translated into greater U.S. Latino inclusion.
According to Negrón-Muntaner, the essential conclusion of the "Latino Media Gap" study is clear:
[T]here is an enduring problem with diversity in the media industry. Such low levels of diversity should not be accepted as normal. It indicates discrimination in employment. It also denotes that Latinos and other groups are still seen as marginal to American society.
When asked what is the core source of the marginalization, Negrón-Muntaner reflects:
There are many reasons why Latinos are marginalized. The report addresses those at the industry level. These include fear of displacement, lack of power to enforce diversity policy by diversity executives, absence of will by top management, and bias against Latinos. At the macro level, there are general patterns of economic, political, and social marginalization.
Mainstream today is multiracial. That's your audience, your buyer, your customer. In the top ten US cities, Latinos account for more than 30 percent of the market. Unless you target your audience by including it in equivalent proportion on-screen and off-screen, you will not be doing real marketing. And your business will not evolve with the American consumer world.

Gomez agrees that the growing Latino market isn't "well tapped":
Latino characters figured prominently in recent Fast and Furious films, but the movies were not about ethnicity, they were about people of color as heroes. Latino audiences came out to see it in droves, comprising a major percentage of box office revenues.
According to Gomez, genre entertainment, or "elaborate worlds are major draws for Latino audiences, but they're not seeing themselves nearly enough in them."
Advocacy is critical to changing the mainstream media environment, and according to the "Latino Media Gap" report, it has already "played a major role in challenging stereotypes and expanding opportunity for Latinos." According to producer and executive Moctesuma Esparza, the greatest value of the report's information is that it finally raises awareness of a significant problem and will assist advocates, consumers, and decision-makers to set goals for implementing change.
While the report's text outlines several key suggestions to implement immediate change, including empowering diversity executives to employ skilled and underutilized diverse mass media makers, it's important to remember that the impact of a lack of representation in mass media is one that will not only be perceptible today and in the near future, but far into the future, if not improved. Future generations could in fact be the source of a meaningful solution, and for U.S. Latinos in particular: When more Latino youth are urged to pursue careers in media and the arts, there will be stronger Latino voices and in larger numbers.
Negrón-Muntaner agrees that the lack of U.S. Latinos discovering media careers as potential career paths has hastened the crisis, but that media content is in part responsible for such a lack:
[M]any young people avoid [careers in media and the arts] not just because their parents say so, but because they have little access to arts education, cannot find mentors, and/or often do not believe that someone like themselves can make it as an artist. Not surprisingly, one of our findings is that since the 1990s, Latinos are rarely portrayed as artists in the media even if, according to the census, nine percent of creative professionals in the U.S. are artists. I suspect that many more young people would pursue a career in the arts if they saw successful Latino artists in the media on a regular basis.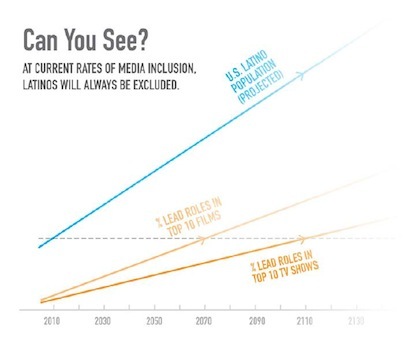 The "Latino Media Gap" report serves as a first solid step in offering the mainstream media industry real data to confirm Latino representation is at a crisis low and requires urgent acknowledgment by all. The fundamental goal? According to Gomez:
We [Latinos] just want to see ourselves taking the lead, being articulate, impacting the narrative in ways that are positive, powerful and emotionally engaging. If Hollywood can come to understand that Latinos are rising in prominence and coming to realize their potential, holding a mirror to that arrival in celebration will be both a timely and profitable decision.
Credit: Graphic Design by Stephen Chou
Popular in the Community