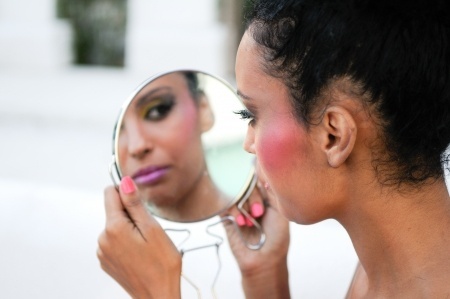 Connect is defined as joining together, but if we really examine the art of connection joining together is a byproduct, a result of connecting with one self first. So what does the phrase mean, "to connect with self"?
I had to really stretch my mind to grasp the law of Connection, and after mediating I realized that connection means to accept where I am at in the now, at this present time. When I do that it's then that I become awakened to...
1. My thought process
2. My surroundings
3. My dreams
4. My beliefs
But to dig deeper than that, I realized the only way I could reach true Connection is by my heart. An alignment of brain with heart is what brought me to this conclusion. Now you may be wondering why this is important to know. Well, think about it, if we are not awakened to the now then how will we truly realize what it is we are chasing after or trying to achieve in life and why?
Take for example a career. For many years I worked in the travel industry until one day I was in a major car crash that nearly took my life. That jolt caused me to wake up and look at my life. Was I truly happy doing what I was doing? Was the position a job, a career or life purpose? When these zaps happen, life-altering events that cause us to question, reflect, and dig deeper in our thoughts it's then that an awakening starts to happen. It's then that we start to go into the mode of connection. But think of how powerful it would be if we didn't need to wait for those zaps to happen. If we made a mental decision to get connected, imagine how different our world would be. Since life is like a canvas and we can choose how we paint it imagine the difference in colors we would use. If there were a life with no fear and no mental blockages, how would life be then? Our belief system is like a magnet whatever we believe is what we draw to us. Yes, that's how powerful the mind really is, that's why thoughts become things. So imagine suddenly it's like you have acquired a super power and that is the artistry of the mind, what would you choose to do with thoughts? What life would you create?
Connection is our power and ability to function to our complete purpose. So here are 6 steps to help you get connected:
1. Slow down
2. Examine where you are at
3. Accept where you are at
4. Take ownership for all that has happened
5. Determine who and where you want to be
6. Take action
Remember, for us to change ourselves we must first change our mindsets. For the mind to change we must first have awareness of the need and that comes in the form of connection. Once we are connected to self then all the other connections required in life come into alignment and it's then that we become whole.
So it's time to Connect and become the great I AM.