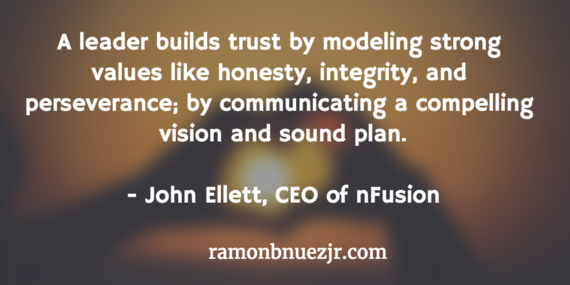 Do you want to become a better leader?
Well, there are patterns in leadership that if you follow them, you will succeed in becoming a great leader, if you do them poorly you will be forever stuck in the land of weak leadership.
But what are those patterns? And must they be completed in a particular order? Within a given time, frame. Unfortunately, leadership is a difficult journey, and you will make mistakes, lots of them.
I have made, what seems like a series of endless mistakes. Mainly by not being focused or taking appropriate action.
But my leadership began to improve when I got sick and tired of being a weak leader. I search desperately for someone to model and every time the same name came up – John C. Maxwell. So I focused on modeling Maxwell, and my leadership potential has increased multifold.
John Ellett, CEO of nFusion, is a leader that others should model. Not because nFusion has been recognized as an Ad Age Best Small Agency. But because Ellett adds value, by advising and mentoring leaders. So let's read John's interview and soak in some leadership experience.
The Interview
I have a passion for helping marketing change agents disrupt the status quo and achieve remarkable things. This focus was fueled by my early career as an advertising leader for the original IBM PC and later as the North America marketing leader for Dell. My time at Dell was during its rapid growth period of the late 80s and early 90s. Both experiences reinforced that game changing ideas can become bigger than anyone expects with good leadership and a strong team.
Lately, I've been helping leaders of other companies achieve their dreams through nFusion Group, which is a combination of a modern marketing agency, a CMO consultancy, and a content studio. Over the past fifteen years, the agency has been recognized as an Ad Age Best Small Agency, an Inc. 500 company and Austin's fastest growing company. I've also written a book, The CMO Manifesto: A 100-Day Action Plan for Marketing Change Agents, which distills the advice of 50 great marketing leaders into simple but effective principles.
Since moving to Austin in 1987, I've been fortunate to found or co-found three not-for-profits, two of which are actively making a difference today. The First Tee of Greater Austin is helping thousands of young people develop critical life skills and healthy habits. Austin Helps Honduras has transitioned from building almost 100 homes in Juticulpa, Honduras for families displaced by Hurricane Mitch, to supporting continuing education for dozens of youths who finish sixth grade in the school we built.
Why should leaders lead? And when they do, what is their first responsibility?
Nothing great has ever been achieved without the collective talents and energies of individuals who effectively work together to accomplish something significant. A leader helps inspire those talents with a compelling vision and focus those energies with a clear plan.
How does a leader build trust?
A leader builds trust by modeling strong values like honesty, integrity, and perseverance; by communicating a compelling vision and sound plan; by delivering on his or her word; and by demonstrating he or she genuinely cares about the people they are leading.
How are you making things better for the people who follow you?
I worry about this every day. I hope we are creating an environment where our people feel they can do inspiring work by collaborating with other inspiring people. This means we must not sacrifice our standards for expediency. We must continue to improve the culture. And we must support, encourage, and recognize our team members continuously. So, we have formal programs to address each of these areas.
What are you currently doing to develop your leadership?
In the process of advising and mentoring other leaders, I end up learning a great deal from each of them. Plus, it requires me to look for wisdom from other sources. For example, I'm hosting the third annual Cojones Awards which recognizes the attributes of courage and boldness in marketing leaders. I'll talk with all fifteen finalists and learn something insightful from each of them.
Visit ramonbnuezjr.com for more content like this + to sign up for my newsletter and receive a free copy of my e-book "The Ultimate Guide To Living On Purpose," about how to live your life on purpose.
Calling all HuffPost superfans!
Sign up for membership to become a founding member and help shape HuffPost's next chapter