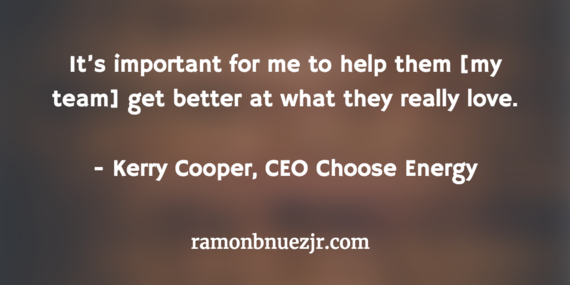 What do you think the secrete to developing an effective leader is?
It's a difficult question to answer. If you ask 20 leaders, they might just give you 20 very different answers.
Why, because leadership is contextual. In a McKinsey & Company quarterly report (January 2015), the company states, "Experience shows that different business situations often require different styles of leadership."
So how do you develop an effective leader? McKinsey & Company continues to explain by developing a core behavior that will be relevant to most companies:
Be supportive
Operate with strong results orientation
Seek different perspectives
Solve problems effectively
Kerry Cooper, CEO Choose Energy, embodies these core behaviors. Let's read Cooper's interview so we can get a better understanding of her leadership story.
Cooper's first answer says it all.
The Interview
So Kerry, what's your story?
My professional and personal journeys are fueled by curiosity. I've held a wide range of roles in highly diverse industries - from software to retail to energy. Driven by the opportunity to make an impact, I was part of Walmart.com's team leadership team focused on scale to make a difference in the world. My role at ModCloth put me front and center at the emergence of millennial shopping.
At Choose Energy, my team has the enviable - and challenging - opportunity to deliver energy choice and imagine the possibility of a world where the entire energy grid is fueled by consumer and business choice. As diverse as these industries and leadership opportunities have been, central to each is a commitment to engaging directly with consumers to hear the good, the bad, their expectations and wildest visions. Consistently, I seek company cultures that squarely place the customer at the heart of the business.
I'm also the mother of two kids in a dual-working family which means like many others, I live what I call 'the triumph of the trade-off' also known as how parents truly make it work balancing careers, raising kids and life.
Why should leaders lead? And when they do, what is their first responsibility?
Leaders have the opportunity to unleash curiosity and provide the openness to team members to generate a company culture to inspire more. A first responsibility for a leader is to make sure team members understand what you're asking of them. Follow this with the space to execute. Provide coaching, but get of their way, and find the right points to guide and inspire along the way.
How does a leader build trust?
Provide transparency to the business and your expectations. Completely, or at best - attempt, to eliminate surprises. Build confidence that you'll always have their back.
How are you making things better for the people who follow you?
I spend time learning about what makes them tick and have a true interest in my team. We share professional and personal goals, quirky hobbies, stories from the trenches of marriage/dating/single lives, and openly wonder what we'll be when or if we ever grow up.
It's important for me to help them get better at what they really love. Having a handle on their ultimate ambitions helps to collectively carve a path to the advantage of the individual and the company. My experience has taught me that while life is long, the world is small and company cultures tend to consistently attract similar interests. I always keep in mind and deeply respect that people along my path will most likely work together again.
What values, personal traits or characteristics do you look for and admire in a leader?
Curiosity. Vision. Trust and respect for the individual. Servant leadership. Limited - if any - ego.
Visit ramonbnuezjr.com for more content like this + to sign up for my newsletter and receive three amazing interviews with John Ellet, CEO of nFusion, Tim Koschella, CEO of AppLift, and Jeff Walpole, CEO of Phase2.
Calling all HuffPost superfans!
Sign up for membership to become a founding member and help shape HuffPost's next chapter