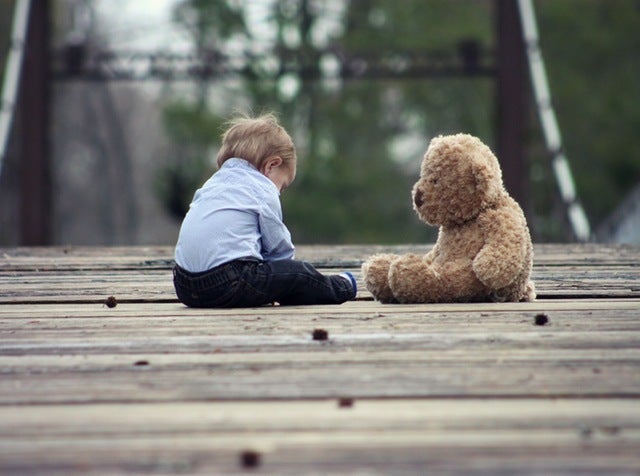 Before Friday, March 31st, I had no clue what Pfeiffer Syndrome was.
The day before, Thursday the 30th, I was on Facebook. Someone shared a photo with me. Not just a photo, a photo with a words imprinted on it—a meme. It was a joke, a politically incorrect one, and it made me both laugh and wince.
The photo was of a child, and his eyes were bulging out and a little wider apart than normal. At a glance, which is all I gave, it looked like Photoshop; the picture had obviously been tinkered with.
Because I am an American, I did what most Americans do: reacted without thinking. I clicked the ever present "Share" button that accompanies all Facebook photos, and that was it. It had been shared with me; I shared it with others. That's how Facebook works, right?
The photo got an immediate reaction; before long, it had been shared 50 times and received over 20,000 views. It was a hit! People were laughing and leaving comments, which is what Facebook is about: virtual popularity. Whenever I write or post something original—something I've actually dreamed up and created—I'm both crossing my fingers and begging people to share it.
When I got up Friday morning, one of my friends had left a comment on the photo; a link to a news article. Turns out, the photo had not been altered. It was boy, Jameson, born with Pfeiffer Syndrome. The photo had been taken from a family and turned into a cruel joke. They had been living with the meme for a year; every time they thought it was gone, someone like me shared it again and brought back all the pain of seeing their child mocked by strangers.
I deleted the photo immediately, but it was too late.
The photo had already made its way to the parents of the child. Once again, they logged on to Facebook to visit with family and friends and were greeted with yet another round of dealing with their son being ridiculed.
"They had been living with the meme for a year; every time they thought it was gone, someone like me shared it again and brought back all the pain of seeing their child mocked by strangers."
I didn't know this, of course. I was blissfully ignorant, living in my own little bubble. It wasn't until a stranger named Karyn shared a link with me, a link to a blog by Jameson's mother. The story of his life, and struggle.
I had deleted the photo, but that didn't put me in the clear or make me innocent. I had to own up to my actions.
There was an email address on the blog, so I reached out to her. I explained that I was the person who unwittingly brought the pain back into their lives this time, and that I was sorry for my actions.
I didn't expect a reply. When someone damages you, sometimes "sorry" isn't enough. But before long, I received an email. Jameson's mother was more forgiving than anyone in her position had to be, and I was humbled by her kindness and grace.
She said something disturbing, however. Apparently, my giving an apology is a rarity in her world; an apology-for-sharing is seldom offered. Even worse, oftentimes people double down on their poor behavior. After they've made fun of a child for being different, people become aggressive and go after the family for not being able to "take a joke." Read that again: after mocking a disabled child, people actively badger the family even further.
Reading those words made me wonder if humanity is doomed. But, that said, just when you think you've given up on people, something lovely happens.
Karyn wasn't the only stranger to contact me; I received a half-dozen messages from mothers of children in the craniofacial community. They were reaching out and expressing their dismay over my original share of the picture. Many were nicer than you could imagine, especially a woman named Patty. She sent a picture of her beautiful daughter, discussed their situation candidly and compassionately, and ended with the comment: My daughter is only eight, but someday she will take over a country. She is looking for one as we speak!
I did the only thing I could, and responded: Let me know when she finds it, and I will happily live under her rule.