Privately held companies, on average, are generating some of their healthiest profit margins of the last 10 years, according to financial-statement data from Sageworks, a financial information company.
However, it's not a banner profitability year for every industry. Several industries with perennially slim margins are posting profitability below the average 8.1 percent margin for all privately held firms, based on a financial-statement analysis covering the past 12 months' results.
Beverage manufacturers (a category that includes wine and beer makers along with soft drink and bottled water producers), specialty food stores and oilseed and grain farmers (who produce such crops as soybeans, canola and peanuts as well as more common grains such as corn and wheat) barely broke even, looking at their net margins in the 12 months ended March 31. Net profit margin has been adjusted to exclude taxes and include owner compensation in excess of their market-rate salaries; these adjustments are commonly made to provide a more accurate picture of private company operational performance.
Other industries on Sageworks' list of the least profitable U.S. industries included grocery stores, continuing care facilities, office-supply and gift retailers, lawn and garden retailers and trash collectors. More than half of the 15 industries identified are within the retail sector.
Sageworks analyst James Noe cautioned that appearing on the list doesn't necessarily mean these industries aren't in sound financial shape.
"Some of these companies, like auto dealers and gas stations, typically have thin margins by the nature of the industry that they're operating in," he said. These are often industries highly dependent on the costs of raw materials and other goods, or industries subject to volatile pricing swings. But many of these industries are typically able to post healthy profits because they have such large sales volumes over time.
For example, privately held grocery stores had margins of less than 2 percent, in line with historical averages. But companies in the grocery industry grew profits, on average, by 16 percent in the 12 months ended March 31. That's below the 24.5 percent average profit growth for private companies as a whole, but still respectable, Noe acknowledges.
"That an industry with nearly 20 percent net profit growth is considered to be 'lagging behind' is an indicator of what sound shape private companies are currently in."
Sageworks' review indicates that looking at fundamental financial-performance metrics, privately held companies are in sound shape overall. Sales growth and profitability are at pre-recession levels for private firms. That's important for the overall economy, Noe said.
"The vast majority of private firms in the U.S. are small businesses, mom-and-pop stores and sole proprietorships," he said. "They don't have venture funding or private capital helping them perform their day-to-day operations." Rather, profit is how these business owners put food on the table and keep their companies afloat, he added.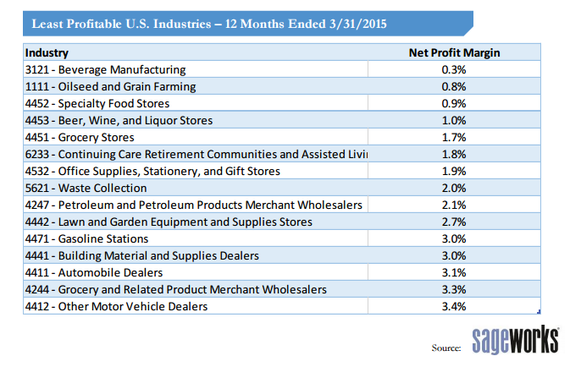 Calling all HuffPost superfans!
Sign up for membership to become a founding member and help shape HuffPost's next chapter