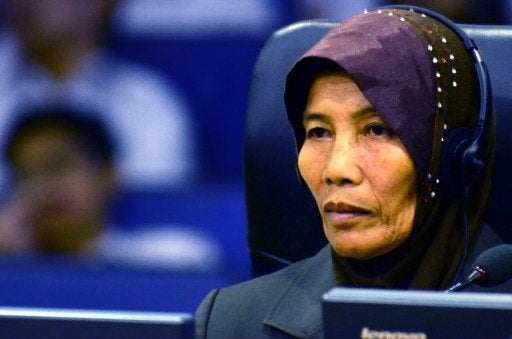 In Cambodia, the U.N.-backed Khmer Rouge tribunal hears from survivors of forced marriage, but critics say the court should also cover other acts of gender-based violence.
"I just couldn't understand why falling in love was a crime," says Youk Chhang, executive director of the Documentation Center of Cambodia, an organization that records atrocities that took place under the Khmer Rouge. From 1975–79, Pol Pot's brutal regime devastated Cambodia, and an estimated 1.7 million people died from starvation or disease, or were executed.
The Khmer Rouge, known as the Communist Party of Kampuchea (CPK), controlled every part of people's lives, even love and sexuality. Chhang was only 15 when he witnessed the Khmer Rouge killing a couple because "they fell in love without permission." To make sure Cambodians married the "right" people, namely those who were loyal to the party, the CPK forced men and women to marry each other.
Survivors of forced marriage are currently giving testimony in Case 002/02, the latest trial to take place at the Khmer Rouge tribunal in Phnom Penh, otherwise known as the Extraordinary Chambers in the Court of Cambodia (ECCC). Evidence of forced marriage will be used to determine if senior leaders of the regime committed crimes against humanity.
The Khmer Rouge used forced marriage to exact ultimate control over relationships, as couples were expected to procreate and produce the next generation of party adherents. No one knows how many people were forcibly married by "Angkar" (the communist party), but mass wedding ceremonies, some consisting of more than 100 couples, took place across Cambodia.
Survivors appearing before the court have described how the regime pressured them to marry. "I refused [to marry] several times, but finally the sector committee said I was a stubborn person," Sa Lay Hieng said in court. Scared of being killed, Hieng was coerced into marrying a man she did not like. Another witness, who was granted anonymity, said she was made to marry a Khmer Rouge officer in a collective ceremony; when she refused his advances on their wedding night, her new spouse complained to his commander, who then raped her. "I had to bite my lip and shed my tears, but I didn't dare to make any noise, because I was afraid I would be killed," she said. She was eventually led back to her husband.
The final testimonies relating to forced marriage will be heard in the coming weeks. But some experts argue that other heinous sexual crimes committed during the Khmer Rouge era, such as rape outside of forced marriage, have been overlooked by the court.
In a study by the Transcultural Psychosocial Organization, an NGO that provides counseling to victims appearing before the court, a third of female interviewees witnessed rape outside forced marriage. This finding is echoed by the Documentation Center of Cambodia, which has collected a "significant number of documents" detailing at least 156 cases of rape by Khmer Rouge comrades in cooperatives and detention centers. "The women who were raped were accused of having served in the CIA, KGB or other enemies of Angkar, and taken to be smashed [killed]," said Youk Chhang of the Documentation Center.
Farina So, an expert in gender-based violence perpetrated by the Communist Party of Kampuchea, says that "hundreds and hundreds" of rapes occurred, adding that cadres "used it as a tool to victimize women, to silence them." In the course of her research, So has interviewed numerous survivors of sexual assault; one of these women, Tang Kim, was considered "an enemy of Angkar" and in 1976 was rounded up – along with eight other women – and readied for execution in Kampong Chhnang province, central Cambodia. While Kim awaited her fate, she could hear the other women being raped and then murdered – "I was terrified to see people being killed off and buried one by one" – recalls Kim in a film made by the Cambodian Documentation Center. She continues, "I saw a Khmer Rouge soldier slashing a woman's abdomen; they cut it open and took out the fetus." After being gang-raped by the soldiers, Kim managed to escape and went into hiding.
According to So, Kim tried to submit her civil party application to the Khmer Rouge tribunal, but it was rejected because prosecutors are addressing only sexual abuse within forced marriage. It was, says So, a decision that "really disappointed" Kim and other rape survivors, many of whom have spent decades summoning up the courage to speak about their ordeal.
When Women & Girls Hub approached the Khmer Rouge tribunal to ask why the current trial is focusing exclusively on forced marriage, the court's spokesperson, Lars Olsen, said co-investigating judges had concluded that rape outside forced marriage was not an official policy of the Khmer Rouge. He pointed to this statement from the tribunal: "Those who were accused of 'immoral' behavior, including rape, were often re-educated or killed [so] it cannot be considered that rape was one of the crimes used by CPK leaders to implement the common purpose."
The survivors and their lawyers, who campaigned for years to have forced marriage added to the list of crimes prosecuted in court, are waiting for the expected judgment in late 2017.
Support HuffPost
The Stakes Have Never Been Higher
Related
Popular in the Community