I was in Montreal for weekend and met up with my two oldest friends for Sunday brunch. Since we are Hebes we begin meal not with wine, but with whining. We were talking about our upcoming annual vacation to South Beach and our subsequent food and sun fest. Marla spoke first and said she would probably be eating way too much; Gayle said something similar and I; allowing my competitive spirit to kick in announced that I have been bingeing with food since I was fourteen and would enjoy more of the same for the duration of our holiday. I had never shared my out of control eating with these girls, but my competitive spirit kicked in and my secret shame became something here that I could be proud of.
Last night after watching the première of season 12 'Keeping Up With The Kardashians' (Yes, I am a fan!) I lit some candles and sat in contemplation.
I asked myself this question.
Do I really want to be Queen of the Fucked?
While being Queen of anything has a certain soigne charm, I feel the need to re-prioritize. I shall begin today to make food my fuel, and not my friend. Lately, I have struggled with eating mindfully and I have been wavering in my desire to do the work necessary to become whole and healthy.
I feel so much better when I am eating mindfully and healthily. I have been wanting to go to this yoga class for seniors that meets every Monday for months now; but not even the luminous white haired teacher has been incentive enough. I have to reprioritize and try to drag my round and resistant bum to that class today. I need to stop feeling sorry for myself and then stop turning to food for comfort.
I have always felt as if I have won the trifecta of the damned. Born disabled to dysfunctional parents with the added bonus of a mean spirited sister; I have felt entitled to my addiction; food was my reward and my protection; for if I eat myself into a stupor I don't have to feel. Anything. Ever.
The nature of my disability affected my tongue and mouth. I was born without the ability to suck; the nurses had to feed me out of a dropper. I literally could not take in nourishment. My ADHD mother checked out early on and left me first in the hospital and then with a series of nanny/nurses. By the time I was 6 months old I was out of the hospital and able to eat normally but my driver to eat as if my life depended on it has never left me.
Food has always been my drug of choice; my best friend, lover , sister and mother all. Food has never hurt me, never ridiculed me and never left me alone. For over forty years food has been my go to for every feeling; happy -- sad, glad, mad, alone, terrified. I am so much better than I used to be back when I would binge all day until 11:59 that evening because I knew, I just knew that tomorrow would be another day and I would stop hurting myself and could begin again.
For the most part I do eat mindfully, trying my best to cut back on sugars/fats/soft drinks, and I often say to myself "Katharine, you got this!" and I let myself feel proud of where I have come from. Sadly these moments, days and sometimes weeks where I am aligned body/mind/spirit always come to an abrupt end.
First of all, I must eat; everyone must eat, so I can not for example "just say no" to food or I will die. Secondly, while I am doing my best to be with my feelings and just allow them to pass through my body, sometimes the pain becomes too much and I collapse into the pure relief of overeating .
My dining room table is now clean, for most of my adult life was table was filled with bags of chips, opened cans of peas or corn, half eaten bowls of cereal along with books and magazines. I could never just eat the food; I always had to read as I ate. I try now to be present with my food, to be grateful that I have "Made It Through the Rain," to quote Barry Manilow.
I am trying really hard to relinquish my crown, but this is so difficult for me to do because even though I am Queen of the Fucked; I am still Queen of Something; which still sounds better than the alternative: Queen of Nothing. Perhaps I can be the Princess of Love. What a wonderful place that would be to live and to reign.
Right now this Princess getting off her duff and off to yoga class. I'll be taking my crown with me for support!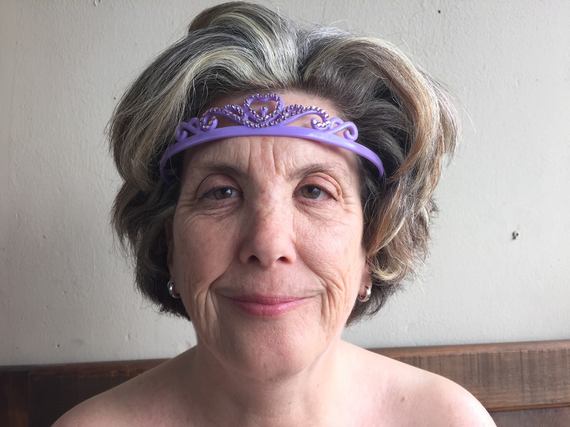 Calling all HuffPost superfans!
Sign up for membership to become a founding member and help shape HuffPost's next chapter