Today was Toronto's Pride Parade as well as an open air service aptly named "Church On Church" as it takes place on Church St. Walking into the venue it was apparent I should have come at least thirty minutes earlier as all the seats in the front were either taken or reserved.
Still I thought it might be possible to get a seat close to the stage. I pushed my little chubster self through the crowds, only to be told by a burly security guard that all the seats close to the stage were reserved. Hell on a hotdog bun!
Oh well -- time to implement plan B and sit in the plebeian section. All was not lost as I found an aisle seat relatively close to the stage. As I was waiting for the service to begin I noticed John the husband of Brent Hawkes, big kahuna of Metropolitan Community Church was sitting in the seat next to mine. John is so lovely and kind. I truly feel his authentic humility in the Christian sense of the word. He is not one to ask for special status or favors, in fact I have a feeling that being one of the "A" lister's makes him feel uncomfortable.
There is a part of me that wishes I were like him, for I have always dated non-Hebe women who have placed premium value on John's way of being in the world. I have always insisted that the most contained person "wins." Since I have never been able to contain myself, I have always considered myself to be a loser and unfortunately so have most of the women I have dated.
I am a your typical loud and pushy Jew, it is my culture and my nature as well. Do not go gentle into that good night! Make some noise! Assert yourself! Push your sweet Heebey ass through to the front of the line!
Because I have been working so hard to accept my wild heathen self, I felt for the first time in the midst of Pride, that there might be room at the inn for both John and me.
Releasing my thoughts of being a loser to the wind, I stood up to sing along with the choir to Lady Gaga's song "Born That Way."
I'm beautiful in my way

'Cause God makes no mistakes

I'm on the right track baby

I was born this way.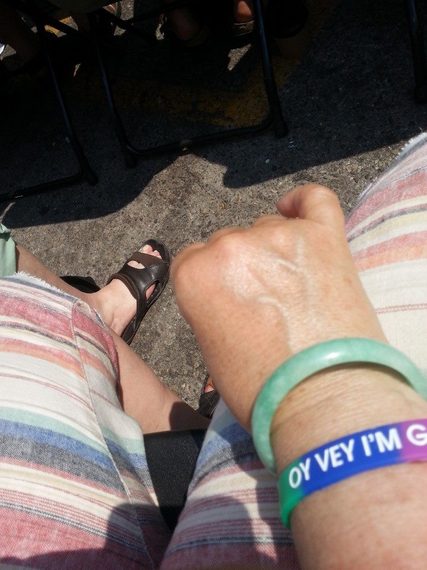 Calling all HuffPost superfans!
Sign up for membership to become a founding member and help shape HuffPost's next chapter