I'm lying on my couch with a bag of frozen beans (organic, of course!) placed strategically on top of my right knee (more on that later) and wondering why , on this perfect Spring evening that I am without my Beloved, still.
Like; really? After all this time and all the therapy (hours of talking, Rolfing, breathing) all the wishing (on four leaf clovers, on falling stars, on the magic 8 ball) and still -- she is not here.
Perhaps it's that I cheated with the four leaf clover, it was really a three leaf clover that I superglued with a separate clover. (My fingers as well, Renaissance woman I am not!)
Now about this folklore of when you are least expecting, or not looking 'she' will appear -- well, I take umbrage with that particular story because:
1. I am a Libra and we Libra chickies are never quite happy unless we are in love.
2. I am a romantic. (Perhaps 2 should be an addendum to 1.)
3. I am desperate (see 1) but also extremely picky and picky trumps desperate every time.
Which brings me back to tonight and why I have a bag of frozen veggies on my knee. Lucille, my new spritely puppy and I were in the park today for a long long time. She is new; I on the other hand am not; but we both love being in nature and both went a little overboard today. (She is lying next to me as I write this blog, conked out.)
So I guess I will take a lavender and Epsom salt bath, and listen to some old slow jazz and just be grateful for what I do have -- my daughter, my puppy, my friends who love me even so; and send my wish for love up to the stars.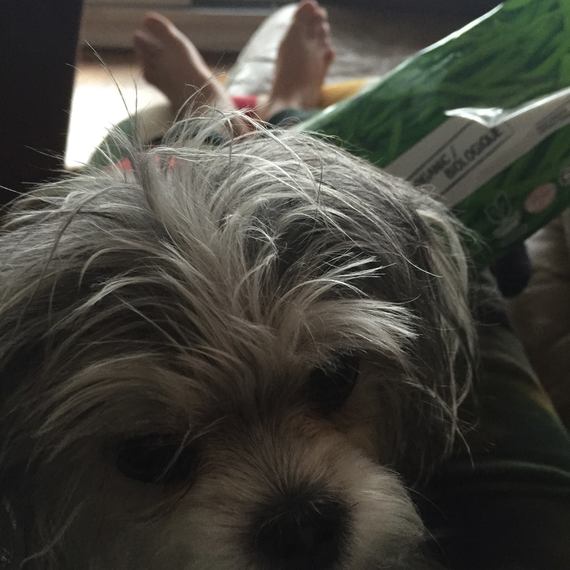 REAL LIFE. REAL NEWS. REAL VOICES.
Help us tell more of the stories that matter from voices that too often remain unheard.