Many years ago, when I was younger and still viable, I dated an abundance of women. Before meeting the lezzies for coffee at my local Starbucks, I would instruct my daughter Victoria to phone me 15 minutes after my lesbian assignation began. It was rare that I didn't take the call, and then say to the unsuspecting dyke "I'm so sorry I must leave right away, my daughter needs me." The reason I almost always answered my phone when dutiful daughter called, was due mostly to boredom ( healthy dyke = oxymoron) as well as major chemistry misses. After many of these mini dates, I invented a system; a series of questions that I could ask my potential mate to see if we could be a match. Questions such as these :
1: How do you feel about your family of origin? (Frankly this is where I lost most of them. Family of Origin, or the acronym FOO, is standard psychotherapy gobbledygook) 2. Are you still close? 3. What do you want to be when you grow up?
Often, they would respond with questions of their own. Once in a while the question 'What was my fantasy?' would come up. I knew where they were headed but I always veered away from the standard sexual response and answered their question in this way. "My fantasy would be an invitation to my partner's Christmas/Chanukah dinner, at which her father or mother would make a toast and it would sound something like this:
"I am so excited Katharine has joined us here tonight. You have made my daughter so happy. Welcome into our home and into our hearts". Then all twenty of us would eat a fabulous home cooked organic turkey dinner, or perhaps ingest loads of lakes. We would share stories, laughter would abound, and I would be able to almost taste the warmth and support each one there, had for the other.
Fast forward fifteen years, and still this mythical dinner has not happened for me. But, as my friend Louise's mother used to tell the both of us each year at this time; " Girls, this is going to be your year!" And who knows, it just might be. For now, I will continue to live in that place with feathers.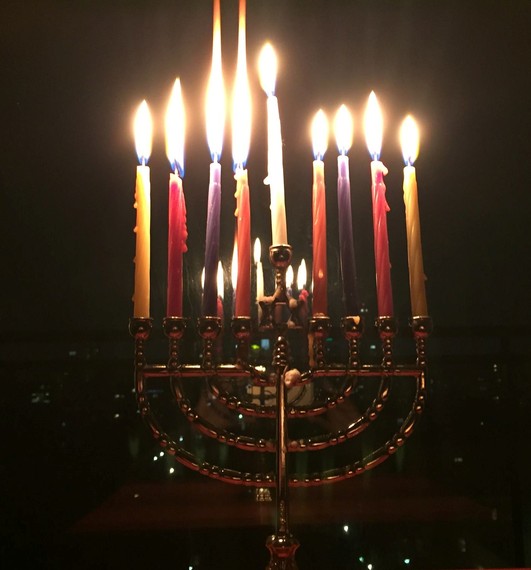 REAL LIFE. REAL NEWS. REAL VOICES.
Help us tell more of the stories that matter from voices that too often remain unheard.