I am old. I am very old. How did this happen? I have always looked young for my age. I remember a summer spent in Martha's Vineyard. I was 32 and still being carded at the bar in Edgartown. I was so chuffed!
When Victoria was in her early teens, people often mistook us for sisters, not mother and daughter. So when I woke up on my birthday last fall and took a good look in my bathroom mirror, I spoke out loud these three words, and they weren't "I love you."
They were "You are old!" I was now 59 years old. How did that happen? Could that grey haired chubster with the wrinkly face be me? Yikes! Double yikes! How did this happen, and more importantly how will my suddenly faded looks affect my dating life? Is this why I have not had a decent date in years?
I have been online dating for about a year now, and I thought my profile picture looked cute. I had placed my puppy Lucille strategically in the photo, for who could not fall in love with a puppy?
Clearly, my strategy has not worked. I have had a few 'feh' ( Yiddish word for meh) dates, and one terrible date where the date in question had clearly not updated her photo for about ten years, at the very least. Oy Vey. That was painful. But what to do ? Where can a zaftig jewess lesbian of a certain age meet her love? Online dating has been a dismal failure, and I am too old for dances as they begin at 10 p.m, and that frankly, is way past my bedtime. I wish there was a coffee shop that would just cater to lesbians of a certain age, but I can't see how they would stay in business considering their target market. Then, there is the question of how I am going to present myself to the dating world. Do I starve myself, do botox and put on makeup to make myself more desirable? This old Jew just can't do fake.
So I will make do with what I have to work with. Still great hair, and a body that is in the best physical condition that I have ever been in, thanks to long long walks in the park with the aforementioned pup, and a nascent belief in my own loveability, despite or perhaps because of my old age.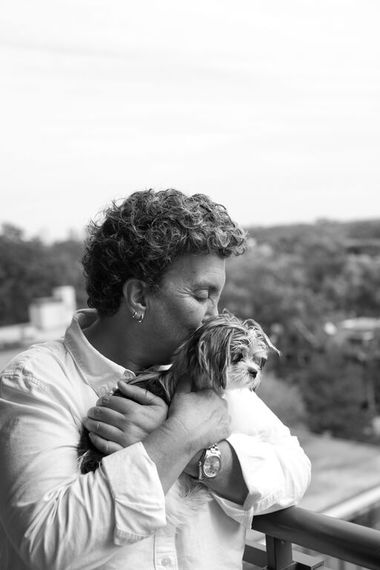 Calling all HuffPost superfans!
Sign up for membership to become a founding member and help shape HuffPost's next chapter