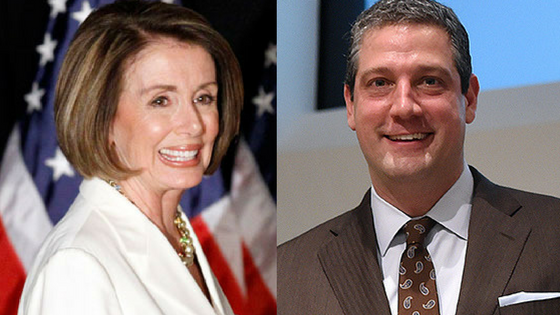 After Hillary Clinton's loss at the top of the ballot on Nov. 8, some Democrats have begun wondering where we go from here, what course we need to chart, and if we need new leadership to steer us into a brighter future. These are decisions our party must not take lightly because there is more at stake than just who will lead us. We'll be choosing our party's very identity through the makeup of who we put in charge.
Recently, Ohio Congressman Tim Ryan announced he would challenge current House Minority Leader Nancy Pelosi in the leadership elections they will be holding later this week. His assertion is that after Hillary Clinton and Democrats lost Midwestern voters in this year's election, we need a new face, one that they can relate to more in our top position. And while I respect Rep. Ryan's opinion that he would make a better Minority Leader than Rep. Pelosi, I strongly disagree.
Even though women make up more than 50 percent of the population, Leader Pelosi is the only woman in a party leadership position in Congress.
The last thing we need in our leadership is one less woman and one more white man. Almost all of our congressional leaders are already white men. In fact, on the Republican side, out of all of their party leadership and committee chairs, there is only one woman. She chairs House Administration, which is basically the secretarial committee. Even though women make up more than 50 percent of the population, Leader Pelosi is the only woman in a party leadership position in Congress. We should be trying to put more women like Leader Pelosi into these positions of power, not remove the only one we have.
Nancy Pelosi made history when she became the first female Speaker of the House in 2007. Under her leadership, the 111th Congress was one of the most productive in recent history. She used her position to help usher through the American Recovery and Reinvestment Act which saved hundreds of thousands of families struggling in the wake of the recession, protected and created millions of new jobs and safeguarded American industries. She was one of the chief champions of President Obama's Affordable Care Act, which gave more than 15 million Americans access to reasonably-priced, quality health insurance, including the previously uninsurable pool of people with preexisting conditions. It also granted free annual exams and birth control to American women, expanded and strengthened Medicare and Medicaid and cut the waste, fraud and abuse rampant in the insurance industry. Speaker Pelosi also tackled Wall Street reform, which helped America to rein in big banks and protect our country from facing another recession. She passed groundbreaking energy and environmental policies that raised efficiency standards, combated climate change and created thousands of cutting-edge, green jobs that will lead our country into the future. It's safe to say that Nancy Pelosi wasn't just a good Speaker, she was a great one.
Outside of her duties as Speaker or Minority Leader, I also know Nancy Pelosi to be a staunch advocate for women running or who want to run for office. She regularly commits her time and money to female candidates and the organizations that serve them like mine. She understands that building the political pipeline starts at the grassroots level and has given her time to help local and state candidates in our home state of California and across the country. She's the kind of leader we desperately need more of in the Democratic Party.
As Democrats begin to look towards the future about what we need to change in our party and what is working, I highly recommend they look at Nancy Pelosi as the latter. While Trump's unprecedented rhetoric might have appealed to enough white men in the Midwest to tip the scales in his favor, we shouldn't remake the face of Democratic leadership to appeal more to them. We should keep and support women like Nancy Pelosi who work so hard to do what's best for our country every day. The Democratic Party's future is with women and with Nancy.
Calling all HuffPost superfans!
Sign up for membership to become a founding member and help shape HuffPost's next chapter
BEFORE YOU GO