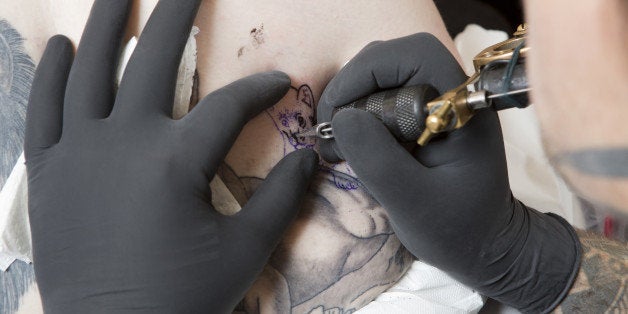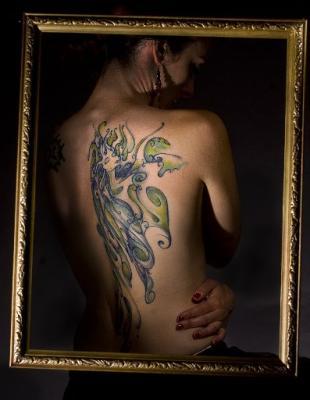 I try to relax into the needle scraping across my skin.
Accept the discomfort with love, I keep telling myself, knowing that love is the opposite of fear, and that any drop of fear will destroy this experience. If I let fear cloud me now, I am going to miss the message.
Any rational human would say I should be scared.
I have given my entire back to Chris Fuller, a tattoo artist at Junkyard Ink in Louisville. I met Fuller during an interview in a few months earlier. I clicked with his philosophy: that tattoos are art on flesh. In fact, Fuller and most of the other employees at the shop were traditional artists first. Fuller was a painter.
I visited the shop regularly to talk about my next tattoo. My first four had been specific words or designs in specific places on my body for precise reasons. I had over-thought them all. They felt like extensions of my body, and they were an external expressions of internal enlightenments. They were my babies, in ink.
I don't know what Fuller is going to tattoo on me. Neither does he.

We agree to not go into the tattoo with preconceptions, but to approach it in the same way he paints his murals on canvas. I will be Chris Fuller's canvas for a free-form tattoo painting.
Like I said: not rational whatsoever.
But rationality -- the over-thinking, the limiting human mind, the man-made labels and explanations -- is exactly what I want to suppress.
I am hoping by stilling my brain, I will shift perspective. Gain sight through the endless spirit, not eyes, which can shut or go blind. I hope that by diminishing the physical absorption of a physical experience, it can transcend into something spiritual.
And maybe not hurt so dang bad.
Of course, it's a far leap. But you can't catch air without leaping. And I've always believed art is an experience and expression, not a logical, finite explanation to prove, or even understand.
Like Einstein said, "The most beautiful thing we can experience is the mysterious. It is the source of all true art and science."
I am about to really get it, personally. Do you believe in anything deeply enough to let it transform you? To let it become you? For the love of art, and the sake of its raw beauty, I am about to become it.
Hour two: As I lean over the chair, breathing into the pain, I decide this is what it must feel like to be the marble, or wood, or iron being welded into a new form.
When Michelangelo created some of his greatest masterpieces, he did not go in with an agenda. He did not carve the marble into an angel. Quite the opposite. As he put it, "I saw the angel in the marble and carved until I set him free." The angel was already inside.
Amid the dull hum of the tattoo machine, this quote haunts me. I try to imagine the beauty living inside everything: every piece of paper, every chunk of wood, every empty stage. Potential is hovering beneath the surface of everything, like scientific joules: artistic jewels.
Fuller "carves away" at my canvas in the same way he paints. He lays down layers of color until something emerges out of the lines and shapes, and he builds on that. He had been wanting to attempt this revolutionary style of tattooing for years, but he said he could never find anyone who wanted to do it. They were too afraid of letting go of the control.
What -- or who -- is living underneath my own skin?
As I sit, I wonder. It could be my own Michaelangelo angel. An octopus. A tree. Beneath my skin could be a flower, a lion, a snake. A demon.
Hour five: I think about beauty.
A person's style is their temporary artistic expression. A daily opportunity to paint and celebrate our bodies.
Fashion is only as shallow as how you choose to confine it. Because it is possible -- albeit difficult -- to appreciate something for its pure and simple beauty. In fact, the origin of Zen came from that idea, a "silent sermon" during which Buddha held up a flower and gazed at it, saying nothing. Enlightenment might just be letting go of everything we thought we knew, the labels, the mind, the over-analyzing of every single thing, and just letting the beauty be.
I wrote about this one night. Just a free-form poem to myself. Not to share with anyone. I opened up and the words fell out onto the page.
It was the next day that Fuller told me his tattoo idea. I didn't hesitate. I would lose control, but gain a mark for beauty's sake alone. What greater honor than that? Not to remind me of something that I had experienced and learned; but rather to be that very experience and lesson.
Hour 11: I think more about Michelangelo.
Perhaps we all are born with the ability to unearth this perfect beauty, in various ways. For some, it's dancing or drawing, photography, singing, writing, woodworking, playing an instrument, cooking, theater, a sport, making jewelry or designing clothes. You do not pick your art; it is a gift, given to you. You know it is yours because it chases you.
And it will. It nags at you until you die. That's because it is your duty to do something with it. Art is what you give back, in exchange for the love that you receive, and the opportunity to have life. And it is balanced; every human's art is as deep and breathtaking and awesome as the perfect love that God created us from and offers to us.
But occasionally -- most of the time, actually -- people decide that gift is not there. They suppress it. They bury it under things that do not satisfy. It is almost as if they don't want their gift, or for some very human reason, they are afraid of it. They do not acknowledge or accept it, so they cannot express it.
Michelangelo accepted it. He opened up and took it. If people accepted their art and stopped thinking about it, and just became that gift, their art would flow from them perfectly and fully and completely.
The reason Michelangelo's art was so incredible is because he simply removed the dam and could see what was already inside -- of the marble, and of himself. Art flows out, like love flows in.
By letting go and releasing my canvas to an artist, and trusting him, I was allowing him to follow his art.
Of course, the very manifestation of this experience, the reason I was ready for it, came from the poem I had written the day before. In an artistic cause-and-effect, this made the tattoo a ripple effect from my own art: writing. Art begetting art.
Hour 20: I can't wait to see what is living inside my skin.
It has been four sessions of about five hours each. Fuller used more than 20 different shades of blues, greens and purples. The white highlights he added at the end will continue to grow brighter as the tattoo heals.
He tattooed the entire right side of my back, from my neck to waist. I felt him painting swirls. I felt spirals and coils and curls, tracing the natural curves of my body. Fuller followed those shapes and connected them until they created a picture.
I stand up to finally see the completed project. I feel open and trusting, but exhausted. Above all, I feel honored to spend the rest of my life wearing a painting. Fuller initials it. I turn to see the mirror.
One of her arms is reaching up to the sky. Her chin is lifted, and she's gazing up. She is feminine, elegant and fragile. She is abstract, almost a mermaid, or a cyclone, a Siren, a ghost, or an illusion in the water or sky or both. Fuller barely knew me when we started, but he tattooed my spirit.
Underneath my skin was a dancer.
Photo by Mark Leffingwell/Daily Camera.

Read more stories from the strangest city in America, Boulder, Colorado, here: Only In Boulder.
Popular in the Community