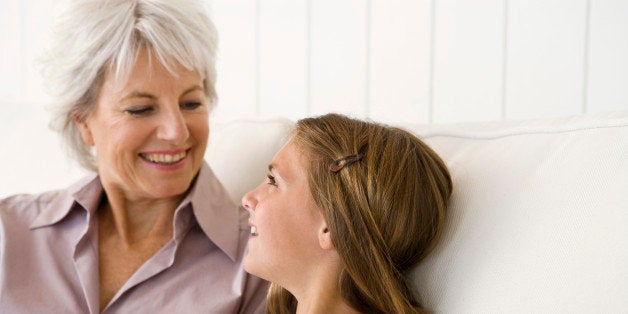 The best thing about moving far away is being able to live in a different city, a different atmosphere and a different culture. The worst thing about moving far away is not being able to be there for those when you need to be. When I first received the news that my grandmother, the strong and resilient matriarch of the family, had suffered a severe stroke, I was shocked. How can this sassy, pomegranate martini-drinking, invincible lady have an "Achilles Heel"?
When I received that phone call on a Sunday afternoon, I was in utter disbelief that my grandmother would be a shell of anything less than the woman I had grown up with. When you're 600 miles away, you're stuck in a state of denial. It's hard to believe that time continues when you aren't there, but when you do realize it, it's like a scab reopening and the feeling of leaving all over again. I could hear the worry in my mom's voice; the despair as my grandma's vitals were not improving, and yet I still remained in a limbo of disbelief.
When I called that night to talk to my mom, she had decided to spend the night with my grandmother. Call it fate, call it my lucky chance, but I asked for her to put me on speakerphone. I ached to be with my family, but driving 11 hours away and taking off work was reserved for the worst of situations. Speakerphone, unfortunately, had to do.
When I heard my grandmother's slow speech, the shield of long distance denial had been ripped off. When that shield rips off, the pain is a b*tch. With tears streaming freely, I was able to choke out the three words that meant the most to both of us, before I had to go. I didn't know if it would be my last words to her, but if she were to recover, the last thing she needed would be to hear any worry or fear in my cracked voice.
The next day's afternoon phone call was anything but positive. I was told that in the afternoon, my grandmother had passed away peacefully surrounded by family. I regret not being able to be one of those members, but I know that even if I jumped in the car after the first call, I would not have made it in time.
Many of you don't know, or won't even remember, the name Ann Surmik. She was a generous and strong Eastern European woman. She was a woman ahead of her time. It was easy to talk to her about anything, and she wouldn't judge. From raising children to the best way to roll a holupki to relationship issues, she would give a profound insight in just a few sentences.
My grandma had a very large heart, and she sacrificed greatly to always make sure that her family came first and remained in a stable place. For many of us in our family, we know this generosity personally. She housed us; she cooked for us; she gave us rides when we didn't have a car; she took care of us while we were sick; she consoled us when we were sad; she celebrated us in our successes; she baked cakes for our birthdays; she slipped us cash when we didn't have money or just for us "to treat ourselves" and she made us smile with her sharp wit and sass. I'll never forget my grandma climbing three steep flights of stairs at 88 years old just to see my cramped city apartment and tell me I did a good job.
The funny thing about death is that it ultimately reminds you of all of the lessons that person taught you while they were living. How interesting it is that our brains capsule these memories, and unleash them later on. Is it for comfort? Is it for tribute? I came up with a few relevant lessons that are timeless today.
1. She taught me to always look your best. It's not about showing off, it's about feeling good about yourself. She took pride in how she presented herself. Even at 91, she was still getting pedicures and manicures. That's a challenge for anyone to live up to.
2. A little bit of perfume dresses any outfit up.
3. Do not get married: Men are too much of a hassle. But if you choose to, the right one will probably drive you crazy... but will be worth it.
4. Take a minute to have a cocktail.... or if she was drinking her favorite pomegranate martinis, three.
5. Don't be afraid to hit "max bet." But make sure it's at the penny slots.
6. Always keep a tissue in your purse. No matter if it's balled up from wear, someone will be grateful to have it.
7. A rose made out of frosting tastes way better than the frosting on the cake itself.
8. Traditions are important
10. It's OK to move away. Visit and visit often. Don't forget where you came from, but remember that your elders created these opportunities for you to reach your dreams faster.
For many of us who have moved in search of the right job/location/spouse, our childhood town always seems to stay "preserved". In actuality, life goes on. People are born, and people die. The best way to remember your loved ones is to carry on their life lessons and they will live on forever.
Popular in the Community