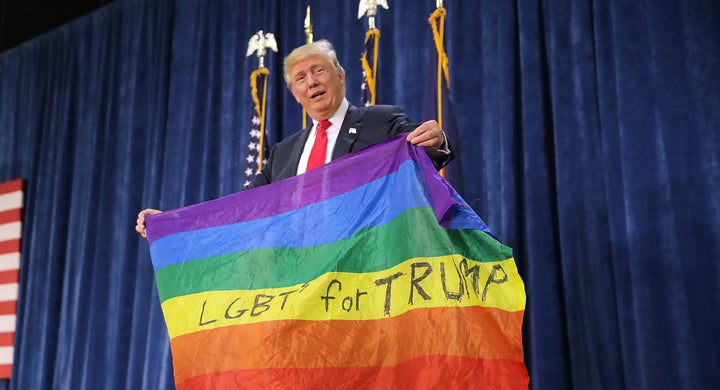 This week, the New York Times published an editorial headlined, "The L.G.B.T Trump Fallacy," in which the editorial board explained that, "the nomination of several key officials [within the Trump administration], who have disparaged the L.G.B.T. community and sought to curtail the rights of its members, has exposed the narrative that Mr. Trump would be a champion of gay and transgender people as a fallacy."
Better late than never, some would say, since many of us across a variety of media have been pointing out the virulent homophobes named to the cabinet and other jobs for months, including during the transition, while the Times, both in news coverage and opinion pieces, hardly covered the topic. But what's especially grating about the Times editorial is the line about how these nominations have "exposed the narrative that Mr. Trump would be a champion of gay and transgender people as a fallacy."
How did that "narrative" begin? According to the Times editorial, it happened after Trump unfurled a rainbow flag onstage during a rally in October of last year.
"It didn't take long for prominent gay Republicans to proclaim that the Republican Party had, at long last, turned a corner on gay rights under Mr. Trump," the editorial stated.
This was, at best, a complete oversight by the editorial board, whose writers clearly hadn't been following these events more closely throughout the campaign. Because those of us who followed the campaign, and particularly covered LGBT issues, know precisely where the "narrative" was hatched: In The New York Times itself, on April 22, of 2016, with a story headlined, "Donald Trump's More Accepting Views on Gay Issues Set Him Apart in G.O.P."
The piece, by Times political reporter Maggie Haberman, offered what several LGBT journalists and commentators saw as weak evidence of this claim, and I wrote about it in detail at the time, also pointing to how superficial the evidence was. Haberman defended her piece on Twitter, saying it was more so about Trump's "history," particularly, it seemed, since the story's hook became dated literally within hours of her publishing it: Trump had seemed to come out against North Carolina's horrendous anti-LGBT law ― the hook for the story ― only to flip-flop a day later and say that states should have the right to pass such laws.
The Times piece stuck, exemplifying the power of the paper in setting a "narrative," and from that point on, in story after story in other publications and on cable news, Trump was portrayed as pro-LGBTQ. This, in spite of his courting of religious conservatives and his promises to them to roll back LGBT rights and marriage equality specifically, promising to appoint justices to the Supreme Court who would overturn the Obergefell ruling, which he opposed.
Over the following months I wrote piece after piece taking on the narrative, as did other commentators, but it was to no avail. The media stuck to the narrative, blowing it up when Trump said something that fit it ― like using the initialism "LGBTQ" at the GOP convention ― and ignoring his various sit-downs with evangelical media or appearances with anti-LGBTQ groups in which he promoted an anti-LGBTQ agenda. Of course, gay Republicans were backing him ― they back just about every Republican candidate in spite of the candidate's opposition to LGBTQ rights ― but that was happening well before Trump unfurled a rainbow flag in October.
No, gay Republicans were not responsible for creating the "LGBT Trump Fallacy." It's great to see the Times editorial page taking on the "fallacy," but the least it could have done was explain how the "narrative" truly began.
Popular in the Community