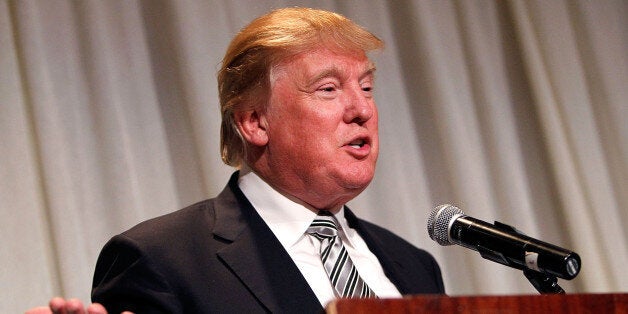 Chapter 9: Donald's "Force Majeure"
"Pardon me if I get a little emotional. It's very upsetting. I've never worked this hard in my life." --Donald Trump
In March 2001, Gary Wendt told Donald Trump he could exercise a buy/sell agreement that had been put in place by Trump and Steve Hilbert as co‐owners of the GM Building. Wendt was so anxious to get rid of the building and give something, anything, back to Conseco's angry creditors that he offered Trump a remarkable deal: he could buy the GM Building for $995 million, which meant Trump had to find $295 million, the surplus to the Lehman Brothers debt of $700 million.
He could even borrow this money from Conseco! Conseco agreed to accept an up‐front payment of $50 million at closing with the rest in two notes, one for $250 million (the primary loan) at the annual interest rate of 6.5 percent and the secondary loan for $45 million at 4 percent. The primary loan of $250 million had to be guaranteed by a letter of credit from Trump's bankers at Deutsche Bank. Conseco just wanted to be certain that the deal would close.
Andrew Hubregsen, Conseco's senior vice president, drafted and signed an agreement in March in which Conseco asked to close by June 30.
Trump had clearly stated he wanted the building. But the closing date came and went and still there was no agreement, much to the consternation of Hubregsen and Wendt. Though Trump's office regularly talked to Hubregsen, lawyers for Conseco and Deutsche Bank seemed unable to reach each other, according to court documents. There was no reason given for the delay. But at Conseco, Hubregsen would later testify, they were nervous that Trump would keep negotiating and wouldn't close. People close to the transaction recalled that Trump's in‐house counsel, George Ross, was extraordinarily focused on every detail.
On July 3 Hubregsen drafted another agreement, which now stipulated that the two sides needed to close by September 15. If Conseco hadn't received a letter of credit by September 15, the company could sell the building elsewhere.
Court records state that there were allegations of "foot‐dragging" on Trump's part. When asked about this, Trump says, "There were problems in the market. So it took time."
Word seeped out that The Donald was hesitating. Did he not want to pay? Could he not pay? Did he need a partner? In 2000 he had approached his old friend Ben Lambert; they met and Trump told Lambert he'd pay him a fee if he found him a partner. Trump also had an intermediary call the Chicago investor Samuel F. Zell, then invited Zell to lunch at Jean‐Georges in New York. Trump asked Zell if he would partner with him. Zell almost laughed. "I looked at him and I said, 'Donald, you've sued every partner you've ever had. Why would I want to be your partner in anything?' "Trump interpreted this--correctly--as: "Zell was against me because of what happened with his friend Jay Pritzker."
Zell was indeed thinking of his mentor Jay Pritzker, the late Chicago hotelier and fi nancier."I was around listening to Jay when Donald was in big trouble on the Grand Hyatt Hotel. Jay saved his ass, and then after he saved his ass, Donald sued him." The New York Times reported in 1993 that Donald had been "angry" that the Pritzkers--who had indeed given him the "curtain‐raiser of his career" by partnering on New York's Grand Hyatt Hotel in 1979--asked him for his share of renovation expenses when he was at the "lowest" point of "my financial life." He fi led a civil racketeering suit against them. It was eventually settled.
Trump's lawyers were haggling too long. By summer 2001 Hubregsen was seeking out other potential buyers. He contacted several New York developers, including Larry Silverstein, to gauge their interest. Silverstein forwarded Hubregsen's correspondence to Trump. Irate, Trump told Hubregsen he wanted a period of "exclusivity."
On August 6, Hubregsen received a letter, a "proposed form of guaranty" from Deutsche Bank, but Conseco felt it was insufficient. It was not a letter of credit, as Conseco had requested. At the bottom it even stated: "This is not a letter of a credit." Conseco officially rejected it on August 9, and then on August 24 submitted language to Trump that Conseco suggested he use for an acceptable "guaranty." Trump rejected it.
"Tempers flared," according to court documents.
Then, on September 11, 2001, two airplanes hit the Twin Towers at the World Trade Center in New York City and Deutsche Bank's headquarters nearby were heavily damaged.
The bank was unable to lend money to anyone for months, Eric Schwartz later testifi ed.Trump had to find a new banker. That proved impossible in the short term. "No one was doing business," Trump later said.
On October 4 Conseco notified Trump that the July 3 agreement was now "null and void."Wendt and his associates had run out of patience.
In December 2001 Chuck Cremens was hired at Conseco. On January 14, 2002, not coincidentally, Conseco executives informed Trump they were exercising their buy/sell right to sell the building, for which they'd gotten a new appraisal: she was now worth $1.215 billion.
Trump had 60 days to close at the new price or he had to sell his interest in the building to Conseco (the holding company was Carmel Fifth) for $15.5 million. On March 13,Trump responded: he wasn't selling his interest, nor would he buy the building at the new price. Instead, as Sam Zell had predicted, he sued.
He claimed Conseco should have awarded him an extension after 9/11, given that a "force majeure" (an unanticipated event as in the terrorist attacks) had rendered closing impossible. Trump later said,"All the banks were out of business. I had all my financing done. It was just a question of closing. I had Deutsche Bank. I had every bank wanting to do the deal. And then, all of a sudden, you couldn't get any deal."
The case went before an arbitration panel of three adjudicators. The hearing dragged on for about a month. But before any judgment was issued, Trump disqualified one of the arbitrators, who disclosed that his firm had once represented Conseco Finance, a subsidiary of Conseco. The whole process had to start over.
In January 2003, Cremens contacted Wayne Maggin, his old pal at Eastdil, and asked if the firm could sell the building for Conseco, assuming the arbitration hearing went their way. Maggin told his boss, Ben Lambert, who wanted the business.
Out of courtesy to an old close friend, Lambert went to see Trump, along with Roy March, to tell him of Conseco's request. Trump was livid. "I felt it was just disloyal of Ben, who'd been a friend of years, to go shop the building to the other side--and I haven't spoken to him since." Lambert's view was that he was a free‐agent; he had never found an equity partner for Trump, and the one meeting they'd had on the subject had been three years ago.
Within 24 hours of Lambert's courtesy visit, March recalled that someone in Trump's offices sent a box of documents to Eastdil's offices. The box was messengered back to Trump unopened, according to March. "We didn't want to create a conflict by opening it," he explains.
In March 2003, Conseco submitted an application with the United States Bankruptcy Court for the Northern District of Illinois to approve the hiring of Eastdil. Trump tried to block the appointment. He told the court that Eastdil was not capable and was too expensive. Lambert heard this while on holiday with his family in the Bahamas. "I couldn't believe it," he recalls. "Donald had been prepared to pay my fees to find him a partner--but suddenly he told a court my fees were too expensive?" Thirty years of friendship evaporated just like that.
The court ruled Eastdil could take the commission.
In May, the second round of arbitration hearings began. Trump sounded furious on the stand. "I'm the one that created the value... They didn't do anything... I brought the project in under budget... I don't even get my $11 million [the money he put in]... now they're suing me for damages... I'm supposed to pay them damages, and I'm the only good deal that Conseco has made in the last five years." On May 28 a ruling was issued: The building belonged to Conseco. Trump was out, but he would get paid.
Trump declared the saga a victory. "I made a lot of money, because we sold it for $1.4 billion," he later said.
And when it was over, Trump moved on. "I don't like talking about the GM Building, because I'd rather not have lost it--but I did make money on it," he said in an interview. He's not one to brood, according to Abe Wallach. "He used to say to me... 'It's just a deal; there'll be other deals.'"
Sometimes, it seemed to Wallach, Trump minded losing buildings less than Wallach did.
Related
Popular in the Community