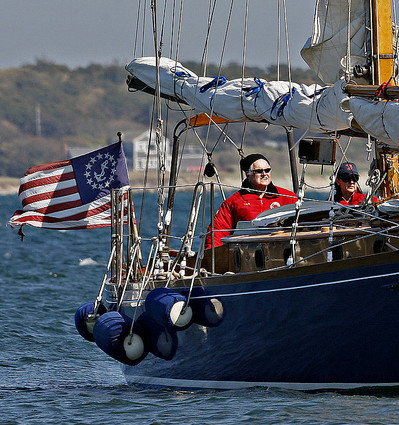 "... For all those whose cares have been our concern, the work goes on, the cause endures, the hope still lives, and the dream shall never die." - Edward Moore Kennedy
Last week upon the succession letter being uncovered, regardless of denials and bravura statements that he might fly in to rescue a close vote, having studied John F. Kennedy my entire life as well as producing a one-woman show on his life and legacy, I knew this was Kennedy lore being spun for the very last time. So, Edward is gone. The Kennedy who dodged "the curse" lived 77 long years, able to achieve what his brothers could not, no matter the legend surrounding Joseph, the Kennedy who was supposed to be king but died in a daring mission in war, John F. Kennedy and Bobby Kennedy, the darlings who died by assassins bullets. With one of the greatest historical moments of modern times Edward's eulogy of his brother, Robert F. Kennedy; the vision of this country clear in every sentence, as well as the purpose of every person who is driven by his or her passions for what can be for people. It applies to Edward M. Kennedy on his passing:
... My brother need not be idealized, or enlarged in death beyond what he was in life, to be remembered simply as a good and decent man, who saw wrong and tried to right it, saw suffering and tried to heal it, saw war and tried to stop it.

Those of us who loved him and who take him to his rest today, pray that what he was to us and what he wished for others will some day come to pass for all the world.

As he said many times, in many parts of this nation, to those he touched and who sought to touch him:

"Some men see things as they are and say why. I dream things that never were and say why not."
Born of the closest thing America will know as royalty, Edward Moore Kennedy gave his life to help those who had less, always endeavoring to make the lives of Americans better. It was a tenet of the Kennedy family to give, as much was expected of people who had everything. As a family man, he has served as the Kennedy patriarch for decades. As a public servant, he is possibly the greatest legislator in United States history. But more than anything he was the liberals' liberal, true to his political passions from beginning to end, with a body of work to back it up.
Kennedy has cast more than 15,000 votes and written more than 2,500 bills. His fingerprints are on most of the major social programs that have been launched in the last 40 years. "He has done more for human happiness than anyone in Congress," said Carol Chodroff, a human rights attorney who works closely with Kennedy. He made his maiden speech in the Senate in support of the Civil Rights Act of 1964, which outlawed segregation in theaters, restaurants, hotels, swimming pools, libraries and public schools. He continued as a strong advocate for civil rights during the 1960s, 1970s, 1980s, 1990s and the current decade, helping to ensure passage of the Voting Rights Act and substantially improving the rights of the handicapped, women in the workplace, immigrants and refugees. He introduced the bill that created the Martin Luther King Jr. holiday. He got 18-year-olds the right to vote.

He has campaigned for universal health insurance for 30 years, and from his hospital bed last year was orchestrating efforts to pass a bipartisan healthcare reform plan in early 2009. Along the way toward his elusive goal he has dramatically increased cancer research funds, created portable health insurance for workers, hammered through a patient's bill of rights and instituted closer government supervision of health maintenance organizations.

The mountain of achievements he has compiled or played a significant part in include the creation of Medicare, the family and medical leave bill, national service legislation, worker retraining laws, freedom of access to abortion clinics, the lifting of the abortion gag rule, women's health legislation including fetal tissue research, and student loan reform. Ted Kennedy helped create Meals on Wheels for senior citizens. He won greater justice for Native Americans, created a host of programs to combat hunger in the United States and abolished the poll tax. His immigration bill in the 1960s changed the very complexion of America, replacing a black-white divide with a multi-hued diversity of immigrants. He also has a strong history of gun control efforts--including early support for the Brady bill and opposition to the National Rifle Association dating from 1968.

His causes have been large and small and have crossed party lines. Working closely with President George W. Bush, he pushed through the controversial No Child Left Behind law intended to improve standards at public schools. In the 1990s, he and Republican Orrin Hatch cosponsored a bill to give health insurance to nine million uninsured children. Hatch and Kennedy rewrote the country's sentencing laws, ending parole in the federal prison system. In the 1980s, he and Republican senator Alan Simpson crafted immigration reform together. He and Senator John McCain did it again in the 1990s. He forged a balanced budget bill, helped Ronald Reagan deregulate the airlines and single-handedly blocked the confirmations of two Republican nominees to the Supreme Court, G. Harrold Carswell and Robert Bork.

Some have called him the Imperial Senator, running a kind of shadow government out of the Senate. His involvement in foreign affairs, for example, is little known but broad. It was his activism that pushed the world toward a condemnation of apartheid in South Africa. He is the one who initiated the sanctions that eventually forced the end of second-class citizenship for blacks in that country. New York Times journalist Adam Clymer said Kennedy's influence "has extended from Vietnam to the Soviet Union, from Bangladesh to Chile, from Biafra to China, from South Africa to Ireland."
Kennedy's first big job was managing John F. Kennedy's re-election campaign to the Senate. After J.F.K. became president, Bobby A.G., Edward was too young to take his brother's seat. So a "seat warmer" was appointed, Benjamin A. Smith 2d, a family friend, until the younger brother turned 30, when he entered the race, winning in a barn burner of an election. It was the start of an historic career. He happened to be presiding over the Senate on one particularly Friday when the nation cracked it two, Nov. 22, 1963. The next year Edward would have his own brush with death, as his small plane crashed while ferrying him to accept his re-election nomination for Senate, killing everyone on board, saving Kennedy; though Edward's back was broken, along with several ribs. He did his job from bed while convalescing for months and months.
In 1965, Edward Kennedy returned to work in the Senate taking up the Voting Rights Act, which Lyndon Johnson was continuing after the murder of J.F.K., putting up an amendment to abolish the poll tax that ultimately failed. It was the era of Vietnam, but it would be his brother Bobby who inspired him to come out against the Vietnam War, which coincided with Bobby's move to seek the presidency. An event that would cost him his life and take the remainder of America's innocence.
"There is no safety in hiding," he declared in a speech at Holy Cross College in Worcester, Mass., in August. "Like my brothers before me, I pick up a fallen standard. Sustained by the memory of our priceless years together, I shall try to carry forward that special commitment to justice, excellence and courage that distinguished their lives."
Then came 1969. The year that would change Kennedy's life forever. Coming from a family of drinking and carousing lotharios, Edward was no different, but his adventures coincided with the sexual revolution that changed this country forever, also his life. Partying with former campaign workers on Chappaquiddick Island, off Martha's Vineyard, in the wee hours, Kennedy drove a car carrying Mary Jo Kopechne off a very narrow bridge, sinking the car in around 8 feet of water, as is chronicled in the Washington Post today. Edward Kennedy did not report the accident for 10 full hours, saying he got so exhausted from trying to save the woman that he simply came home and went to bed. He plead guilty to leaving the scene of an accident. The tragedy would unleash a torrent of questions and recriminations, some of which last to this day, that got so bad that Kennedy asked the voters of Massachusetts if he should resign. The voters said no, loudly. ...and continued saying yes to Kennedy to keep him serving for 46 years. But the stain of Chappaquiddick lasted for the rest of his life, hovering over his dreams of the presidency that would always be an impediment for accomplishing his biggest dream.
The Carter - Kennedy collision began with Edward backing Carter, but it wouldn't last. By 1978, draft Kennedy die hards sprung up in the face of Carter's failing presidency and his inability to speak to the people in a time of malaise, a word Carter eventually made famous and enduring. When Kennedy announced his candidacy one of the things he said, as quoted today in the Post, encapsulated Carter's presidency perfectly: "Our leaders have resigned themselves to defeat." The campaign was an unmitigated disaster, with the ending his speech at the convention, a moment that will never be forgotten, but not before the campaign battle fractured the Democratic Party to smithereens. A moment of history that was teased about being replayed in 2008, when Hillary Clinton and Barack Obama were battling for the nomination, though the rumors of a Carter-Kennedy repeat were mere hallucinations of deranged activists than anything as cataclysmic as what Kennedy managed against Carter being played out.
After his defeat in 1980, Kennedy reconciled himself that he would never be president, using the Reagan years to stand against everything the conservatives tried to do, especially when Reagan tried to weaken the Voting Rights Act. But it was the Americans with Disabilities Act that became Kennedy's signature accomplishment, no doubt driven by his sister Rosemary's mental handicaps. In 1994, Kennedy became one of Bill and Hillary Clinton's strongest advocates for national health insurance, which he'd been working on since the late 60s. It was a disaster, but he kept pushing, also helping to enact S-Chip, as well as No Child Left Behind Act. But it was health care that he so longed to see manifest for the American people.
It was not to be, at least not in his lifetime.
There will be much speculation about what might have been, if Edward M. Kennedy, the Lion of the Senate, had been present to roar once more, able to be out front on the current health care campaign. There can be little doubt that had he been well enough to become the face and force in public once again we would be looking at health care reform from a different place, for Edward had all the passion for this legislation that Pres. Obama lacks. But not even Kennedy could have stopped the "death panel" squeal of Sarah Palin, because the era of Kennedy politicians is gone. And I'm not just talking about the name. It's about the passion to policy over polemics; the mission to work for the people above all else, including ego. There will never be another era of public servants represented by Edward M. Kennedy, who stands as the lion amidst legislative lambs.
A man who could never fulfill the dream of becoming president, but chose to be his own kingmaker, like his father, when Edward M. Kennedy endorsed Barack Obama for president, putting the Kennedy name behind a novice that the last Kennedy brother believed was the heir to their political throne. It was a move that fractured Democratic friendships of long standing, caused a rift with the last two-term Democratic president William Jefferson Clinton, ignited a war among activist partisans, and helped orchestrate one of the most powerful political pictures in modern campaign history. That moment when Teddy Kennedy, obviously ailing, stood beside Barack Obama, along with Caroline Kennedy, John F. Kennedy's sole surviving child, to pass the last torch to the newest generation, the finale of this dynastic family.
Edward Moore Kennedy, son, brother, husband, father, grandfather, friend, citizen of America and the greatest living senator in U.S. history, gone. He will never be forgotten. He cannot be replaced.
The courage of life is often a less dramatic spectacle than the courage of a final moment; but it is no less a magnificent mixture of triumph and tragedy. -- John Fitzgerald Kennedy
And just maybe, Sen. Kennedy's passing and the reminder of all this Liberal Lion of the Senate achieved will make the word liberal something more people will embrace. A word the right learned they had to demonize in order not to be engulfed by its tide, and which the passing of Edward Moore Kennedy should remind us all is an important word, especially when it comes to enacting policies that actually change peoples lives for the better.
Popular in the Community