Award-winning author Deborah J. Levine launches her historical memoir, The Liberator's Daughter. Rising from their Eastern European Jewish immigrant roots, her family of Swigs, Levines, and Malloys left a legacy of tikkun olam, repairing the world. Estelle and Aaron Levine met as students at Harvard University, fell in love and married during World War II. As a US military intelligence officer, Aaron was deployed to France and Germany. He witnessed the death camps and interrogated Nazi prisoners of war. His letters to Estelle expressed the horrors of the Holocaust while her love letters kept him going. Both were dedicated to Jewish advocacy and education for the rest of their lives. Aaron and Estelle inspired their daughter to dedicate her life to the Jewish community, Holocaust projects, interfaith collaboration, and cross-cultural understanding. 

Deborah Levine is headquartered in Tennessee where she continues her work in the Southern tradition of storytelling. Journey with Deborah from immigrant beginnings to Harvard University, from World War II death camps to the Oklahoma City bombing, from British Bermuda to the American Jewish Archives. Read the original letters and diaries, and see history come alive with photographs.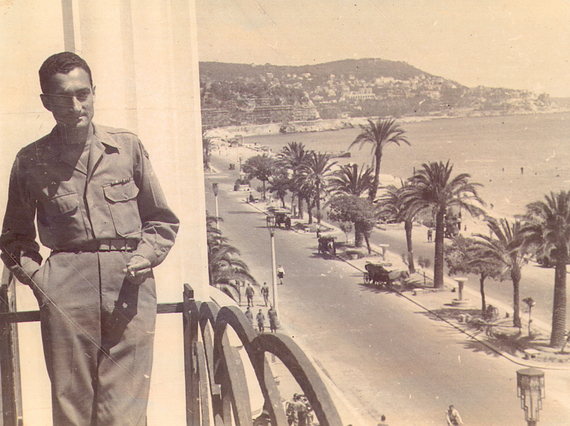 What people are saying...

"The Liberator's Daughter skillfully weaves together the story of Deborah Levine's GI father at the end of WW II, her family's Jewish roots in Bermuda of all places, and a shocking treasure trove of Holocaust reminiscences from a total stranger whose story becomes intimately hers. In a fascinating, multifaceted memoir unlike any that you'll ever read, Levine takes us deep into her family's unusual history to show how it shaped her own growth as a truly inspiring interfaith, social justice activist.  Compelling, uplifting, and unique."
~ Lev Raphael, author of My Germany: A Jewish Writer Returns to the World His Parents Escaped

"Many liberators such as Levine's father kept their experience largely secret. So the publication of excerpts from the letters of her father is an important new resource for Holocaust education and research...The Liberator's Daughter is a very readable introduction to the journey of the Jewish community over the past century. When I worked with Deborah Levine, I found her a person who rarely failed. This volume is no exception to this record of accomplishment."
~ The Rev. Dr. John T. Pawlikowski, Prof. of Social Ethics at the Catholic Theological Union and a founding member of the US Holocaust Memorial Council

"Deborah is a fabulous writer! She writes with passion and the reader can only walk away, after finishing her work, knowing more, caring more and believing more. The Liberator's Daughter is a tale that beautifully matches its name as it intertwines her life with her father's. It gives everything it promises."
~ Cathryn Cohen, Former Executive Director of the Foundation for Monterey County (CA) Free Libraries
The Liberator's Daughter is published in Chattanooga, TN by the American Diversity Report and is available on Amazon.
 
REAL LIFE. REAL NEWS. REAL VOICES.
Help us tell more of the stories that matter from voices that too often remain unheard.