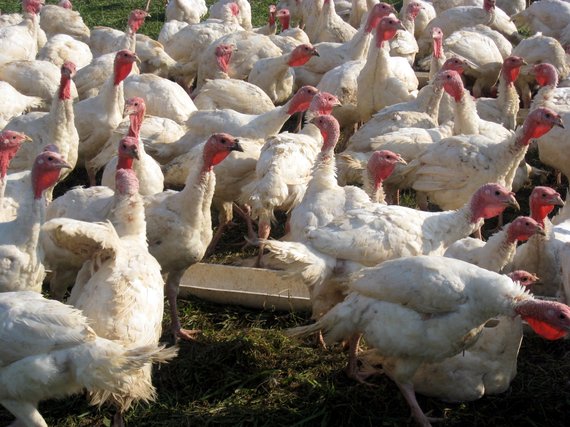 Credit: Amanda via Flickr Creative Commons

By Thomas Kennedy
A friend of mine recalls going outside of her office in South Miami one morning only to encounter a Thanksgiving turkey give-away hosted by the group Libre Initiative, which was handing out the holiday staple to members of the community. It is one of the many times around Miami that the Libre Initiative hosted events and community works providing civic and history lessons, driving lessons, citizenship clinics, and food giveaways like the one I described, not only in South Florida but in other states where Hispanic populations are prominent.
At first glance, their works seems like standard efforts in any community outreach project. But lift the veil, even a little, and the reality is that the Libre Initiative is a Republican-funded project with the goal of winning the hearts and minds of Latino voters.
Despite divisive rhetoric against Latino immigrants from many in the Republican party, including most hatefully from their presidential candidate, it is clear that some Republicans can do the math and add up the increasing role Latinos will play in this nation's elections. Hispanic millennials will make up almost half (44%) of the record 27.3 million eligible Latino voters projected for this year's election, more than any other racial or ethnic group of voters.
One of the speakers of this week's Republican National Convention in Cleveland is Libre's national spokeswoman Rachel Campos Duffy, where she will no doubt talk about economic empowerment in the Latino community through Republican ideals.
Yet we must never forget that Libre is a wolf in sheep's clothing to the Latino community. Despite its outwardly good works, Libre exists to influence Latinos to go against their own interests.
Latinos who find themselves at Libre events might be subjected to a wide range of conservative talking points. They may be told that an increase in minimum wage would result in businesses hurting. They will hear opposition to Obamacare on the charge that it is unconstitutional. And they will be given arguments that President Obama's DAPA/DACA executive actions which would have provided relief for millions of undocumented immigrants in this country should be repealed and opposed.
Republican fingerprints are all over the Libre Initiative, starting with its executive Director Daniel Garza who is a former Bush administration official. Libre officials claim that they don't support candidates, only ideas and that their focus is on explaining conservative views, yet they have served the role of unofficial spokespeople for the Republican Party agenda consistently.
When one follows the money Libre receives, it is not surprising that they regurgitate these right wing talking points in order to confuse and suppress Latinos from voting for their best interests. Since its inception in 2011, the Libre Initiative has received more than $10 million dollars from Freedom Partners, which is a group backed and funded by the Koch Brothers, billionaire Republican funders with deep pockets. The link between Libre and the Koch brother's was so strong that in Nevada, Libre initially shared an office with Koch funded Americans for Prosperity before moving in an effort to distance themselves from AFP. The money that the Koch's invest in Libre give them control over the organization and this is apparent when one sees the organizational structure of Libre which is organized as a trust with Daniel Garza as chief trustee, a position from which he can be removed.
Thanks to the financial backing by the Koch' brothers, Libre has expanded operations to states including Nevada, Texas and Florida, in which Hispanic voters will play a crucial role in deciding the outcome of the 2016 elections.
It's hard to understand how Daniel Garza, the son of a Mexican migrant worker, would choose to confuse the Latino immigrant community into voting against their interests. Here in South Florida, Libre targeted former U.S Congressman Joe Garcia in ads that misconstrued comments he made by making him seem as if he was in support of communism, a charge that was blatantly untrue. Congressman Garcia has been an ally of the immigrant community and sponsored a Comprehensive Immigration Reform bill, making it ironic that Libre sought to undermine his efforts as they hypocritically opposed Obama's DAPA/DACA executive actions on the basis that he should have worked with the legislature to pass immigration reform. This is pure nonsense as Republican backers riled up and funded the very opposition that makes a legislative solution to the immigration problem in this country impossible.
It has been amusing, though, to watch Donald Trump single handedly destroy the efforts of the Libre Initiative to confuse and divide Latino voters. The Republican mainstream was not expecting their nominee to engage in hateful rhetoric that would include forcibly deporting 11 million undocumented immigrants from this country and building a wall across the Mexican border that Mexico would pay for. It must be frustrating for Libre officials and their backers to see polls showing Trump trailing Hillary Clinton by 40 points among Hispanics. But for a group that's been trying to fool Latinos with free turkeys and other give-aways, I call it something else: Poetic justice.

Thomas Kennedy is a writing fellow for the Center for Community Change Action.
Popular in the Community