I Fought the Law: The Life and Strange Death of Bobby Fuller was published on Thursday December 4, by Brooklyn's own Kicks Books. Written by Randell Fuller (Bobby's brother) with Miriam Linna of Kicks Books/Norton Records, the book is the long awaited first authorized biography of Texas legend Bobby Fuller, whose bizarre death in 1966 death has never been fully explained.
Many of the story's original players are set to read from the book, talk about Bobby and address audience questions this evening at Jefferson Market Library in the Village. Admission is free and doors open at 7pm for the 7:30 reading. The book may be purchased there, along with all Kicks titles. Newly signed Kicks author Tiger Moody, who wrote the book's introduction, will also be there to read from I Fought the Law.
After the book reading and signing, the Black & White Bar on East 10th Street will host a Post-Library record spin where Reyes Rodriguez will play the best of Sixties Southwest tunes with Bobby Fuller Four original members Randy Fuller and Dewayne Quirico pitching in. Admission is free and attendees must be over 21 years of age.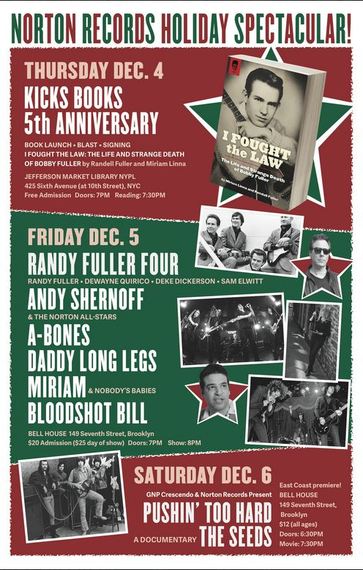 Friday night December 5th, the Bell House will feature an evening headlined by the Randy Fuller Four (original Bobby Fuller Four rhythm section players Randy Fuller and Dewayne Quirico will be joined by Deke Dickerson and Sam Elwitt). The band will play all of the original masterpieces of the Bobby Fuller Four for what is sure to be a jam packed crowd in Gowanus. The festivities will continue with Andy Shernoff and the Norton All Stars, the A-Bones, Daddy Long Legs, Miriam and Nobody's Babies and Bloodshot Bill. Kicks Books and Norton Records releases will be on sale throughout the night.
The East Coast premiere of Pushin' Too Hard, a documentary film that tells the story of seminal Sixties band The Seeds (fronted by the legendary Sky Saxon), will take place on Saturday December 6th at the Bell House, rounding out three days of Holiday Madness from Norton Records and Kicks Books. The film was directed by Neil Norman, whose father Gene was head of GNP Crescendo, the record label that originally signed the Seeds.
"The Seeds and GNP have always had a symbiotic relationship," says Neil. "Sky Saxon was an electrifying performer. Handsome and charismatic, he inspired girls to rip his clothes off (or maybe theirs) on stage. Sky and the Seeds had some great concepts that are timeless and will thrill for centuries."
Kicks Books also celebrates five years of their signature hip pocket paperbacks this weekend, with authors like Kim Fowley, Andre Williams, Harlan Ellison, Nick Tosches, Sun Ra, Charles Plymell and Royston Ellis.
For tickets and more information visit Norton Records' Blog.
REAL LIFE. REAL NEWS. REAL VOICES.
Help us tell more of the stories that matter from voices that too often remain unheard.