Paramahansa Yogananda was a renowned yoga teacher, guru and author of the beloved spiritual text, Autobiography of a Yogi. He founded the Self-Realization Fellowship, a spiritual center in Los Angeles, in the 1920s, and it has since expanded into over 500 temples, ashrams and meditation centers around the globe. 
Read an excerpt below from the film's companion biography by the same name, to be released September 1, 2015.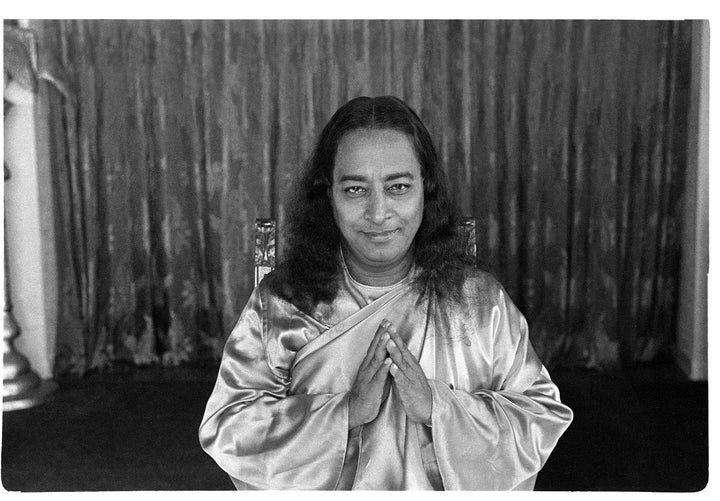 The following excerpts are from the biography of Paramahansa Yogananda featured in AWAKE: The Life of Yogananda, the companion book to the documentary of the same name.
Paramahansa Yogananda was born Mukunda Lal Ghosh on January 5, 1893, in Gorakhpur, India, into a devout and well-to-do Bengali family. From his earliest years, it was evident to those around him that the depth of his awareness and experience of the spiritual was far beyond the ordinary.
Both his parents were disciples of Lahiri Mahasaya, the renowned master who was instrumental in reintroducing Kriya Yoga in modern India. When Yogananda was an infant in his mother's arms, Lahiri Mahasaya blessed him and foretold: "Little mother, thy son will be a yogi. As a spiritual engine, he will carry many souls to God's kingdom."
In his youth Mukunda sought out many of India's sages and saints, hoping to find an illumined teacher to guide him in his spiritual quest. It was in 1910, at the age of seventeen, that he met and became a disciple of the revered Swami Sri Yukteswar Giri. In the hermitage of this great master of yoga, who himself had been a disciple of Lahiri Mahasaya, he spent the better part of the next ten years….
At their very first meeting, and on many occasions thereafter, Sri Yukteswar told the young disciple that he had been chosen as the one to disseminate the ancient science of Kriya Yoga in America and worldwide.
After graduating from Calcutta University in 1915, Mukunda took formal vows as a monk of India's venerable monastic Swami Order, at which time he received the name Yogananda (signifying bliss, ananda, through divine union, yoga)….
Yogananda began his life's work with the founding, in 1917, of a "how-to-live" school for boys [in Ranchi], where modern educational methods were combined with yoga training and instruction in spiritual ideals….One day in 1920, while meditating at the Ranchi school, Yogananda had a divine vision showing him that now was the time to begin his work in the West. He immediately departed for Calcutta, where the next day he was invited to serve as India's delegate to an international congress of religious leaders convening later that year in Boston….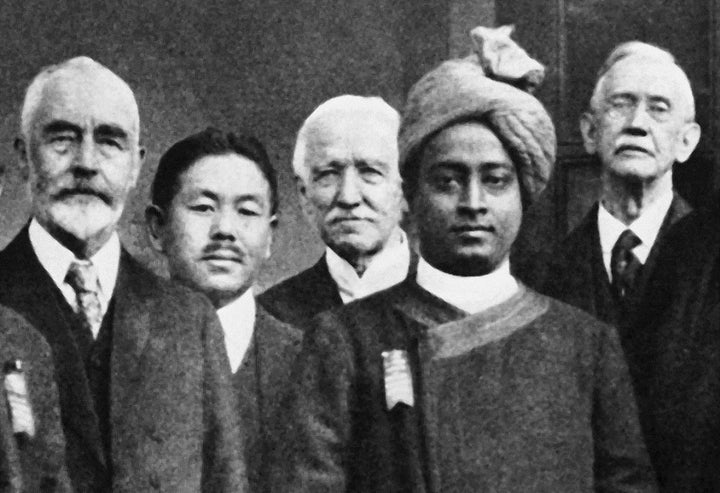 The young swami arrived in Boston in September 1920. His first speech, made to the International Congress of Religious Liberals, was on "The Science of Religion," and was enthusiastically received. That same year he founded Self-Realization Fellowship to disseminate worldwide his teachings on India's ancient science and philosophy of yoga and its time-honored tradition of meditation. …
For the next several years, he lectured and taught on the East Coast; and in 1924 he embarked on a cross-continental speaking tour. Reaching Los Angeles in early 1925, he established there an international headquarters for Self-Realization Fellowship atop Mt. Washington, which became the spiritual and administrative heart of his growing work.
From 1924–1935, Yogananda traveled and lectured widely, speaking to capacity audiences in many of the largest auditoriums in America — from New York's Carnegie Hall to the Los Angeles Philharmonic Auditorium. The Los Angeles Times reported: "The Philharmonic Auditorium presents the extraordinary spectacle of thousands...being turned away an hour before the advertised opening of a lecture with the 3000-seat hall filled to its utmost capacity."
Yogananda emphasized the underlying unity of the world's great religions, and taught universally applicable methods for attaining direct personal experience of God. To serious students of his teachings he taught the soul-awakening techniques of Kriya Yoga, initiating more than 100,000 men and women during his thirty years in the West.
Among those who became his students were many prominent figures in science, business, and the arts, including horticulturist Luther Burbank, operatic soprano Amelita Galli-Curci, George Eastman (inventor of the Kodak camera), poet Edwin Markham, and symphony conductor Leopold Stokowski. In 1927, he was officially received at the White House by President Calvin Coolidge….
In 1935, Yogananda returned to India for a last visit with his great guru. (Sri Yukteswar passed away on March 9, 1936.) ….It was during this year that Sri Yukteswar bestowed on him India's highest spiritual title, Paramahansa. Literally "supreme swan" (a symbol of spiritual discrimination), the title signifies one who is established in the ultimate state of union with God….In late 1936 he returned to America, where he remained for the rest of his life.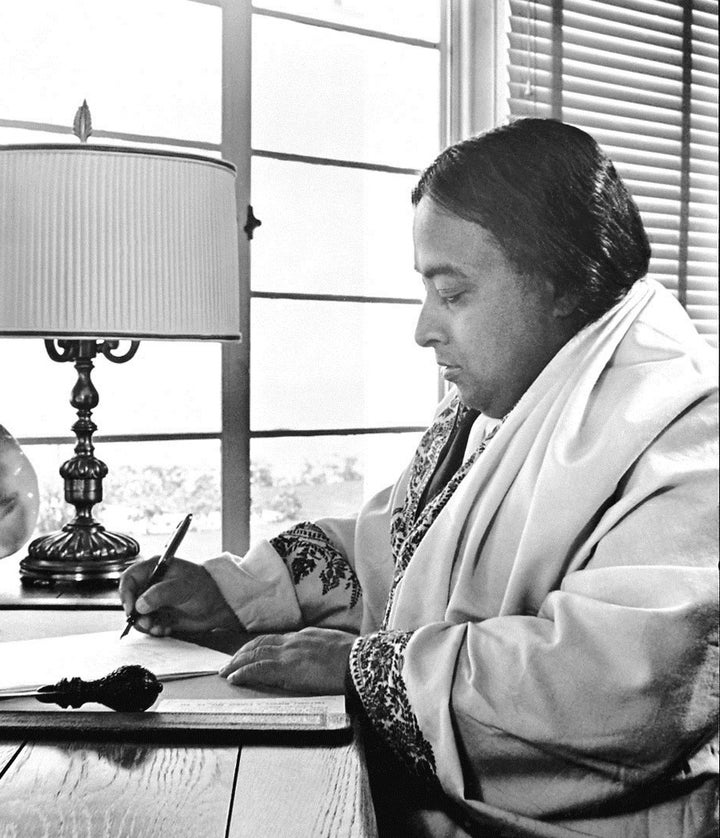 During the 1930s, Paramahansa Yogananda began to withdraw somewhat from his nationwide public lecturing so as to devote himself to the writings that would carry his message to future generations, and to building an enduring foundation for the spiritual and humanitarian work of Self‑Realization Fellowship/Yogoda Satsanga Society of India.
Under his direction, the personal guidance and instruction that he had given to students of his classes was arranged into a comprehensive series of Self-Realization Fellowship Lessons for home study.
A beautiful hermitage overlooking the Pacific Ocean at Encinitas, California, had been built for the Guru during his absence in India.…He also founded several Self-Realization Fellowship temples (Encinitas, Hollywood, and San Diego)….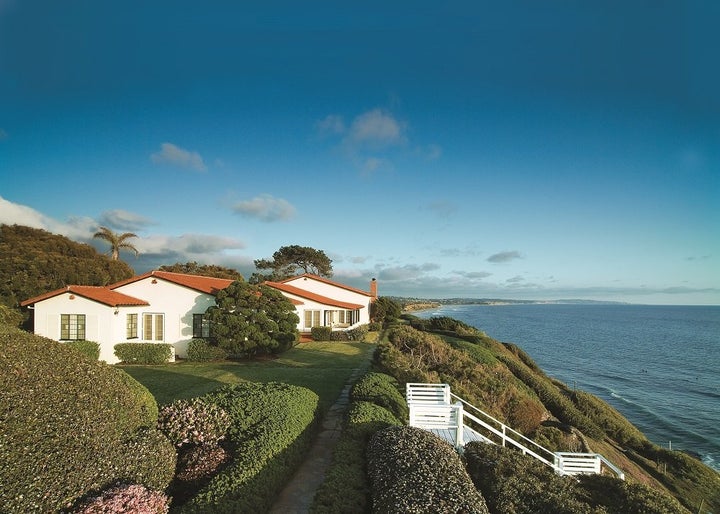 Yogananda's life story, Autobiography of a Yogi, was published in 1946 (and significantly expanded by him in subsequent editions). A perennial best seller, the book has been in continuous publication since it first appeared and has been translated into many languages. It is widely regarded as a modern spiritual classic.
In 1950, Paramahansaji….dedicated the beautiful SRF Lake Shrine in Pacific Palisades, enshrining a portion of Mahatma Gandhi's ashes in the ten-acre lakeside meditation gardens that have since become one of California's most prominent spiritual landmarks.
Paramahansa Yogananda's final years were spent largely in seclusion, as he labored intensely to complete his writings — including his voluminous commentaries on the Bhagavad Gita and the teachings of Jesus Christ in the four Gospels...He also worked extensively with Sri Daya Mata, Sri Mrinalini Mata, and a few other of his closest disciples, imparting the spiritual and organizational guidance that would enable them to carry on his worldwide work after he would be gone.
On March 7, 1952, the great Guru entered mahasamadhi, a God‑illumined master's conscious exit from the body at the time of physical death. He had just finished giving a short speech at a banquet honoring India's ambassador to the United States, Dr. Binay R. Sen, at the Biltmore Hotel in Los Angeles….
PHOTO GALLERY
The Life of Yogananda
Calling all HuffPost superfans!
Sign up for membership to become a founding member and help shape HuffPost's next chapter