A lifelong athlete, Steven Kessler always had appreciated the importance of honoring your body by eating whole foods and exercising. Then ten years ago, while working in sales for a natural vitamin company, he met a guy named Eric Schnell. They discussed their yearnings to start their own business. They started wondering: How could they create an all-natural beverage company to serve the healthy, active lifestyle and "better for you" foods trend that was rapidly gaining favor in America?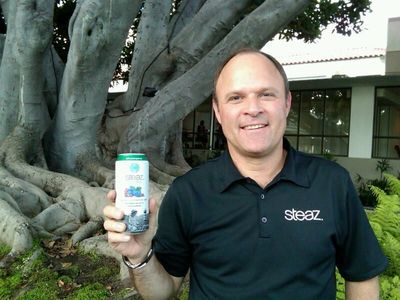 After researching the market, the two opted to create a sparkling green tea beverage company called Steaz. Steven knew their drink had to be made from organic, all-natural ingredients--that much was clear. They created a sparkling beverage because they had been reading articles about how schools were tossing sodas out of their vending machines.
"I thought, wait a second, bubbles aren't bad for you. What's bad about today's mainstream sodas are the high fructose corn syrup or artificial sweeteners, sodium benzoate preservatives, chemical binding agents, and all of the other artificial/chemical laden ingredients," Steven said in our interview. "I wanted to help people by offering them a healthy alternative to soda, as everyone yearns for a better lifestyle."
The Steaz founders chose organic green tea as the base for their expanded line of beverages (now including Iced Tea and Energy drinks) because of the nutritional value green tea provides. Clinical studies prove its cancer fighting properties, Steven said.
Finally, Steven was committed to creating a beverage brand that not only tasted great, but also had a social conscience and purpose. "People today are so interested in doing the right thing, spiritually and emotionally. I was always taught to do the right thing, but now I can actually live it!" Steve said.
Steaz connected immediately with Fair Trade USA. Steaz pays more for their organic green tea because it is procured around the world only from Fair Trade-certified farms that pay their farmers fair wages, offer them fair working conditions, and even provide health insurance. "Thanks to the business we created, these farmers are now able to put a roof over their heads, and can afford to send their kids to school, feed them three meals a day, and even take them to the dentist," said Steve. "That was an education for us. It's so cool, so real, and so purposeful to know our company is touching people's lives in that way."
In addition, Steaz connected with the Whole Planet Foundation, the non-profit arm of Whole Foods. Every time someone purchases a Steaz beverage at a Whole Foods Market, a donation is automatically made to the Whole Planet Foundation.
Recently, Steaz released a new line of all-natural, organic, Fair Trade energy drinks. While they contain organically sourced, plant-based caffeine such as green tea, yerba mate and guarana berries, they also offer powerful, antioxidant-rich super fruits such as acai, blueberry, pomegranate, goji and mangosteen. With just 100 mg of naturally occurring caffeine per 12 ounce can, Steaz Energy is on the lower end of the caffeine drink spectrum, especially when compared to 240 mg of caffeine in a 12-oz cup of brewed coffee.
I asked Steven what motivated him to start his own business. He replied, "Over the years I saw how some companies treat their employees, and I thought, 'That's not right.' I really wanted to create a working environment where people love going to work each day and doing their jobs, where they're excited to be doing the right thing for the world. We literally founded this company based on a mission to help people lead healthier lives and to run a humanistic, socially conscious business. The product came second."
As far as his advice for other aspiring entrepreneurs, Steven had these words. "Everything you do needs to start with passion. What excites you? Start there. If you're not happy about what you're doing, you're going to lose your passion, and that's going to affect every aspect of your life. Ten years down the road, I can tell you that I'm just as excited today about Steaz as I was the day we opened our doors. It's so much fun!"
Steven said he never worried about failure because the thought literally never entered his mind. "I'm blinded by the passion of what I'm doing," he laughed. At the same time, he urged upcoming entrepreneurs to remember that building a company is a process. It doesn't just happen overnight. "Don't stop dreaming, but understand there's a beginning, middle and end, and you can't leapfrog over the beginning to skip to the end. Go with your passion at first--whether that's music, tech or natural foods or whatever--but then understand there's a journey ahead to get there."
Photo credit: Steven Kessler
REAL LIFE. REAL NEWS. REAL VOICES.
Help us tell more of the stories that matter from voices that too often remain unheard.