"Tonight I'm gonna party like it's 1999," I sang to myself last Thursday night as I walked into the palm tree-filled courtyard of the Delano hotel, a premier South Beach hot spot.
And did I ever. Nor did I stop for the next four straight days. In fact, the last time I partied this hard it really was 1999. I was 26 and could still toss back six tequila shots without suffering any consequences.
Now I'm 38 and usually turn into a pumpkin at midnight. But I had to keep pace with the 1,000 ambitious 20- and 30-somethings invited on Summit at Sea, a conference on a cruise ship that's been dubbed "The Davos of the Younger Generation." I slept maybe four hours a night and lost my voice. But honestly, surrounded by such an inspirational mix of entrepreneurs, authors, philanthropists, venture capitalists and musicians, who could possibly sleep? I felt incredibly fortunate to have been included at this year's Summit, and I wasn't going to waste a single moment.
As the taxi dropped me off at the port on Friday morning, I glanced up at the towering cruise ship that was to be my home till Monday. It was draped with a two-story tall sign that read, "Make No Small Plans."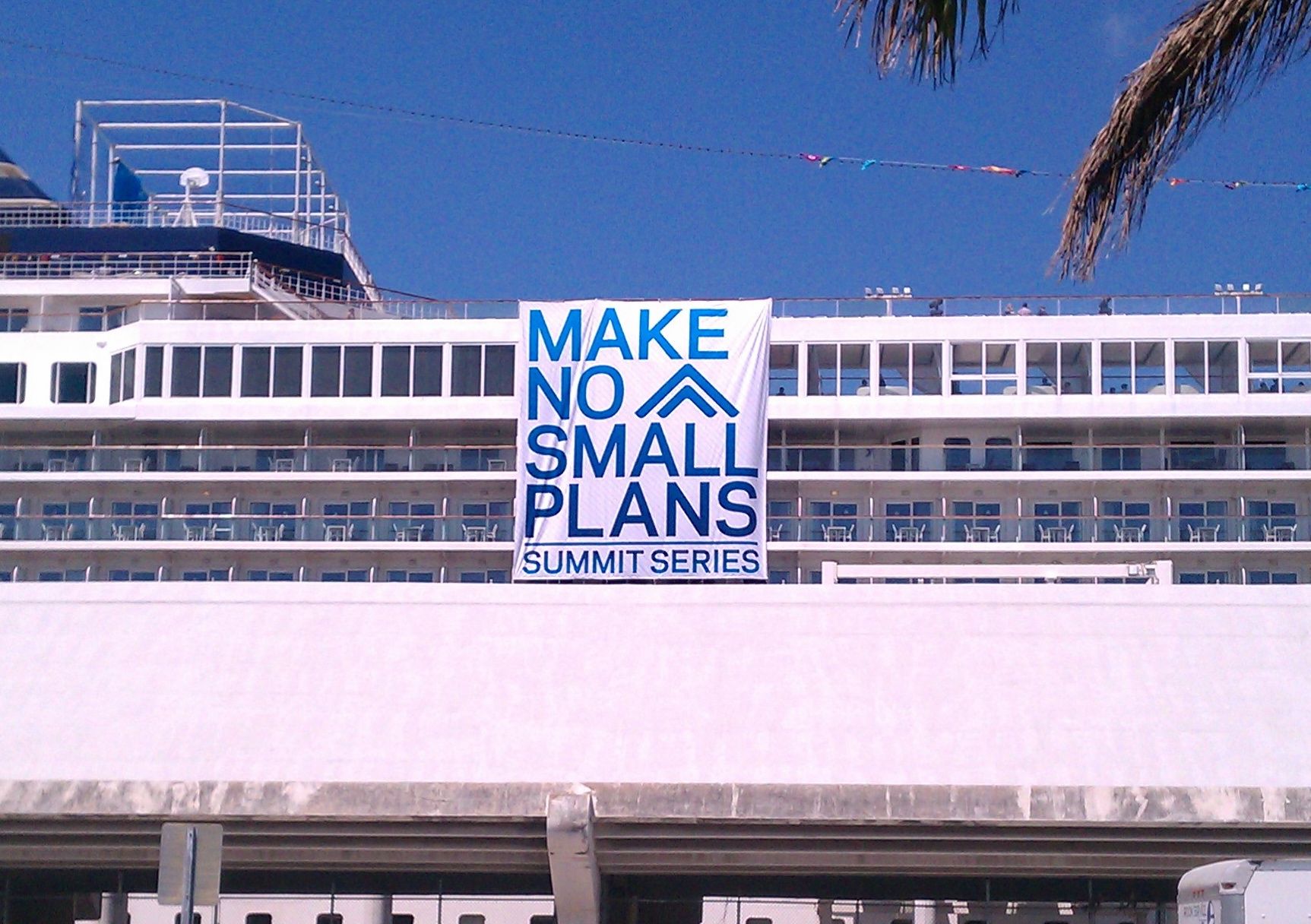 That simple message sums up the entire four-day experience. It was, for me, a celebration of the Life Out Loud. Every single person on that boat was a dreamer and a doer, the most winning combination in life. They all had a vision for what they wanted to create -- whether that be an organic body care products company (Yes To Carrots), a non-profit that's teaching the most at-risk women in Africa how to start their own businesses (Global Grassroots) or a guy who decided to give a pair of shoes away for every pair he sells (TOMS). They've all made that vision manifest through obsessive dedication and a healthy sense of their own abilities. They are living proof that the risks of such a lifestyle choice are insane, but the rewards are even greater. Those who succeed become change-makers, influencers and powerbrokers because they put themselves on the line every day to turn their fantasies into reality.
As for the Summit itself, it was the Life Out Loud in action. Work hard, play hard. Drink like you're still in college (which wasn't too long ago for most), then see a mind-blowing speaker like Gary Vaynerchuk. Get up for 8 a.m. meditation led by one of the Dalai Lama's advisors, or sleep through your alarm and chat over lunch with a 26-year-old Princeton grad on his third educational start-up. Get your ass kicked in a pro-athlete beach workout and vomit up last night's dinner, or smoke a cigar, sip your sixth piña colada, and hang out with a couple of venture capitalists who say to you, quite simply, "Pitch me." Hide under a tiny piece of shade in the scorching Caribbean heat to listen to author and Joie de Vivre CEO Chip Conley explain emotional equations, or take another spin on the 30-foot-tall water slide.
But there was a whole other level of the experience for me -- a far more personal journey. I'd like to share it with you.
On Friday evening, following an arduous two-hour check-in process and powerful welcome speech by "three-foot giant" Sean Stephenson, I made my way onto the pool deck. I was overwhelmed by the hundreds of beautiful people mulling about, drinking, dancing to the house band, The Roots, and gazing over the ship's rail at the receding Miami skyline.
At this point it's helpful to know that over the last six years, I have been clawing my way up a mountain of gravel -- from my divorce, to my father's conviction and house arrest for a federal crime, to a complete dissolution of my sense of self. Each time I thought I had a solid enough grip to pull myself out of the darkness, I slipped. Two climbs forward, one slip back.
But as I stood there on the deck at Summit, I knew I'd finally made it back into the light. And I realized that part of why I'd struggled so much in the last decade was because I'd given up faith in myself. I'd lost hope that it would be me who got me back to the confident, spirited, successful woman I was at Stanford. I had begun to rely on boyfriends and therapists for my self-esteem.
So, egos and glamour and it's-just-a-freaking-party aside, Summit was a life-transforming experience for me -- because it was a celebration of the MeiMei I want to be in the world: bright, sparkly, fearless and full of love. I kept standing back from the chatter to take it all in. I was my most Life Out Loud self again.
And here's the thing: for every single person on the planet who has lost their way, I wish the same moment of self-actualization, contentment and celebration. No matter what tools you rely on (and I count on many: read my last blog post, "Where Spirituality Gets Sloppy," to find out more), it's even more profound when you get there and realize that you have healed yourself.
This is what the people on the Summit boat know. This is what I've rediscovered over the past 10 years of spiritual work and self-exploration and repeated disappointment. That when you truly acknowledge, deep down in your heart, that nothing and no one is going to stop you from expressing your own innate fabulousness, you have arrived. Life will begin to unfold and offer you its riches.

Related