When Emmy-award winning filmmakers Sarah Moshman and Dana Michelle Cook discovered a dearth of positive and uplifting content for women in television and film -- encountering "nothing much beyond objectification and cattiness between women" -- they decided to take matters into their own hands. They started a production company called Heartfelt Productions in 2009 with the stated objective of making content that inspired and uplifted women.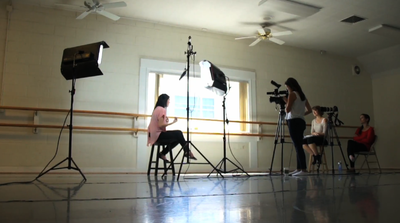 In the spring of 2013, Sarah and Dana ran a successful Kickstarter campaign, bringing in over $28,000 in 60 days to make a documentary film called The Empowerment Project: Ordinary Women Doing Extraordinary Things. They carefully selected 17 amazing women in the fields of aviation, science, math, film and television, fashion, theatre, dance, law, architecture, and more. Next, they assembled an all-female film crew to travel across the country, asking these women how they define success, what it takes to be a woman in their position, and what advice they might have on how to improve the female role in the workplace. The crew also turned the cameras on themselves, filming their reactions and responses to the women they met along this incredible journey. Additionally, in each of the 10 cities visited, they mentored an aspiring female filmmaker, giving her valuable tools and encouragement to find her own voice.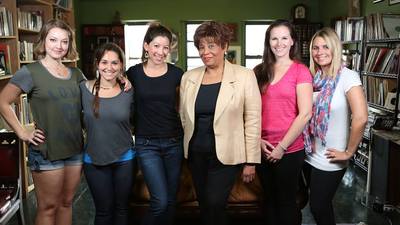 The goal of The Empowerment Project is to encourage women to go after their career ambitions -- whatever those may be. When I asked Sarah what she felt was the most significant obstacle for most girls and women in this regard, she replied, "Confidence is everything. Women need to know how valuable they are and how valuable their point of view is in any field in order for us to inch toward gender parity in the workforce. It sounds simple, and of course there are so many external factors that play in to the way things are, but I think that would be a huge step in the right direction."
One of the coolest parts of taking the month-long journey for The Empowerment Project, Sarah said, was spending "a day in the life" with all these vastly different women. The film crew worked out with a professional athlete, brewed beer with the first female brewmaster, wore lab coats and learned about biology with a leading female scientist, and flew over the Golden Gate Bridge with a female pilot.
A key quality that all the women whom the filmmakers interviewed had in common was a passion for their field. Sarah explained, "The sentiment seemed to be: the sooner you figure out your passion, the better off you'll be." They also shared determination: just because someone said no at some point didn't mean the dream died. These women found another way.
This isn't Dana and Sarah's first foray into documentary filmmaking or the subject of female empowerment. Their short documentary Growing up Strong: Girls on the Run spotlights the Girls on the Run organization, telling the story of how young girls are positively effected by the non-profit's unique curriculum of building self-esteem while training for a 5K event. The film won a Chicago/Midwest Emmy award on November 3, 2013, which was a life-long dream come true for Sarah.
"It was an amazing night," Sarah said. "We felt so much validation for focusing on stories and content that make a positive impact on girls and women. We know this is what we are meant to do with our lives."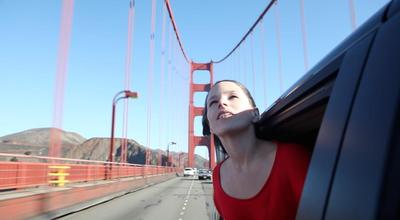 Sarah was inspired to become a filmmaker by her father Harvey Moshman, a television producer and documentarian. She made her first documentary while still in high school, and went on to study video/film at the University of Miami. After college, she worked in reality TV as a field producer on shows like Dancing with the Stars, Minute to Win It, and MADE on MTV. These experiences taught Sarah how to work with talent, be ready to film at any moment, and troubleshoot when things don't go well in the field -- skills that Sarah says go "hand in hand with documentary filmmaking."
Self-doubt has been Sarah's greatest challenge in following her heart's path. She admits to feeling pressured to constantly question her choices and has learned over time how to not compare her path to other people's. But taking a chance is starting to pay off, especially in the past few years, and she is glad she pursued her calling.
"I believe in myself and in the message I'm trying to get out to the world," Sarah said. "The risk is completely worth the potential reward -- which is empowering women. They say you regret the things you don't do in life, rather than the things you do. I agree. If I didn't make this film, I would always regret it."
Dana and Sarah hope to incorporate educational aspects into The Empowerment Project, bringing the documentary to schools across the U.S. in order to spread its positive message to young women. With the help of Indieflix, their co-production team, they plan to do this starting in the spring of 2014, impacting the next generation of female leaders. "We're not just making a film, we're starting a movement," Sarah said. If you want to book a screening of The Empowerment Project at your school or organization contact: empowerment@indieflix.com.
Sarah advises people interested in living the Life out Loud to figure out their passion and go after it with gusto:
Be your own biggest fan. You have to believe in yourself more than anyone else; otherwise no one will come on board. When you step out on your own, it may feel like you are trying to build a house alone, brick by brick. But eventually, somebody notices...and you slowly start to see the foundation. After a while, maybe you aren't the only one building the house and it gets done much faster and maybe even better than you hoped.
Photo credits: Alana Fickes
Support HuffPost
The Stakes Have Never Been Higher
Related
Popular in the Community