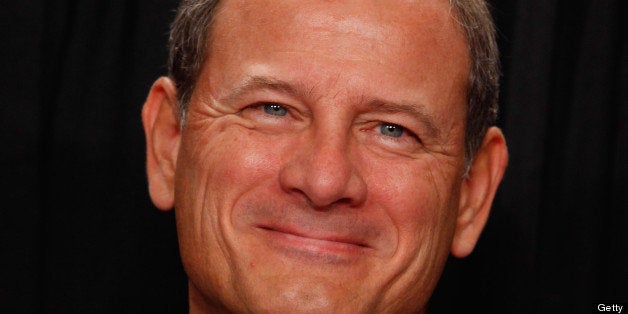 As the Senate Rules Committee holds a hearing today on dark money in politics featuring retired Justice Stevens, the political world is digesting the impact of the Supreme Court's latest adventure in campaign finance law, McCutcheon v. FEC, with great alacrity. This case, decided on April 2, allows the rich who had been limited to giving only $123,200 every two years to spend north of $3 million if they give the maximum base contribution to every federal candidate. This decision shows the need for transparency has reached a critical stage.
Already the fundraising spree is on including the creation of new super committees to take advantage of the decision. According to Politico, "the newly formed Republican Victory Fund is a joint fundraising committee composed of the Republican National Committee, the National Republican Congressional Committee and the National Republican Senatorial Committee. The new entity will allow Republicans to host fundraising events soliciting checks of nearly $100,000 from wealthy donors."
Big donors may already be ruing the result of McCutcheon since the excuse of not spending more because of hitting the aggregate limit no longer applies. Lobbyist and formerly maxed out donor Ken Kies told the press, "I'm horrified, planning to de-list my phone number and destroy my email address."
And as a result of McCutcheon, mere millionaires may be elbowed out of the way by billionaires. As Professor Justin Levitt put it "here's a striking side effect: More than a few high rollers have not yet noticed that they just got bumped outside the velvet rope." So that's the bad news: the orgiastic spending in elections is only likely to increase as a result of McCutcheon.
But there's some good news too. McCutcheon, like its kissing cousin Citizens United, has a silver lining: once again the Supreme Court has very positive things to say about disclosure of the sources of political spending.
Chief Justice Roberts writing for the majority in McCutcheon said,
disclosure requirements are in part "justified based on a governmental interest in 'provid[ing] the electorate with information' about the sources of election-related spending." They may also "deter actual corruption and avoid the appearance of corruption by exposing large contributions and expenditures to the light of publicity." ... With modern technology, disclosure now offers a particularly effective means of arming the voting public with information. ...Today, given the Internet, disclosure offers much more robust protections against corruption. Reports and databases are available on the FEC's Web site almost immediately after they are filed, supplemented by private entities such as OpenSecrets.org and FollowTheMoney.org.
The Supreme Court's repeated and vociferous endorsements of disclosure provide the other two branches (the legislative and the executive) a great deal of leeway to craft stronger disclosure rules. Polling shows the public wants disclosure (as well as limits on money in politics).
There are a number of potential venues to bring stronger disclosure to our democracy. Besides Congress, the Federal Communications Commission (FCC) has a role here since so much political spending is poured into television ads for both state and federal elections. The FCC has been a quiet but steady leader in improving transparency post-Citizens United. In April 2012, they required broadcasters in the top 50 media markets to post information about political ad buys online for the first time. The Commission is continuing this leadership role post-McCutcheon. On April 4, 2014, the FCC indicated this transparency requirement will be expanded nationwide.
Other federal agencies like the SEC need to catch up. The SEC is currently doing a broad review of its disclosure policies. According to Keith F. Higgins, Director, SEC's Division of Corporation Finance, the SEC will examine not just where disclosure could be streamlined, but also where it could be expanded. As he stated in a recent speech: "You may be surprised to learn that there are many investors who have expressed an appetite for more information, not less. If we identify potential gaps in disclosure or opportunities to increase the transparency of information, we may very well recommend new disclosure requirements."
One clear candidate for expanding SEC disclosures is transparency of where publicly traded companies are spending in politics and why. There is a petition at the SEC asking for just such a rule. Over 750,000 people have sent in letters and emails endorsing this approach. The language from the Supreme Court in Citizens United and McCutcheon also embraces this type of basic transparency. Now it's time for the SEC to act. If wealthy individuals and wealthy firms are going to spend hefty sums in our elections, it would be courteous if they could let voters and shareholders know.
Calling all HuffPost superfans!
Sign up for membership to become a founding member and help shape HuffPost's next chapter