In few places could you find something so quintessentially Italian as characters described as "listening every evening, hidden behind a pot of basil," or when a character is defeated in a duel and, "The blood gurgled foaming in his throat, and he could not even utter: 'Ah, mamma mia!'".
Giovanni Verga strove to capture the nitty gritty of everyday Sicilian life in his short story Cavalleria Rusticana, a work of Italian verismo, or, realism. However, a discussion of verismo in its musical incarnation would be wholly incomplete without mention of the famous duo of Cavalleria Rusticana by Pietro Mascagni, based on the story by Verga, and Pagliacci by Ruggero Leoncavallo, based on a real-life crime Leoncavallo witnessed as a child. The two operas perfectly encapsulate, with some exaggeration, the experience endured by the everyman of southern Italy.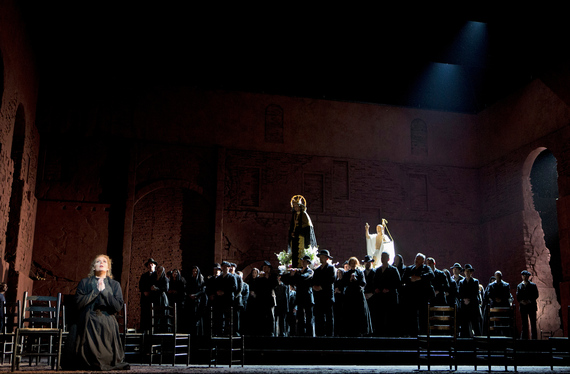 First composed in 1890 and 1892, respectively, Cavalleria and Pagliacci have been presented as a double bill since the Met paired them for the first time in 1893. Last seen at the Met in 2009 in a 40+ year-old, hyper-realistic and beautiful staging by Franco Zeffirelli, the pair returned to the Met on Tuesday night in a pair of solid new productions by David McVicar.
Cavalleria, typically presented first, is a story of passion, betrayal and jealousy set in a Sicilian Village on Easter Sunday. McVicar's sparse production augments the ritualistic religious and social practices seen in the opera with success. The women are seen as sex objects and those who dissent are ostracized. It may not be subtle at some points, but it works.
The problem, however, is that Cavalleria can basically direct itself. The music indicates passionate embraces, hurlings to the ground and hysterical gestures that tend to stay consistent from production to production, regardless of the company that produces it. Maybe this limitation in staging is a detriment to the genre, but only seldom does a production really focus a new lense on the piece. McVicar resorted to the typical stock gestures for his characters, Santuzza in particular, with passionate embraces on the ground, outstretched arms, flashing eyes and floating hair at the "Mala Pasqua!" curse, an exaggerated sign-of-the-cross for Lola, and several dramatic throws to the ground for Santuzza. It was basically a more stylized production of a Cavalleria that you've seen before.
The opera focuses heavily on Santuzza, the peasant girl that Turiddu seduces and abandons. In this production, she remains onstage the entire time, sometimes taking part in the action, sometimes sitting in a chair in the corner of the stage. Understandably, playing the woman scorned is no easy task. Dutch soprano Eva Maria Westbroek, last seen at the Met in Shostakovitch's Lady Macbeth of Mtensk, sunk her teeth into the role to the best of her abilities.
She's a convincing actress and delivered a well-sung and interesting performance. The voice, while full of color in the middle, is actually most beautiful at its extremes. For this opera, however, a beautiful sound isn't what the doctor ordered to fully express the longing and anger Santuzza feels. The wailing at the top and the pleas at the bottom sounded uniformly pleasant, and she avoided using any chest voice in a role with a strong tradition of dipping down into the lower register. There is also an element of insecurity in her singing as well, which makes for a tentative vocal presence in a role rooted in very certain emotions.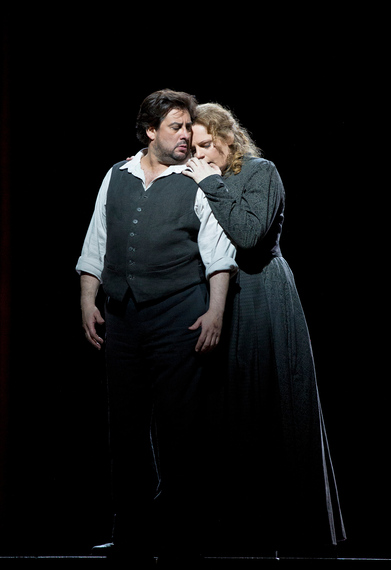 The man who scorns her, Turiddu, was sung by Marcelo Álvarez, this production's headliner taking on the less demanding of the evening's two tenor roles. Álvarez gave a solid, if not unexciting, performance. The voice is somewhat narrow, but is well-sized to the Met. But even in the most dramatically intense moment in the opera, a pulsing duet between Turiddu and Santuzza, the pair never fully achieved that intense fieriness that audiences have come to expect of good verismo opera.
Ginger Costa Jackson, a ravishingly beautiful singer, gave a gorgeous and provocative performance of the small, but important, part of Lola, the married woman that Turiddu left Santuzza for. Her voice has grown more beautiful and agile over the years, and I look forward to seeing what other types of roles she'll take on.
George Gagnidze delivered a well-sung and swaggering performance as Lola's husband, Alfio. He wields a sensitive, yet commanding, baritone voice and, in this production, an Indiana Jones whip. Jane Bunnell sounded adequately motherly, speak-singing most of the part as a very sympathetic Mamma Lucia. Fabio Luisi led a taut rendition of Mascagni's gorgeous score, but failed to highlight anything new or interesting in the piece's extensive orchestrations. Even the famous Intermezzo, played with throbbing beauty and refinement by the Met Orchestra, sounded the same. The Met Chorus sang the opening chorus and subsequent Easter Hymn with the beauty that one has come to expect from them.
Rae Smith's Sicilian piazza set worked sufficiently, with a turntable in the middle of the stage doing a good job of evoking the various indoor-outdoor settings usually just ignored with a unit set. Paule Constable's lighting scheme kept the stage very dark save for the occasional celestial beam of light, and Moritz Junge's costumes, though effective, blended in with the darkness onstage.
After intermission, that darkness was lifted when Pagliacci arrived. The opera is about a troupe of traveling clowns headed by Canio. When Canio finds out that his wife, Nedda, has had an affair with a villager, Silvio, he stabs her to death onstage during a performance.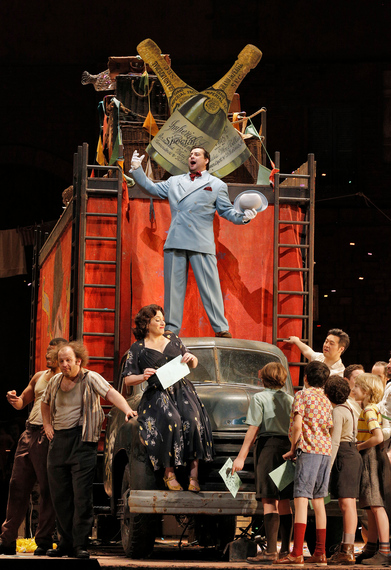 Pagliacci was the indisputably more effective production of the two. Set in the same village as Cavalleria in 1948, the players arrive in a car and set up shop in the newly modernized piazza. The new time period also lent itself to the inclusion of a riotous series of vaudeville routines supervised by Emil Wolk and executed with great aplomb by Marty Keiser, Andy Sapora, and Joshua Wynter. McVicar found clever ways of making the time-specific portions of the piece make sense in the new setting and, with the inclusion of cigarettes and a bottle of alcohol, made the wedge between Nedda and Canio even more explicable.
In the more demanding tenor role of the evening, Álvarez, again, gave a solid, secure performance, obviously enjoying the increased dramatic potential Canio offers in comparison to Turiddu. "Vesti la Giubba," performed in front of the glittering main drop curtain, was well-sung and full of emotion, coming closer to the fieriness lacking the Cavalleria and balancing high notes with apparently raw feeling.
Nedda, Canio's wife, was given a deep-seated intensity and longing by Patricia Racette. Though the middle voice is worn and she compensates for that by pumping it full of vibrato, a beautiful sound still remains in the middle and on top. She was deeply earnest and "Stridono Lassύ" was both relatable and well-sung. Also, anybody who can subscribe to all the vaudeville aspects of this production has my respect.
George Gagnidze returned as Tonio, another clown that lusts after Nedda, bringing the same flexible and pleasant voice to a part that is much slimier than his character in Cavalleria. The prologue was solidly sung and accompanied by another very appealing vaudeville act.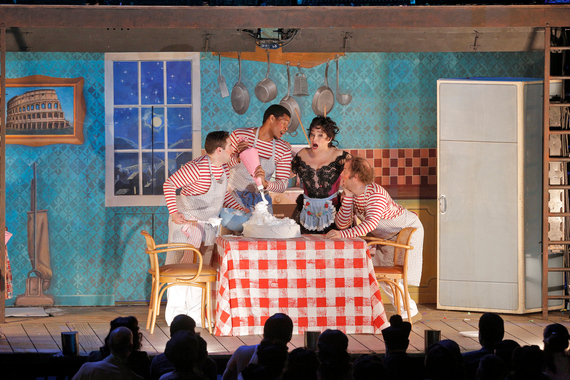 Andrew Stenson was an urgent Beppe with a crystal-clear voice and Lucas Meachem brought a serviceable baritone that was effective though unextraordinary as Silvio.
Rae Smith's clever set was bursting with color, though I imagine it's hard to carry on an affair in the middle of a piazza. Paule Constable's lighting worked much better at setting the scene, and Moritz Junge's costumes were both realistic and eye-catching.
Luisi led a similarly non revelatory account of Pagliacci, with the Met Orchestra and Chorus remaining in top-form.
McVicar's choice to treat the operas as two separate pieces is interesting. Yes, they're two different pieces by two different composers, but they share multiple common themes. Pagliacci's composition was, in fact, inspired by Cavalleria. However, to treat them so separately is to ignore why they're a good pair.
The evening felt somewhat disjointed with the pieces receiving such different treatments. The performances, Pagliacci in particular, made good cases for each opera as its own work, but in two operas so ingrained in the communities in which they're set, this double bill could have stood a little more bonding time.
Photos: Cory Weaver/Metropolitan Opera
Calling all HuffPost superfans!
Sign up for membership to become a founding member and help shape HuffPost's next chapter