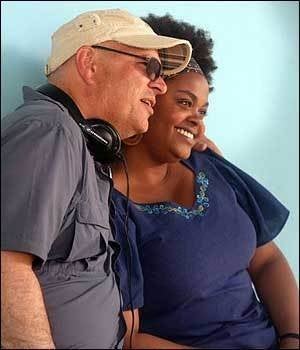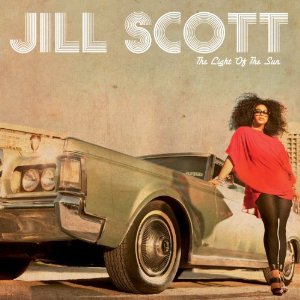 Mike Ragogna: Hello, Jill. You have the #1 album in the country with The Light Of The Sun, and you feature Anthony Hamilton on your latest single, "So In Love." Can you give us some background on how your duet came about?
Jill Scott: Hi Mike, yeah sure. I got a phone call from a very dear friend, Charles Whitfield, who was working with Anthony (Hamilton) and he told me he had something for me. I got the song and, immediately, I fell in love, before I even heard Anthony's voice. I was like, "Oh yeah, that feels like summer." So, by the time Anthony started singing, I was in. I was really excited to be a part of something that felt so good.
MR: You guys blend so nicely together on that recording.
JS: Thank you. Anthony is wonderful, he is really one of my favorite vocalists of today.
MR: Now, you're no stranger to collaborations, that's how you got your first break with Questlove, right?
JS: Well yeah, Questlove from The Roots came to a poetry reading and asked me if I wanted to try and write songs. I said okay and I went in with Scott Storch and hung out for about ten minutes and came out with, "You Got Me," which The Roots and Erykah Badu won a Grammy for.
MR: You didn't get a Grammy, but you've got bragging rights, which is cool.
JS: It was the first thing I had ever done in the music industry and particularly as a writer. I was so railed. I couldn't get over the fact that I was walking down the street and hearing this Grammy award-winning singer, singing my words and the melody I created. I thought this is good I want to keep this up.
MR: What is your creative process?
JS: Now, I have a new process, I just want to have fun. So, I call in great musicians and we basically just play. Some people may call it a jam session, I'm not quite sure what it is. We go in and we have fun, and that's basically the gist of it.
MR: Is that how you approached The Light Of The Sun?
JS: That's the way I've been creating as of late. I used to sit with a pen and a paper and plow through. As a writer, I felt like that's what I needed to do, but now, I'm treating myself more as an MC. I just freestyle and, typically, I come out with an entire song, and that's been a very fun experience. I will say things I don't expect to say.
MR: A couple of songs -- particularly "Some Other Time" -- it's rap, but it's more like spoken word poetry, meaning your rap style is poetic. When you rap, is that your intention, to be more about accenting spoken word?
JS: Yeah, I don't treat it as I'm rapping. "MC" is "microphone controller," and a microphone controller can change the feeling depending on what they say and how they say the line. That's how I treat myself -- nobody knows about all that yet. As a vocalist, that's how I approach it. I'm poet and a writer first, it's imperative that I say something interesting.
MR: And you're saying something interesting in my favorite track, "When I Wake Up." My interpretation is you can't wait to get over the break-up, and you're going to remember the good things when it's time.
JS: Exactly, and that was a freestyle. I called some great musicians -- Adam Blackstone, Eric Wertheim, Randy Bowland, and Spanky McCurdy, who is now on tour with Lady Gaga. We just had fun, and to tell you the truth, it started at 1 o'clock in the morning and ended at 5. By the time we were done, we had, "When I Wake Up," "Le Boom Vent Suite"...oh my goodness I can't think of them all. It was such a great experience.
MR: Then there's your duet with Doug E. Fresh, "All Cried Out."
JS: I had been trying to get a hold of Doug E. for about 3 months, he is very hard to contact. Finally, he came to the studio in L.A. and we hung out for a little while and talked and got to know each other a bit, then went into the booth. I got on one mic, he got on the other, and history.
MR: His mouthganics are terrific. Plus, you throw on a tack piano to change it up. When you listened to that track back, what was your thought?
JS: I thought "fun"! That's a sound you don't really hear that often, it's kind of a ragtime sound. Then, when I heard the melody, it just felt very ragtime to me. I said, "Let's add some piano there and take it back, remind people that there are so many different kinds of music over the course of the world's existence," so that's what we did. Working with JR Hutson, my co-executive producer on this record, gave me a really huge freedom. One, he doesn't have an ego and two, he is super talented. Anything I ask for -- I need a guitar riff, I need a funky bass line -- he is jumping on the bass, he is jumping on the keys to find it. There is a huge difference (from those) who push buttons, with no disrespect at all. But musicianship, I don't ever want to go away.
MR: It seems like now is a time when people need to know their technology, but they also need to know how to work their instruments. We've come out of this fog of people mainly operating machines.
JS: Yeah, music can't die. There is something so powerful about someone grabbing a guitar and making music out of nothing and nowhere, creating sounds that touch the soul and light the spirit, capture the mind and make you imagine and see things. It's a wonderful craft and art.
MR: Let's talk about some of the other songs on this record. For instance, "Blessed," which you premiered on The Huffington Post.
JS: Sure, I was working with Vidal Davis and Andre Harris, they did "A Long Walk" many years ago. We got together, I was listening to the music, and nothing was happening. I sat and sat at the pen and paper and nothing. I decided to just go into the booth and see what happened, and what you hear is what came out that last take. Later, I added background vocals and I just had some friends stand around the microphone and we just sang the background vocals. I really wasn't thinking and I just let it be. I thought about all the things where people say, "I'm blessed and highly favored." I wanted to focus on the things I can't hold, all of the intangible things -- the health of my parents, the health of my son, my grandmother's life and the longevity of her life. That kind of stuff.
MR: Sweet. What about one of the other duets on the project, "Shame," that you perform with Eve.
JS: I was in the studio with my friends Yameen Allworld, "V" Roane, and Montez Roberts, and we were listening to break beats. JR Hutson was playing us instrumentals on YouTube, and I grabbed a microphone and was playing around. When it got to the "I'm The Magnificent" beat from Special Ed, the guys started singing along, and I remember "V" Roane was saying, "This is something! This is something!" So, we recorded it. I found The A Group in Los Angeles, they were in The Conga Room and I walked in unexpected and they were singing, "Is It The Way." One of the songs I did 11 years ago with the first recording Who Is Jill Scott. They were killing it too! So, I asked them if they would come in and sing the background for "Shame." Then, I shot the video in Philadelphia and then called Eve because I wanted her, because this is my Philadelphia family. We did a song together, we did "You Got Me" 12 years before that. She came through like a soldier, which was wonderful.
MR: You are also a multiple Grammy winner. One of those Grammys coming from your recording with George Benson and Al Jarreau, "God Bless The Child."
JS: Yeah that was an incredible experience. I don't think I blinked the entire time I was in the studio with them. It's funny, when I was around 12, I had planned on having a child by George Benson, Frankie Beverly, Gerald Levert, and they were all going to be my children's fathers. They were going to be a brood of geniuses. (laughs) And here, I am working in the same room with George Benson -- I could hardly breathe. It was an incredible experience. Also with Al Jarreau and all the sounds he makes, and then we won a Grammy.
MR: Then, you also won one for Lupe Fiasco's "Daydreaming."
JS: Yes, I got a call, I had heard of Lupe and heard some of his music. I thought he was very thoughtful, and I love that kind of MC. Over the years, I've been working with Common and Mos Def and Black Thought. That's kind of the MC I gravitate towards, someone who can articulate a story well. I got with Lupe in the studio in Philadelphia, and he had very clear ideas of what he wanted for me, which I loved. I did what he asked and a few things more, and then a Grammy.
MR: You're in a certain Dave Chappelle's Block Party flick. That must have been fun.
JS: That was not fun for me. It was a great experience, however it wasn't fun. The only reason I say that is I typically work a certain kind of way. There were so many people and so much energy that it was hard for me to find a space to just be for a moment, straight from a crowd of people to the stage, which is not normally what I do. I remember being thoroughly exhausted when that was over, but very proud of the outcome. I still watch it now and then and I think, "Wow, what a great experience."
MR: I also want to touch on your acting. You were Big Momma Thorton in Hounddog.
JS: Yes I was, with Dakota Fanning. It was an independent film and it did really well at Sundance. I remember being there for that. I found out a lot about her, a real powerhouse kind of woman. Don't take no crap.
MR: You're also very popular among teenage boys for voicing Storm on Black Panther.
JS: Yeah, when I was 12-years-old, I wrote a list of things I wanted to do in life, and on that list was I wanted to be Storm. Then, I got the phone call from Marvel and they told me they wanted me to play Storm. I cried for maybe about 30 minutes. This is a dream come true, I've been crossing the list off as I go. I thought I would never be Storm, Halle Berry got the role, so I will just have to dress up as storm for Halloween. Then, I got the call... divine intervention.
MR: Jill, it seems like you've had a very "Blessed" career so far.
JS: I have, it's been a good one. I've been working the way I need to. I need to take time off between touring and recording. It's very important to find balance in this industry. It can eat you up, and I don't want that at all. In fact, my greatest fear is to be eaten alive, the thought of it is just terrifying. So, I take my break and swim and run and ride my bike. I have fun, and I hang out with my child and my family to balance it all out.
MR: Do you have any advice for new artists?
JS: I do! I would tell new artists to perform everywhere you can for free. Establish your home base and I say for free because this is where your education comes. You're actually paying them to learn how to command an audience, how to be comfortable with yourself in front of an audience, learn the kind of music your audience wants to hear from you. All of that stuff. It gives you a great life and career experience. Also to own your publishing, don't give up your rights to your work if you're a writer and a singer. For those who are not writers, write. That is where the majority of your finances will come from. I would also say to mimic the people you love for a while. Maybe it will take years. Enjoy the technique of what they do and then find your own voice.
MR: Pick your favorite song and emulate it.
JS: That's what all musicians do. They find the artist they appreciate the most, whether it's Miles Davis or Herbie Hancock or Quincy Jones. Find that artist and study them. Actually do some work, just because you're talented doesn't mean that you're going to succeed in this business. You have to do many things well. Do your homework, find the artist you appreciate and respect, and then find your own voice, style, and interpretation of these things.
MR: Jill, congratulations on having a number one album in Billboard. How does it feel?
JS: People say it to me everyday, "Congratulations on your number one!" But it's hard for me to believe it. Really hard! I try not to think about it too much or I will melt or something. I'm very grateful for the people that enjoy my music, and thank you so much.
MR: No problem, Jill. You're a wonderful interview and a wonderful person as well.
Tracks:
1. Blessed
2. So In Love - with Anthony Hamilton
3. Shame - with Eve & The A Group
4. All Cried Out Redux - with Doug E. Fresh
5. Le Boom Vent Suite
6. So Gone (What My Mind Says) - with Paul Wall
7. Hear My Call
8. Some Other Time
9. Quick
10. Making You Wait
11. Until Then (I Imagine)
12. Missing You
13. When I Wake Up
14. Womanifesto
15. Rolling Hills
Transcribed by Theo Shier
BLOGGING FROM THE BEAUTY SHOP
Arthur Lee Land is shooting the video for "Cracked Open," the title track to his new album that will be released September 27th.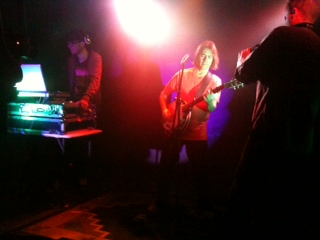 Aaron Shier, album co-producer (left), Arthur Lee Land (middle)
photo credit: Mike Ragogna
Popular in the Community