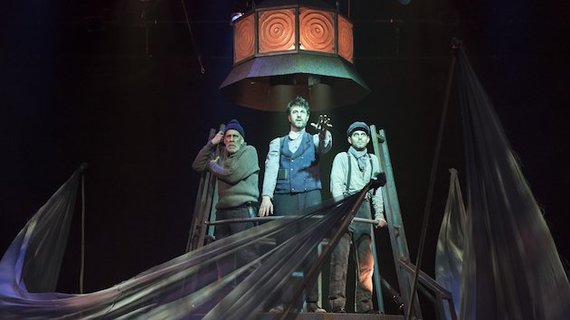 After seeing Champion, Opera Parallèle's inventive commissioned "jazz opera," by Grammy-winning trumpeter and composer Terence Blanchard, at SFJazz a few months ago, who could fail to be interested in seeing whatever this imaginative company produced next? That turned out to be The Lighthouse, an intimate 70-minute chamber opera, performed at San Francisco's Z Space over just three days recently. This description of that gripping piece should serve to whet your appetite for OP's next productions, which have yet to be announced. (Unfortunately, this stellar company does not have a space of its own or anywhere near the financial resources it should.)
Set in a fog- and wind-shrouded lighthouse off the coast of Scotland in the year 1900, The Lighthouse is based on true events. When a relief ship reached the lighthouse, the three men on duty had vanished without a trace. A local news article ("Strange Affair at a Light House. Three Keepers Gone.") surmised that "they were swept away during the storm of last week, either when trying to save a crane or when trying to render assistance to some vessel in distress." Their bodies were never found, and to this day, no one knows what happened.
The late composer and librettist Sir Peter Maxwell Davies, whose six-character opera was first performed in 1980 at the Edinburgh Festival, has another surmise. Weeks of bad weather has kept a ship from bringing replacements for the three mismatched lighthouse keepers, and they've been together in those narrow confines for a little too long. We first meet the three ship's officers at a court inquiry, conveying what they found--and didn't find--at the lighthouse, although they don't agree on the particulars: Was a chair overturned or was a leg broken? Had the men finished their tea or not?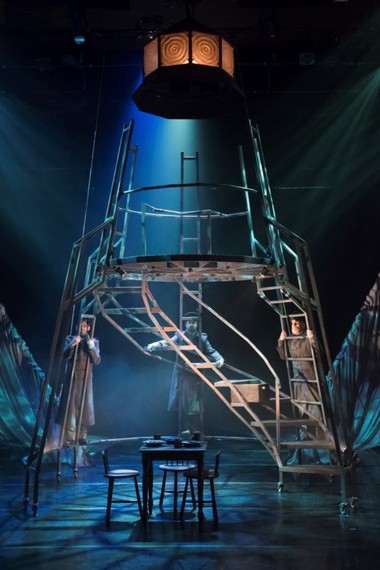 Three terrific singers, excellent actors all, portrayed both the officers of the ship and the stir-crazy lighthouse keepers: young Sandy (tenor Thomas Glenn); hot-tempered, hard-bitten Blazes (baritone Robert Orth, so memorable as Emile Griffith's cigar-smoking manager in Champion); and the annoyingly evangelical Arthur (bass-baritone David Cushing). The simple set consisted of a light-topped scaffolding and silken material, designed by fabric designer Sean Riley and manipulated by four "fabric dancers" to indicate weather and waves, ship's sides and teeming rats. Since Z Space has no room for wings, let alone an orchestra pit, a marimba player and a percussionist were at one side of the stage; on the other, the rest of the musicians (on instruments including trumpet, trombone, violin, bass, guitar, and banjo), superbly conducted by OP artistic director Nicole Paiement. The inventive staging was by OP director and set designer Brian Staufenbiel.
The action in this Lighthouse is gripping from beginning to end--especially when each of the lighthouse-bound men sings a story from his past, such as Blazes' memorable tale of murder and suicide (by way of a folk song with banjo and violin) and Arthur's revivalist hymn. This departure from more typical operatic form is just one example of the truly creative liberties OP takes in its productions, which have ranged from Jake Heggie's Dead Man Walking and John Harbison's Gatsby to Brecht and Weill's Mahagonny Songspiel. I can't wait to see what Paiement, Staufenbiel, and company do next.
Photography by Stefan Cohen
Top, from left: Robert Orth, David Cushing, and Thomas Glenn
Related
Popular in the Community