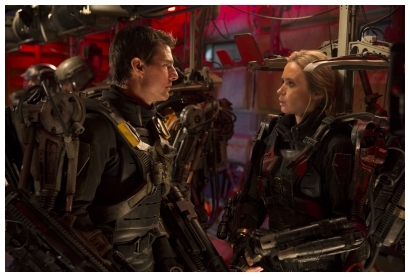 Well, this is a ticklish situation. I went into Edge of Tomorrow a little nervous, knowing this much about it: that Tom Cruise played a soldier who, by some trick of the time-space continuum, was reliving over and over his death during a disastrous attack on an alien invasion force. Sounded intriguing, no question. But it also smacked, in general conception if not plot specifics, uncomfortably of last year's Oblivion, where Tom Cruise played a survivor of an alien invasion who was also confronted with the mystery behind his own existence. What was doubly dismaying was that I could conceive of a possible explanation for Edge's protagonist that would parallel a major revelation in Oblivion. If that was the case, it'd be game over for me. I liked Oblivion just fine, but there was no need to revisit it.
A lot of people may have been thinking the same way -- not too long before Edge's release, the good folks over at Warner Bros. altered their ad campaign, filling in a bit more about what Cruise's character was going through. That put me more at ease, but I was still concerned that, like Cruise's soldier, we'd be reliving the same day over again.
Here's the good news: Edge of Tomorrow is not Oblivion redux. But here's the conundrum: As a result, the pendulum may have swung too far in the opposite direction. I explore the problem in my latest review for Jim Freund's Hour of the Wolf. Click on the player to hear the review, or right-click the title to download.
Popular in the Community