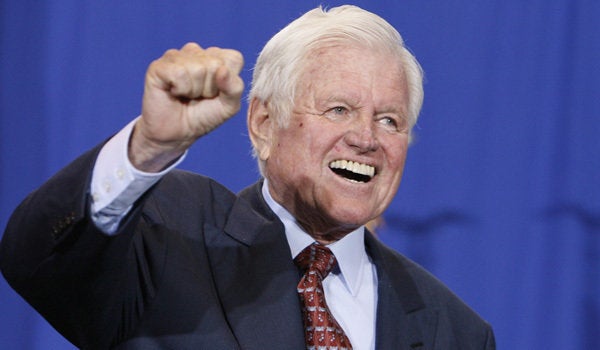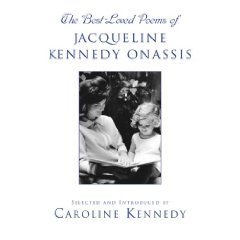 Lots of poetry batting about in honor of Ted Kennedy, including some very moving lines within his famous speeches --Tennyson's "I am a part of all that I have met." And in spirit if not quotes, Hughes' "What happens to a dream deferred?"
"Poetry played a special role in my family life," Caroline Kennedy writes in the introduction to her second poetry anthology, A Family of Poems (Hyperion Books for Children, 2005). Her first poetry anthology, published in 2001, was a collection of Jacqueline Kennedy Onassis' favorites.
"... My grandmother recited The Midnight Ride of Paul Revere to teach us about American history, and her belief that each of us can change the world," Caroline says in book two. "My mother began her lifelong relationship with literature by reading aloud with her grandfather, a turn-of-the-century gentleman-scholar with a handlebar mustache.... In our family, we were encouraged to write or choose a favorite poem for each holiday or birthday as a gift for my mother and grandparents instead of buying a card or present. My brother and I would copy over and illustrate our choices, and my mother pasted them in a special scrapbook.... My children have continued the tradition for me, including the complaining."
Sometimes poems can floor you with their artistry. Other times, important other times, the goal is to simply put into words what we can't or won't say on our own. A touching entry in A Family of Poems is one Jacqueline Bouvier wrote herself, perhaps when she was young, about adventure and the changing of the seasons.
Here are some excerpted stanzas from that poem by Jacqueline Bouvier, in memoriam for Edward Kennedy, with condolences to the next generation up at bat.
All the thoughts and things
That make me feel this way.
I love walking on the angry shore,
Where summer people were before,
I love wood fires at night
Nostalgia - that's the Autumn,
Dreaming through September
Just a million lovely things
REAL LIFE. REAL NEWS. REAL VOICES.
Help us tell more of the stories that matter from voices that too often remain unheard.