The greater danger for most of us lies not in setting our aim too high and falling short; but in setting our aim too low, and achieving our mark. - Michelangelo
The arduous, exhausting, marathon task of raising a child born into the world at 25 weeks gestation weighing 18 ounces is something must be lived to be understood. Luckily, I got a front row seat on this ride with my very first child, just 18 months after leaving the military cockpit behind. She survived her 137-day NICU hospitalization and all she lost was her eyesight and most of her hearing. By the time we finally brought her home, we'd been patients at five hospitals for five surgeries in two states. I had threatened my employer benefits manager at headquarters and won. I had threatened Cigna Healthcare and won. We had demanded the required wintertime medical evacuation transport in a private Learjet "not included in your employer benefits plan" for the medically-fragile baby on oxygen in the incubator and prevailed to get her to a surgeon in Michigan. I had also gained 44 pounds of stress and two million dollars in medical bills, but hey, that's in the past.
All of this is why moments of academic achievement in the life of a child categorized as deaf-blind by school districts, a child a kindergarten teacher once called "unteachable" to my face [we kicked her off our daughter's educational team], is worthy of a party. I'm talking "let's go out and celebrate at your sister's favorite restaurant and stay out late on a school night!" spontaneous-overflowing-of-joy type of party on a Tuesday night.
Here's the email that made this normally stoic, military veteran mommy, weepy. It's from our child's Braille teacher (who is also blind and an excellent role model for my daughter):
Hi Grace and Genro, I just wanted to let you know that your daughter is the first CSB [CA School for the Blind] student to achieve the Braille Writing Test Hall of Fame Award. To be inducted into the Hall of Fame, a student must achieve a score of 100 percent on a Braille test of 200 contractions, black belt words and punctuation marks. If she does this two more times, she'll win a Triple Crown award. She will be crowned with a tiara if she can achieve this before June 1, 2015. Thank you.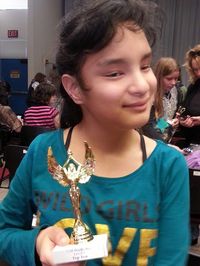 As I shared and celebrated this beautiful win with our friends and family on Facebook, I took a moment to thank the many educators who've been part of our village since the day we brought home a blind baby from the hospital. Blessedly, our post-military service move brought us back to the San Francisco Bay Area. As our NICU stay wound down thirteen years ago, we were immediately connected with Blind Babies Foundation. They connected this mother, accustomed to flying with U.S. Air Force aviators sporting the world's best eyes, to the world of resources for parents raising blind and otherwise disabled children. I remember the feeling of culture shock my husband and I had to push through. These were the most challenging years of our parenting lives; having two more children in four years after this experience felt like a cakewalk -- cut them out, stay three nights, go home. Easy.
We've been blessed with an extraordinary team of teachers, specialists, speech therapists, IEP (Individualized Education Program) managers, paraprofessionals and more. We've also had to slap down egomaniacs interested more in power battles with parents than in serving children with disabilities. We've filed complaints with both county and state level educational agencies when those egomaniacs needed that compliance guidance to come from above their pay grades. And through it all we've demanded higher expectations and challenging educational and social goals for our child, from everyone who works with her. As I share in detail in the DVDs we've since created to share tips and wisdom with parents and educators raising children like our daughter, we've led our child's educational team. We've started every recorded IEP meeting, as special education law attorney Pete Wright taught us to do, with our vision as parents of our daughter as an adult. We accept no excuses, no compromises -- just a total focus on appropriate resources necessary to educate our child to become a competent, independent, employable adult -- the intention of the IDEA [Individuals with Disabilities Education Act] 2004 federal statute. So when she was selected as fifth-grade advancement ceremony speaker and read an original poem in front of our school community, she caused not only happy tears for dozens of people, but a deep joy among her outstanding team of educators.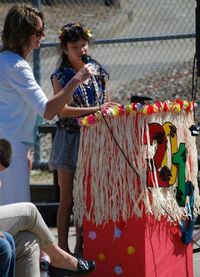 Last year, I had the opportunity to contribute a 600-word piece for the White House blog. That's when I had my epiphany -- everything I do professionally now -- all the content I create to showcase positive images of Latinos in a variety of formats to benefit students, educators and parents, I do because of what I've learned in raising my daughter with dual -sensory impairments.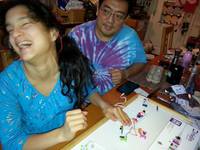 She has truly guided me to become who I am today...no question in my mind. You can find here that short epiphany piece titled Raising Educational Expectations of Young Latinos.
Let's not accept low educational expectations for our kids -- all children. Let us demand higher expectations from our school boards, administrators, educators, for our children of color -- kids like me who start kindergarten speaking only their immigrant parents' language and yet quickly find themselves tutoring others in two languages. We're in every classroom in America today. We're a positive force to be nurtured and inspired, not discounted with words like "disadvantaged."
For children who are obviously dyslexic, especially those with one or two dyslexic parents in a school district where "let's see how far they get behind...," is how educators roll, for the kids with physical and learning disabilities, let's triple our efforts as parents to educate ourselves in the federal and state laws with which school districts must comply. Let's organize ourselves locally (and in FB groups in your communities) to make administrators (who many times prefer to spend money on attorneys to fight us) understand that we will not back down. Our kids only get one shot at this.
On Facebook, her preschool teacher, who remains a dear friend and contributor to my daughter's life, said this as we celebrated the news:
I will always remember our first IEP together, and the high standards you set for all of us. I believed then, as I believe now, that you were absolutely correct to do so. There is no greater barrier to success than the barrier set by low expectations. Every individual deserves the support, in all its definitions, s/he needs to be able to make the most of his/her life on this earth. It's hard, it may be expensive, it takes patience, passion and perseverance, but there is no other endeavor more worthwhile than providing a child with what she needs to bloom and flourish.
Support HuffPost
The Stakes Have Never Been Higher
Related
Popular in the Community