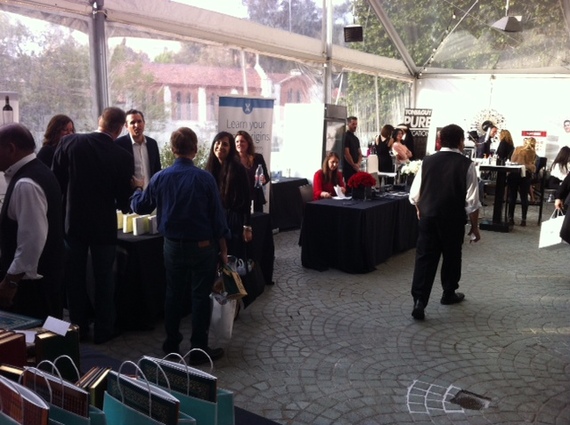 The Gifting Suite at the W Hotel

The six-week public relations crush from the Academy Awards nominee announcements on January 15th, to the award show night on February 22nd, is a six-week glad-handing spin dance of red carpet galas, charity events, talk shows, luncheons, dinners, teas and cocktail parties that is an Oscar talent gauntlet. It is the power grind to the silver lining of success, the required social networking of Hollywood. Everyone wants a piece of the stars during awards season, and the stars want to be seen. Yet with all that taking, there is actually some giving that comes the stars way.
I attended one of the many gifting suites in the days before the Oscars, where nominees, stars and talent across the industry are invited to visit with and get gifts from a host of designers, manufacturers and vendors, everyone hoping to capture a little bit of their stardust.
"I was at Cannes with friends eight years ago and we walked into a gifting suite and I immediately saw the business model," says Amy Boatwright, one of the owners of Secret Room Events, a brand and product marketing firm in Los Angeles. "We do the Golden Globes, Emmys, Oscars, MTV Awards, there is nothing like a celebrity liking your product and using your product."
And that's the business model in a nutshell. Celebrity word of mouth, trumps just about everything else. It's not contracted promotion, just sincere prestige if a celeb likes it. "We worked with a PJ company several years ago," says Amy. "A celebrity mentioned them after our event and their sales took off. That's the whole idea."
Having your product in a gift bag starts at $1200, being there in person to be able to talk to celebrities or nominees starts at $5000 and shoots northward depending on your display size and position. The event was pretty crowded at the W hotel in Westwood, with a range of goods from fine wines to jewelry, rare books to aural readings, fine china, to health products and baby goods to sex toys and make up.
"It's a business investment," says wine importer Debbie Lane. Her company Testa Wines of the World is the sole importer of quality Chilean wines to the U.S. Their Undurraga labels were excellent, by the way, and so was her refreshing New York attitude. Her children, Craig and Bree were her marketing and sales department. This small family business started working out of their NYC apartment ten years ago until they built up a staff of 30. As they are re-building their brand, they were thrilled to connect with the celebrities that came over to try free wine and take home gift bottles. "You hope someone genuinely likes your product, so that their connection to you comes naturally," she said.
Oscar nominee Julian Fere, who's nominated for the live action short Butterland finds the whole experience other worldly. "Being French, this is totally unknown and bizarre to me. Are people in the U.S. used to this?" he asked delighted. "I couldn't imagine this at home, I'm looking at it all like a child."
"Performers are a little more used to the attention," says Amy. She secretly enjoys meeting the directors and writers as they come through her suites. "They are so humble, they can't believe it's about them, or that it's happening," she says.
Agnes Olech, who's starring as a character on True Detective's second season on HBO, loved the body care and make up. Andrea Bogart from Ray Donavan was enjoying the healthy and eco-friendly theme this year. A yoga advocate, she appreciated vendors like Rod Jackson, a barrel-chested, white-haired creator of his Nuwati Herbals line. He almost crushed my hand in his grip and was promoting his line of original herbals that fortified immune and good health. If he was a testament to his products, they worked.
Some of the stand out items to me were mint rare edition books like Moby Dick, and Paradise Lost from 1826 to Alice In Wonderland from 1872 and many in between from Imperial Fine Books and energetic healing sprays by Vanda which keep you "true to yourself." I was pleased to see very high-end health products from Life Choice, a high end Canadian manufacturer who has won repeated national awards for their quality and high end ingredients. "Celebrities love these," says Amy. "Anything to sustain health, anything for longevity." I personally know about this brand from a radio show I did several years ago and got to know the owners. Eldon and Agnes Dahl are devoted healers with a dedication to high quality and specialize in rejuvenating health. I was thrilled to see them getting some well deserved attention.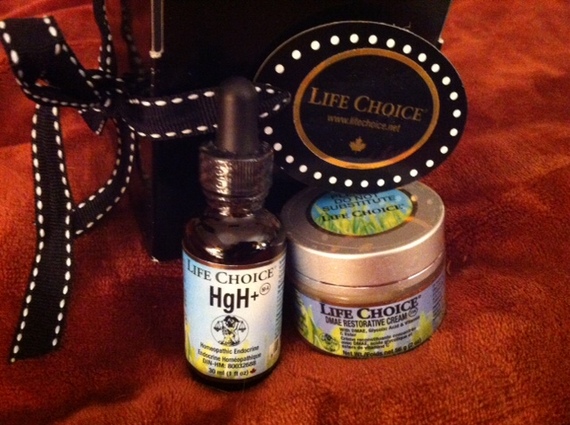 Rejuvenation and Health from Life Choice

Breeda Wool, a tall red headed beauty in Unreal, airing this year on A&E, when asked her favorite product, told me she was torn between "either the complete works of Shakespeare (yes they were there in a mint 1800s rare edition in leather and gold gilt) or the sprawling dildos. (yes, they were there too, from a very high end Swedish manufacturer)." Breeda won the one liner of the day.
About 300 people rsvp'd to the event, and the turnout was excellent which started before lunch and ended at night. Amy noted this year's health and nutrition angle was not planned, but very welcome as each year brings its own mix.
Other celebrities who attended agreed the event was fun, and even educational. Christie Laing, who stars in Once Upon a Time on ABC as Maid Marian was enjoying talking to the representatives from ancestrydna.com. She discussed the break in her own family's history and how she'd love to know more about her family's origin. Dustin Quick, voted one of the top 8 Indie Darlings at the Sundance Film Festival this year loved the "SoulVa" mist spray, that empowers and keeps you true to yourself by Vanda.
Al Sapienza, a veteran of The Sopranos and House of Cards, you've loved him, or loved to hate him over the years, and who's currently costarring in Ascension on CBS, was having a great time. "It's my first one, if you can believe it," said the storied performer with a career spanning three decades. "The people are nice and you get to see many interesting things you didn't know about." Perhaps he'll unwittingly change the course of a company's success by enjoying and discussing their product. That's the little startdust they're all hoping for. And then the little guys can win too.
REAL LIFE. REAL NEWS. REAL VOICES.
Help us tell more of the stories that matter from voices that too often remain unheard.