The Little Modern is a special place for comedians, improvisers and audiences. It is a magical, DIY paradise where anything is possible.
Located on Theatre Row in Hollywood, the Complex is a building containing several theatres. Anybody who has done theatre in Los Angeles is aware of the reputation of the aforementioned establishment. It is, by reputation, dirty, ugly, cheap and largely considered the worst place to see or do theatre in LA. That is why I was struck with pure wonder when witnessing the sheer enthusiasm in the comedy world for The Little Modern Theatre.
"The Little Modern took us in, and has been fucking amazing to me and my show, Hamclown, in every way possible. If it dies, we'll have to go out into the cold, cold world all alone. DO YOU WANT THAT TO HAPPEN TO US? WHY DO YOU HATE FREEDOM SO MUCH? Please donate to The Little Modern and I swear I will take you to the airport*.
There is an indiegogo campaign right now to raise the money needed to rent and run the theater for the next year. The Little Modern has been in operation for nearly one year, and in that time it has had a remarkable impact on independently produced comedy shows. It has become home to the homeless and a beacon to every comedian wanting to make their own opportunities.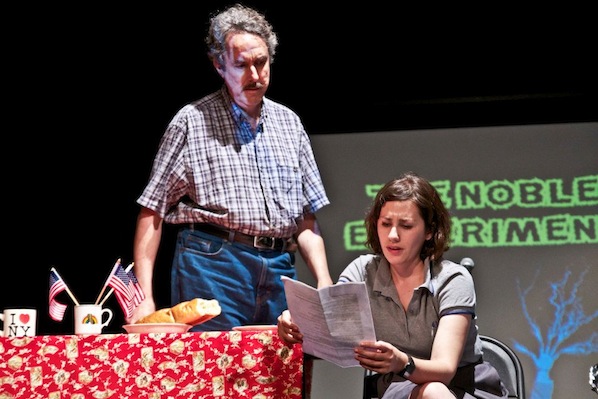 Ron Lynch & Megan Koester getting experimental in The Noble Experiment
Photo Credit: Megan Baker, Copyright: David Janove
"We do a different theme every show, and every show we go all out to set the stage. This is the theater where I've served home-made, baked ziti for our Mother Cabrini Carnival (Jess made home-made Zeppoli!), constructed and executed a ridiculous Tunnel Of Love ride, worn a skin-tight, full-body, space suit, set up a 4-man tent on stage, and most recently, put my whole face in a pie. This is the kind of space we need in Los Angeles - with as many shows and exhibits and events that happen all over town, this space allows us to really get creative and think "OK, how can we make our show DIFFERENT?" Every time I walk out of that theater, everyone spills out onto the sidewalk, high-fives, smiles, and all you keep hearing is "Man. That was a GREAT show." None of these shows would have existed without this venue, and if it remains open, it will continue to fuel the fire for some really brilliant creative brains. If it closes, our brains will explode without an outlet and that could get messy."
-Erin Lampart, Not for Nothin' (co-hosted by Jess Lane)
The shows at The Little Modern are truly some of the most creative entertainment experiences available. These are more than just run of the mill comedy shows. This space facilitates comedians taking chances to do something different and stretch the limits of an audience's expectations.
"The Little Modern Theater has been a great venue for The 11th Hour Show. It's offered the community a great place to perform and put on independent comedy shows for improv, sketch and stand-up. It also acted as the mainstage for this year's First Annual Indie Improv Festival. We all hope that Little Modern can continue to host next year. We've seen an amazing spike in indie comedy shows over the last few years and it's because of a strong community birthed by theaters like UCB and iO West. But those theaters don't have the space and/or schedule time to put up everyone's shows so that's where The Little Modern comes in... Giving the community a place to showcase their art, which is vital. And Little Modern's plan to fundraise to allow the theater to be a free rent space is pretty revolutionary. Especially for a community of struggling artists, still being able to showcase their work when they're struggling just to pay their own rent, is a godsend."
-James Ross, The 11th Hour
The ebullient energy bursting from the stage is the kind of rare, genuine adventure that can change comedy and make people rethink theatre altogether.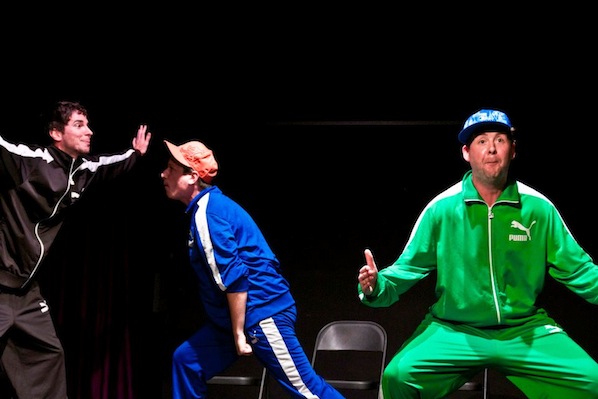 Jacob Womack, Nick Mandernach & Casey Feigh AKA Hip Hop Penguin at The 11th Hour Show
Photo Credit: Megan Baker, Copyright: David Janove
"The great thing about the Little Modern Theater is that it brings back the feeling of performing in an actual theater, which means a lot to me as someone who grew up as a drama nerd. It's a real stage. It's not in the corner of a bar, or a coffee shop, or a laundromat, or a bookstore, like many of the varied shows in Los Angeles. It's a nice, comfortable, black box theater, with stadium seats, a backstage, and everything you need to put on a great show. David Janove has provided a blank slate with which to explore theatrical shows instead of just one person with a microphone."
-Barbara Gray, Lady to Lady & The Noble Experiment
There are certain dangers in producing shows in Los Angeles. There are many factors that are against indie producers, but The Little Modern eliminates these factors making the process much more enjoyable and much less stressful.
"There are three major kinds of comedy venue in LA: bars, black boxes & random spaces where you wouldn't expect someone to even fathom putting on a comedy show. In bars and those random places, you're already fighting with an audience that's either unaware or hostile towards a comedy show. With a theatre like The Little Modern, you've got more freedom with a captive audience that is there specifically to see what you're putting together. Both of my shows there wouldn't be able to exist in a bar environment, so I am incredibly thankful for David Janove deciding to go for it and run the theatre for a year. Sometimes you need a safe environment to develop experimental ideas, and that's a space that David has created over there. He has really been great about not catering to one particular cliché, and you can tell how much he loves comedy based on how many people he's given chances to. He's really helped put a breath of fresh air into the alternative comedy scene in Los Angeles, by running a fantastic facility."
-Brandie Posey, Picture This! & Lady to Lady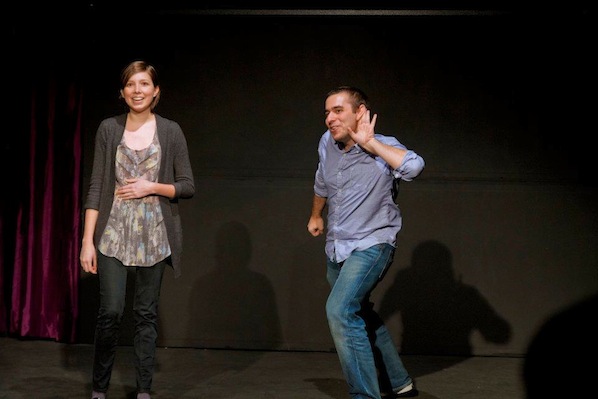 Jackie Smith & David Janove host Love Good
Photo Credit: Megan Baker, Copyright: David Janove
David Janove is the man behind the magic. He founded the comedy theatre at the beginning of 2011 with the intention of putting up improv shows.
"My writing partner, Collin Martin, and I wanted to start a theater that just did musicals year round. That prospect seemed very difficult, but the fun of starting a theater still interested me. At that time (August 2011) I was getting more and more involved with the improv community and started reaching out to different improvisers of shows that could go on, and started looking for a comedy space in September. I'm friends with the guy who runs the Complex, and he had just loaned out one of his theaters to someone else for the year. This was an appealing idea because I wouldn't be responsible for any of the business side (taxes, permits, etc.)... I came in and updated the sound and video system so that it'd be the perfect place for screenings and podcasts, added a wall and viola, and we opened in January. The whole time, we were running on two money sources... money raised through family/friends to start up the theater, and then rentals, admissions and donations from the shows themselves. Comedy shows are so competitive in terms of getting audiences to come to their show because there are so many great shows on any given night for free. It quickly became easy to see that the free shows were the shows that did the best. That's why I wanted to do a year at the theater where all the shows were free for the audience AND the performers. Right now, almost all of the show producers are losing money because they need to pay me for the space (so I can pay the rent), but they don't want to charge so that people will come out. Making the theater free by raising only what we need would create a sort of collective by having the theater run by volunteers, and since money won't be involved, it will allow all the creativity to come out.
Unfortunately, the theater that we use is still VERY expensive to rent. Found spaces tend to be cheaper to rent out, but don't have the amenities like an elevated stage, dimmer package, sound system, stadium seating, comfortable seats, carpeted floor, easily accessible bathrooms and a green room that we have. There's nothing wrong with those types of spaces, and they're pretty much a necessity to run a show cheap. My hope was to be able to do both, but it can only be done by raising the money."
-David Janove, Love Good.
It is not often you get the chance to be a part of something as exciting and wonderful as this. Like punk shook up the world of music, so too will these shows shake up the world of comedy.
"The Little Modern is really the best place for indie comedy. Plus, David is a cutie."
-Daniel Weiss, The 11th Hour
REAL LIFE. REAL NEWS. REAL VOICES.
Help us tell more of the stories that matter from voices that too often remain unheard.