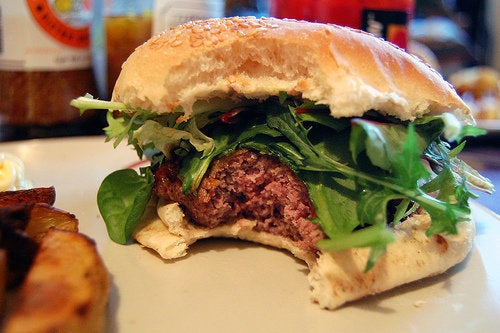 The relationship I have with Capriotti's sandwich shop goes deep. When I say deep, I mean summertime picnics on Nanna's porch deep. Backyard-games-of-tag-and-hide 'n' go seek-and-firefly-jars-at-sunset deep. I grew up in Wilmington, DE. Delaware is a state that most people experience by driving through it on their way to Philly or Baltimore.
For me it was different, I spent my childhood surrounded by preserved farm land, not highways or beachfront. My Nanna lived 15 minutes away in a classic 4-story colonial townhouse overlooking the city's reservoir, and an all-girls catholic school, the latter of which I appreciated greatly as a 12 year-old whose chores included cutting the grass with a push mower just about the time Ursuline let out.
Family gatherings at either of these locations were always joyous events. Certainly getting together with family can be hectic, but I only remember the good times, the best days when the weather was perfect, smiles were abundant and the food just complimented the day. For our family it was always subs.
Back then, in Wilmington, we were not polluted with Subway. Quizno's didn't exist. Family owned was the name of the game. Everything was a highlight; Deerhead Hot Dogs, Charcoal Pit Cheeseburgers, and I'd definitely mess with a Cheesesteak from Casapullas. But one shop always came up big. Family outings in spring or summer? You need a sub. Capriotti's was where it was at because they had the Bobbie
Let me put this lightly: LA, this sandwich will change your life. The Bobbie is thanksgiving dinner on a roll. Pulled fresh turkey--no sliced deli meat--actual homemade stuffing, and cranberry sauce. All on the most incredible sub roll you have tasted. We would pile into the station wagon and head for Union Street and Capriotti's, a narrow two-story brick building nestled in Little Italy. Everything in Little Italy had two stories. The first floor was for store fronts, the second one for apartments. Capriotti's seemed like the center of everything, though. Hungry families were packed into the tiny shop to pick up their order, and while you waited you'd catch up with neighbors or friends from school. Capriotti's was family. It was uncomplicated good times. It was home.
Flash forward 20 years. I'm driving up Wilshire on my way to a meeting. I live in Los Angeles now, a city whose personality is as far from Wilmigton as its location. I'm not knocking LA, I've lived here for 7 years on purpose. But, well, come on. You CAN'T get a good sub out here. That's what I'm thinking as my stomach rumbles in traffic and I glimpse a sign for Subway. I remember how much money I wasted as an assistant at CAA, trying to spend my way to an edible lunch. There was always Subway. Subway is like chicken. No matter how many or what combo of ingredients you piled on, you'd always end up "building" something that tastes like everything else on the menu...weird.
Traffic moving again, I'm driving past the Beverly Wilshire Hotel, past Rodeo, past the-WHAT? WHAT! I almost drove into the car in front of me. It's not possible. You CAN'T get a good sub in L.A., let alone Beverly Hills. How can that sign say Capriotti's??? What are you doing here? Can this be? I immediately park my car--screw the meeting--and walk to the door. Doesn't look like the same shop, and there were definitely no picnicking families in sight. I nearly turned around, figuring it was just a coincidence. Absently, I glance at the menu, and there It is, The Bobbie. I walk in, order breathlessly and back away, toward the wall, where the store's history is printed. Apparently Capriotti's had grown from one little shop on Union Street to 55 company-owned and franchises across the country.

My order comes up (The Bobbie!), and I pay for it. I hold it, I'm hoping it tastes like I remember, praying that this franchise has not lost the recipe that made me so happy in my youth. I unwrap the sandwich, and there it is, glorious. It looks the same, smells the same... I take a bite. A surge of emotion mixed with memory: my parents laughing, my brothers chasing me, my Nanna hugging me. Amazing.
As I sat there stuffing my face, I thought about how one little sandwich joint brought a small town like Wilmington together over good, fresh, food--and then it kept going, selling more without selling out, building far and wide until it stretched from coast to coast. From Wilmington all the way to Beverly Hills. Capriotti's has come a long way just so you can grab a Bobbie. You owe it to yourself to go get one.
(Capriotti's 9683 Wilshire Blvd. Beverly Hills, CA 90212) www.capriottis.com
Popular in the Community