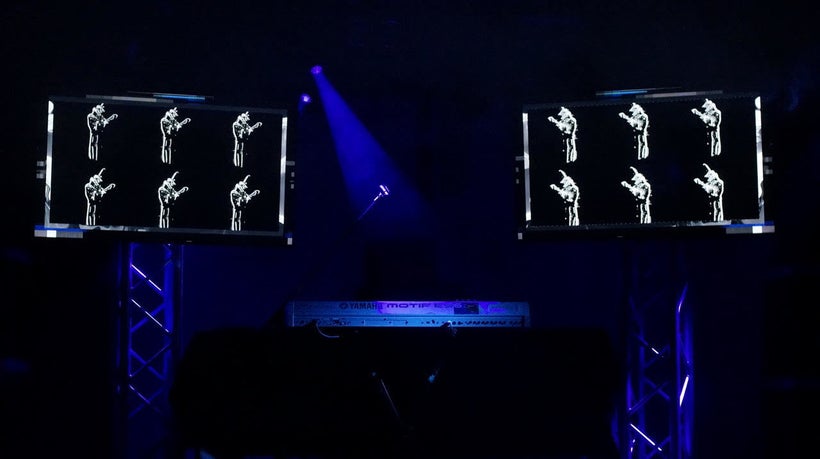 Center stage during the new tour from British electronic musician Actress is a silver mannequin. It has been seen everywhere from a former Polish ballroom in Brooklyn to the Club To Club Festival in Turin, Italy. This weekend it will make its way to Texas for three shows (with Telefon Tel Aviv), where it is sure to show up on quite a few Instagram accounts. During the set, there are three stages to the mannequin experience. Stage one is the audience believing that Actress is the mannequin. Stage two is the audience realizing that "Actress" is actually not moving, so it must be a mannequin. Stage 3 is accompanied by a light reveal, and the audience realizing that it's definitely a mannequin - but it's also Saturday night, so let's dance.
According to Actress (aka Darren J. Cunningham), the incorporation of the figure is a way of removing the ego from having to promote himself. And sure enough, at the Brooklyn show there was many a photo being taken. Before his set Actress talked more about the silver figure , what he hopes to achieve with sound, and his inspirations - from Solange to Gerhard Richter.
There's a silver mannequin on stage in front of the decks. What does it represent? It represents a few things. More than anything else it's a focal point for the music, rather than what I'm doing. Depending on the light set up, where the light bounces off of it, it's a good focal point.
Is there a big difference between this show and what you've done previously? Yes, we've got proper visuals, really nicely done visuals, and that gives it a different dimension. I guess it's performance in a way, it's a performance piece and it's kind of futuristic as well.
What's your live set up for this show? It changes depending on where I'm playing. I've gotten different live programmings for different venues. I like conceptualizing things, designing with a purpose. The music is almost just a by product of what I want to achieve.
And what is that? i just want sound to look like a picture. And that's how I've always approached it, sound as a painting.
The thing is, you need to cover so many different things with being a touring musician. And what comes with that is you're also promoting your art as well. I'm not really one to promote myself. Im happy to promote myself, but I don't want it to be about ego.
I wanted something which is easy to move around. It's a bit cheeky. People have been taking pictures and posting them on instagram. I can cover different aspects of (promoting myself) in a subtle way. It's kind of relaxing for me. To do it without stressing too much about it.
Are there any other artists you're inspired by? I really love what Solange has been doing, the whole concept is real. It's got realism to it. I think she's covered load of different things artistically and symbolically with what she's achieved. I also love the look she's using throughout her media. I'm generally inspired by artists dead and present. Picasso, Gerard Richter. Also people I'm working with. I'm always inspired by other people.
REAL LIFE. REAL NEWS. REAL VOICES.
Help us tell more of the stories that matter from voices that too often remain unheard.
This post was published on the now-closed HuffPost Contributor platform. Contributors control their own work and posted freely to our site. If you need to flag this entry as abusive,
send us an email
.