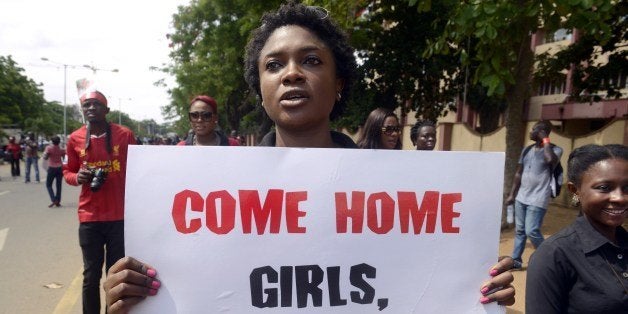 How is it that 276 schoolgirls are kidnapped in Nigeria and the world is almost silent in response?
On April 14th, the terrorist network, Boko Haram, brutally abducted young girls from their boarding school and put them into trucks headed to the bush. It is rumored that the girls are now being sold as child brides.
Apart from the widespread protests of Nigerian women, and the missing girls' grieving mothers and fathers, where is the outrage? Where is the international community here? There is significant international coordination to search the ocean for a missing plane with 200 passengers. Where is the similar international coordination to search the jungles of Nigeria for 276 girls viciously taken from their families, and now enslaved?
For the past few years, there has been a growing, powerful movement for investment in girls' education. From Nikes' "girl effect", to other private sector and foundation players like the Clinton Global Initiative and the UN Foundation's Girl Up, there is a rising call for investing in girls' education, because research has demonstrated that to invest in girls leads to transformational impacts on the health and well-being of families, communities and even in the larger national context.
These girls are the very girls who were trying to live out the "girl effect." They are girls, who despite the wolves of poverty, gendered violence, and religious fundamentalism, insisted on going to school so that they could live out their full potential. Their parents courageously supported, and believed in, their daughters' commitment to education and learning.
The girls' stories -- and their courage -- are exactly like that of Malala's. And like Malala, they were targeted because they insisted on the privilege and right of education for girls.
But, unlike the story of Malala, the international community has not come to their aid. There do not appear to be the same resounding cries of indignation at the brutal act of trying to cut down a girl's life because she wants to go to school.
I am prayerful that the silence ends. I am prayerful that the international community mobilizes to try to find these girls and rescue them. Anything less demonstrates that the lives of African girls are worth so little to the rest of us.
Calling all HuffPost superfans!
Sign up for membership to become a founding member and help shape HuffPost's next chapter